McCarthy's Message to Conservatives: "I Am My Own Man"
The speaker candidate promises he won't be another John Boehner, but it's not clear if members are convinced.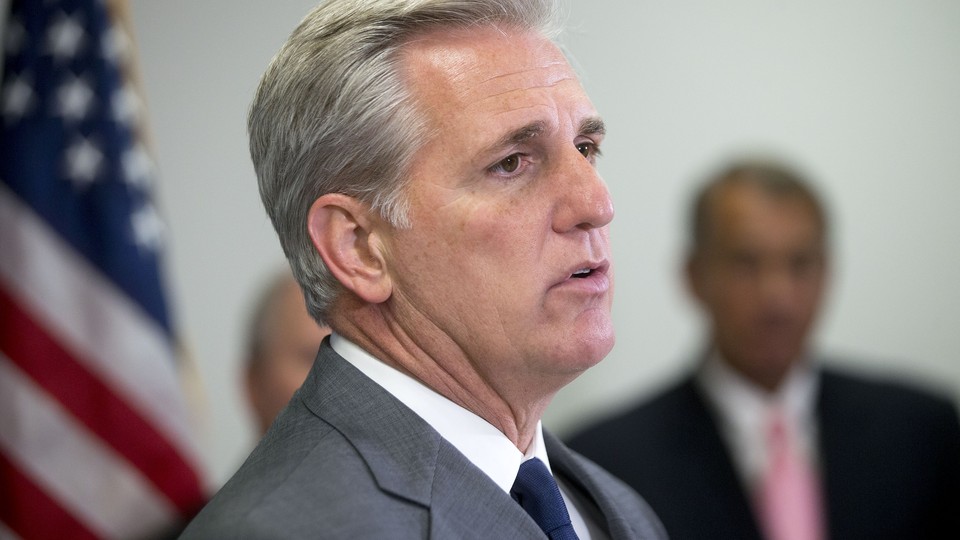 House Majority Leader Kevin McCarthy is trying to prove he won't be Speaker John Boehner 2.0. Whether conservatives are buying it is another story.
The Californian, the front-runner to succeed Boehner, courted a confederation of conservative groups Tuesday night, promising a more inclusive governing approach than the man he is trying to succeed.
"I think McCarthy's pitch was 'I am not John Boehner, I am going to run things differently, I am my own man.' I think that is a case that he does have to make," Rep. Blake Farenthold said.
Yet despite the fact that on Thursday a majority of the GOP Conference will likely vote to hand him the speakership, it is clear the campaign will endure through at least the end of October.
That's because when the time comes to elect McCarthy on the House floor on October 29, he will need the support of at least half of the 50 or 60 members who attended the meeting Tuesday night at the Capitol Hill Club, a members-only Republican lodge near the Capitol. Exiting the candidate forum, which included presentations from McCarthy and his challengers, Reps. Jason Chaffetz and Daniel Webster, several members remained uncommitted to giving him the keys to the House.
The groups, including the House Freedom Caucus, the House Liberty Caucus, the Tea Party Caucus, and the Conservative Opportunity Society, did not go so far as to endorse a candidate, and it remains unclear whether all the groups or any individual groups will vote as a bloc.
But Rep. Mark Meadows, who precipitated Boehner's resignation by threatening a forced vote to remove him, said exiting the meeting that the GOP Conference should only move the speaker vote to the House floor once it has a candidate who can get the support of 218 Republicans.
"That what we really need to do, is make sure we have 218 in the conference before we take it to the floor," he said. "I don't know that [the Freedom Caucus] would vote as a bloc right now, but I think that really, at this point, there's still at least 40 people who are uncommitted as to who they're going to support."
Members made several requests from the candidates—some of them more far-fetched than others—including reinstating members who years ago were kicked off committees, doing away with procedural rule votes altogether, changing the way committee chairmen are chosen, and committing to advance or block certain policies, for instance not allowing any bill granting citizenship to undocumented immigrants.
Freedom Caucus member Rep. Matt Salmon said McCarthy promised to put together an advisory commission of sorts comprised of members from all aspects of the conference.
"They will be someone that he meets with on a regular basis to advise and counsel as issues come up," Salmon said. "It would be somebody probably from the Freedom Caucus and then somebody from the Tuesday Group as well."
McCarthy was also pressed on whether he would stand up to outside groups who have run ads or in some cases funded primary opponents against conservative members, as well as to members who have slandered conservatives.
"I'm not sure we're satisfied with all the answers," Freedom Caucus member Rep. John Fleming said. "Kevin McCarthy said he is going to talk with them. I'm not sure that's adequate. We want to hear more. We want to hear that it's going to stop."
McCarthy did not commit to drastic changes, but he is trying to contrast himself with Boehner by promising a bottom-up approach to running the House, with more input from committees and fewer last-minute bills moving through the Rules Committee. But he is finding it hard to set himself apart from the existing leadership team because he is part of it.
"It is more difficult for him because he has been there with John Boehner each step of the way, but he has also dealt with and interacted directly with each one of the members, so he has got that personal relationship that he has built with most every member of the conference. That is a pretty good tool to have," Rep. Steve King said, noting he is undecided in the race. "He spoke to an openness and being able to listen to more of the members and more of a bottom-up operation. Of course, that is what everybody wants, is a bottom-up operation, not a top-down. We are tired of that."
Not only is that what all members want, that is also what every candidate is pledging. Webster, exiting the meeting, said he is pitching a "principle-based, not power-based, system," that will break down the concentration of power in leadership, and a few of the members in the room have already endorsed him.
Chaffetz said exiting the meeting: "We need to fundamentally change the way we do business around here. Process, making sure all members are valued. Even if they have a different vote on the floor, they want to be respected along the way, too."
Like McCarthy, though, Chaffetz has a trust issue, because he tried unsuccessfully to remove Meadows as a subcommittee chairman on the Oversight and Government Reform Committee.
"I don't know how he's seen," Rep. Tim Huelskamp said. "Seeing what he did to Mark Meadows … it still looks like a big deal to me, and to Tea Party groups, it is a big deal that he played a role in that and was either McCarthy's or Boehner's hatchet man on that."
Other members, such as Reps. Curt Clawson, Michael Burgess, and Andy Harris said they have yet to decide on a candidate. And when asked whether he would support on the House floor the candidate members elect behind closed doors, as he has in the past, Rep. Trent Franks demurred.
"That's been my position in the past," he said. "But this has some unique twists to it, and I have to at least give whatever those discussions are room to manifest."
Rep. Walter Jones was more direct: He said based on his personal experience with McCarthy and his staff, he could never support promoting the majority leader. He said he supports Webster, but when asked whether he thinks any of the three candidates can get 218 votes, he said: "Probably no tonight. I don't know what the next week or two will bring."
This article has been updated.