Rubio and Cruz Shine at the Third Republican Debate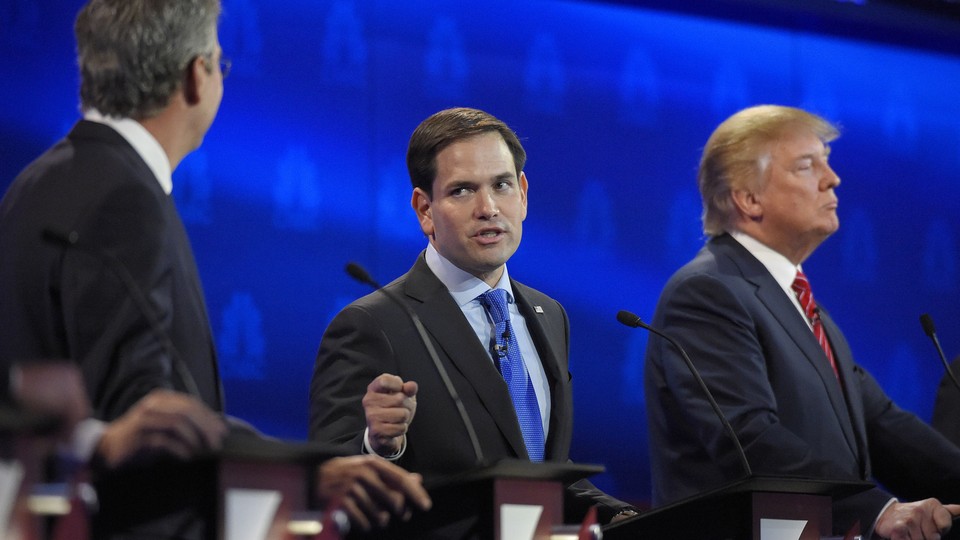 Editor's Note:
This article previously appeared in a different format as part of The Atlantic's Notes section, retired in 2021.
The Atlantic's politics and business teams combined our might to liveblog the third Republican debate tonight. You can read the whole thing here. Here's my instant reaction:
Boulder might be the most relaxed city to host a presidential debate so far this in this campaign, but the stage at the Republican debate Wednesday night was anything but chill.

Hosted by CNBC, the debate was billed as focusing on economic policy, but the most important thread running through it was rancor. Candidates yelled at moderators. Moderators yelled at candidates. Jim Cramer and John Kasich yelled at, well, everyone. There were interruptions, anger, and frustration. And from Jeb Bush, there was an offer of a "warm kiss." Maybe you had to be there—though it didn't make a great deal of sense at the time, either.

The two candidates to thrive were a pair of senators who have been slowly but clearly gaining strength over the last few weeks: Marco Rubio and Ted Cruz. Rubio has emerged as something of a bettor's favorite: Though he still lags in the polls, pundits who assume Donald Trump and Ben Carson can't win have tabbed him as the man to benefit. He showed why his political abilities are so well regarded. The polished, poised Rubio repeatedly turned what might have been tough questions around on the questioner.
Read the rest, and our full recap, here.