How Much Do Marco Rubio's Personal Finances Matter?
The rising Republican candidate's past money scandals are under new scrutiny from reporters and his rival Jeb Bush.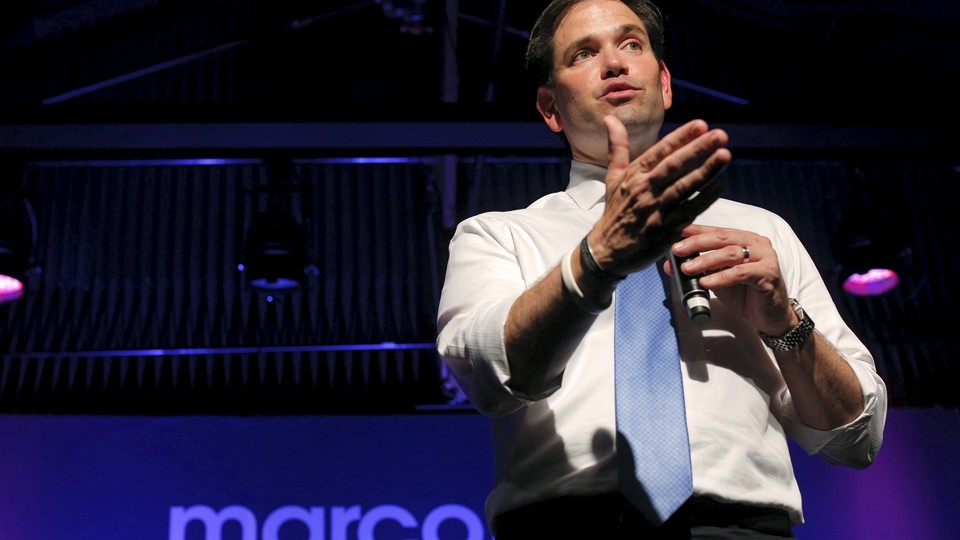 Marco Rubio had two answers he was ready to nail in Wednesday night's GOP debate. One was about missing votes in the Senate, and he managed to both shut down Carl Quintanilla's question and deal a body blow to Jeb Bush's campaign with his reply.
The other was about his personal finances, and his answer was a slam dunk there, too. "You accidentally intermingled campaign money with your personal money. You faced foreclosure on a second home that you bought. And just last year, you liquidated a $68,000 retirement fund," CNBC's Betsy Quick noted. "In terms of all of that, it raises the question whether you have the maturity and wisdom to lead this $17 trillion economy. What do you say?"
Rubio pounced with a triple-pronged answer. He derided the question as Democratic talking points. He plugged the paperback edition of his book, grinning winsomely. And he turned a personal liability into a political asset.
"I know for a fact how difficult it is to raise children, how expensive it's become for working families. And I make a lot more than the average American," Rubio said. "Imagine how hard it is for these people out there that are making $40, $50, $60,000 a year, and they're trying to provide for their families at a time when this economy is not growing."
That was the end of that, at least for the evening. But the issue hasn't gone away. On Thursday, David Catanese got his hands on the full version of a PowerPoint slideshow that Bush aides showed at their weekend retreat and regroup. One of the major takeaways from the retreat was that Bush would attack Rubio, his ascendant home-state rival, and the slideshow included this: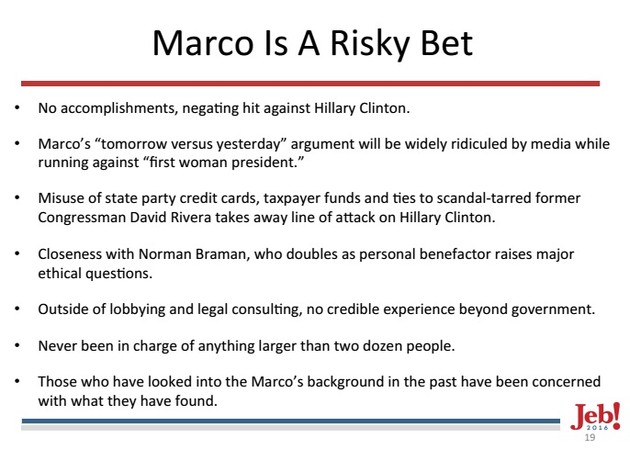 The same day, The New Yorker's Ryan Lizza argued the story of Rubio's finances is "a big deal." "Rubio is about to go through a period of much more intensive media scrutiny," Lizza wrote. "Complaining about media bias won't be enough to get him through it."
I
wrote in a little more detail
about the various questions about Rubio's finances in 2012, as speculation about who Mitt Romney would choose as his running mate heated up. In addition to what Quick mentioned, Rubio improperly used a Republican Party credit card for personal expenses. He was fined for campaign-finance violations. He was accused of living lavishly on donations. Perhaps most damaging is his close friendship with David Rivera, a former congressman under investigation for various improprieties, as mentioned in the slide above. (There's
more detail and links here
.)
Florida Democrats were eagerly pushing out background on all of it at the time. The cryptic line in the Bush slide that "those who have looked into Marco's background in the past have been concerned about what they have been found" is widely being interpreted as a reference to the 2012 veepstakes—so much so that a top Romney aide decided to come forward to
insist Rubio passed vetting
.
Questions about finances do seem to strike closer to character and how a candidate might run an administration than, for example, whether or not he's showing up for largely inconsequential Senate votes. They can reveal either sloppiness or duplicity—traits that many voters feel matter for a president.
But none of this seems to have slowed Rubio's rise yet. There are a few possible reasons for that. One is that even for a politician with national attention like Rubio, the media vetting for a leading presidential contender is on another level. But so far, stories like a
New York Times consideration
of his boat have bounced off him harmlessly. A second is that Quick approached the question as many journalists have—asking Rubio whether it was a
political
liability, a question he's prepared to shut down, rather than drilling into whether he made any serious mistakes with the money.
But a third is that maybe people just don't care. Voters haven't hesitated to elect presidents with financial irregularities in their past before. Rubio is basically following Richard Nixon's playbook from his famous 1952 "Checkers speech," in which he dispensed with accusations of financial improprieties by appealing to voters as a man of little means
*
: "We lived rather modestly. For four years we lived in an apartment in Parkfairfax, in Alexandria, Virginia. The rent was $80 a month. And we saved for the time that we could buy a house …. This will surprise you, because it is so little, I suppose, as standards generally go, of people in public life."
Nor did financial irregularities block Bill Clinton's path to the White House. He and his wife, Hillary Clinton, whom Rubio would be likely to face if he wins the Republican nomination, faced questions about their financial past as well. There were issues about unpaid taxes on a car, returns on commodity investments, and most famously their investment in Whitewater, a failed real-estate development. Despite these various questions, Clinton was elected and re-elected as president. (That isn't to say they were harmless: After years of investigation and millions in expenses, inquiries into Whitewater failed to produce any evidence of wrongdoing—but the investigation
ultimately spiraled
into Bill Clinton's impeachment in the Monica Lewinsky scandal.)
Nixon and the Clintons were able to convince voters that these irregularities were the result not of dishonesty or intentional wrongdoing, but of honest mistakes by people who didn't come from money. The president's job isn't to be accountant-in-chief, and the most business-astute presidents have tended to be mediocre at best in the White House, while failed haberdasher Harry Truman is well regarded. That means questions about Rubio's finances are perhaps most useful as a litmus test about his probity. Since voters seem to generally find Rubio trustworthy, that's a battle
he's in a good position to win
in the absence of clear evidence of wrongdoing.
---
* This post originally stated that the Checkers speech was in 1960. We regret the error.