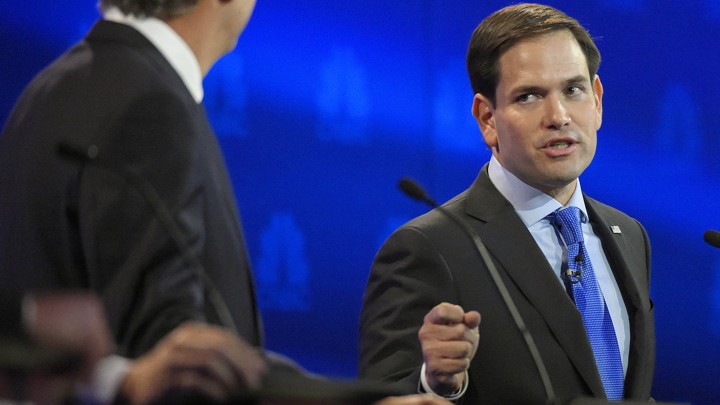 The apprentice became the master Wednesday night in Colorado.
Marco Rubio knocked just about every question he faced at the third Republican presidential debate out of the park, whether it was from the CNBC moderators or from one of his rivals. The senator from Florida registered a clean counterpunch against Jeb Bush, one of his top competitors, and he lambasted one of conservatives' favorite punching bags, the mainstream media. All the while, Rubio successfully deflected some of the most common criticisms he's encountered on the campaign trail: namely, his sparse congressional attendance record and the handling of his personal finances. And the audience took notice, often responding with resounding applause or even laughter.
Rubio had more time than any candidate on stage except for Carly Fiorina to get his points across, speaking for a total of 10 minutes and 10 seconds, according to a tally from NPR. Here's a look at a handful of Rubio's top moments:
— "Someone convinced you attacking me is going to help you."
Bush started a fight with Rubio. Rubio finished it. In the first half-hour of the debate, the moderators pressed Rubio on the votes he's missed in the Senate while campaigning for president. They pointed to a recent editorial from the Sun Sentinel, Florida's fourth-largest newspaper by circulation, suggesting Rubio step down.
Then Bush tried to pile on. "Literally, the Senate, is it a French work week?" Bush asked, noting that he's one of Rubio's constituents. "Just resign and let somebody else take the job. There are a lot of people who are living paycheck-to-paycheck in Florida."
Rubio responded by noting that Bush didn't criticize John McCain's voting record during the 2008 presidential campaign. "The only reason you're doing it now is because we're running for the same position," Rubio said. "Someone convinced you attacking me is going to help you. I can't campaign about the future of America or attacking anyone else on this stage."
Bush didn't even get an opportunity to fire back.
It didn't take the Rubio campaign long to capitalize on a golden moment: Spokesman Alex Conant tweeted out a link to the exchange about 20 minutes later. "Watch the Marco-Jeb exchange here," he said. "And then re-watch it."
— "It's available on paperback."
Rubio also dispensed with a question about his past financial troubles, which have included accumulating debt, dipping into his retirement account early, and foreclosing on a house. CNBC's Carl Quintanilla asked whether Rubio had "the maturity and wisdom to lead this $17 trillion economy.
"You just listed a litany of discredited attacks from Democrats and my political opponents, and I'm not gonna waste 60 seconds detailing them all," Rubio said, before describing his modest upbringing and pivoting to the money problems other Americans are experiencing.
One of the other moderators, Becky Quick, attempted to push back, noting that Rubio has since had opportunities most people don't, including inking a lucrative book deal.
"And I used it to pay off my loans. And it's available on paperback, if you're interested in buying my book," Rubio said to applause.
— "The Democrats have the ultimate super PAC. It's called the mainstream media."
A later attack on the media from Rubio went down as one of the more memorable lines of the night. After Donald Trump criticized the influence of super PACs, Rubio jumped in to say: "The Democrats have the ultimate super PAC. It's called the mainstream media." Like Ted Cruz's pushback against the CNBC moderators and other media critiques, it was one of the debate's best-received lines.
Rubio then went on to criticize the way the press covered Hillary Clinton's testimony before the House Select Committee on Benghazi last week.
"The mainstream media is saying it was the greatest week in Hillary Clinton's campaign," Rubio said. "It was the week she got exposed as a liar. But she has her super PAC helping her out—the American mainstream media."  
— "You had to go back and correct it."
Rubio had another tense exchange with a moderator when the discussion turned to tax policy. CNBC's John Harwood said that the Tax Foundation concluded that Rubio's plan would disproportionately help those in the top 1 percent of income-earners, which the senator disputed.
"You wrote a story on it, and you had to go back and correct it," Rubio said. "No, I did not,' Harwood responded. "You did. No, you did," Rubio fired back, much to the crowd's delight.
Rubio appears to have been referencing a tweet from Harwood two weeks ago. Harwood wrote: "CORRECTING earlier tweet: Tax Foundation says Rubio benefits lowest 10% proportionally more (55.9) than top 1% (27.9%). Avg for all: 17.8%.
— "I'm against anything that's bad for my mother."
Finally, Rubio scored points with perhaps the most important demographic of all: his mother. Towards the end of the debate as the candidates were discussing entitlement reform, Rubio said: "My mother's on Medicare and Social Security. I'm against anything that's bad for my mother."
We want to hear what you think about this article. Submit a letter to the editor or write to letters@theatlantic.com.
Adam Wollner is an analyst for National Journal Hotline. Previously, he covered politics as an intern for NPR and the Center for Public Integrity. A native Wisconsinite, Wollner graduated from the University of Wisconsin-Madison in 2013 with a bachelor degree in journalism and political science.