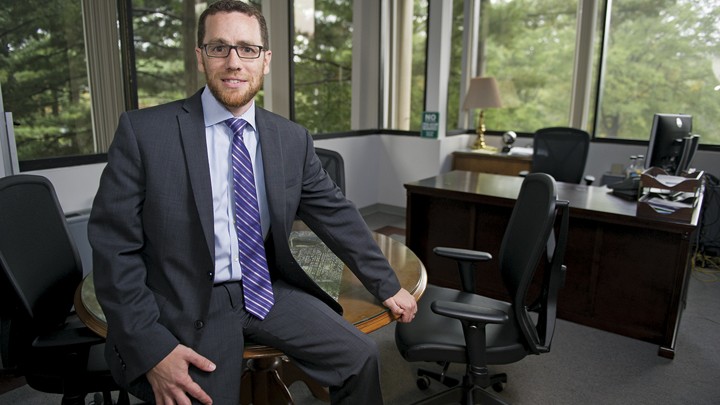 It's early evening at the start of fall, and Michael Tischler suggests we go for a walk. I've driven from D.C. through terrible traffic to meet him at the Interior Department's leafy, green U.S. Geological Survey campus in Reston, Virginia, and I'm glad for the opportunity to stretch my legs. So, it seems, is he. For a guy who got into his line of work in part to be outdoors, he's spending a lot of time inside these days.
At 37, Tischler is the new director of the National Geospatial Program at the USGS, the component of the agency responsible for designing and producing the nation's topographic maps. It is a field he has long loved, he tells me. "I'm a very visual learner. When I see a map, things click," Tischler says. "I also like the fact that people love maps. It doesn't matter what you're talking about, if you're trying to describe where you're going to build the next bridge or where you're going on vacation or where do you want to go to dinner tonight, the first thing you do is look at Google Maps: How do I get from here to there? It's something people understand. And I think part of the reason people like it is because it helps them—it helped me—make sense of the world."
Since he started in the role on April 6, he has been overseeing a host of projects; the one he's most excited about is the 3D Elevation Program, the aim of which is to systematically gather high-quality topographical data across the country, which will be used for all kinds of modeling applications that inform government and industry alike. The work will be done primarily through the use of LIDAR—which stands for Light Detection and Ranging—a technology that provides detailed 3-D information about the Earth's landscape and what's on it by analyzing the way objects reflect pulses of light from a laser. What's so thrilling about that? "It's going to serve as a foundational data set against which you can measure change," Tischler says. "It could be landscape change, it could be climate change, it could be deforestation—all of these things can be measured if you have a good benchmark." The project is expected to save lives and money in a variety of ways, including identifying active geological faults before disaster strikes, improving precision farming, and boosting aviation safety.
Born and raised in Punxsutawney, Pennsylvania, Tischler had a sense of what he liked to do from early on. "I knew I wanted to be a scientist, and I knew I wanted to do something outdoors," he says, "so environmental science seemed like a good place to start." He earned a B.S. in soil science from North Dakota State University in 2000 and a master's in soil and water science from the University of Florida. He worked as a contractor to the NASA Goddard Space Flight Center, looking at high-resolution soil modeling, before joining the U.S. Army Corps of Engineers' Engineer Research and Development Center as a research physical scientist. He spent 11 years there, becoming associate technical director in 2011 and serving as acting technical director of the Army Corps' Topographic Engineering Center for six months in 2013.
During that time, Tischler was also pursuing his doctorate in Earth systems and geoinformation science at George Mason University, a degree he started two years after joining the Army Corps and finished this past spring. (His doctoral work involved creating interactive, color-coded, digital maps that integrated historical data to predict where burglaries in Washington, D.C., were most likely to occur based on where they had occurred in the past.) That period of his life also included a four-month civilian deployment to Iraq, where he helped provide technical support for area-mapping initiatives, and stints overseeing ground-penetrating radar surveys for hazard detection in Antarctica and Greenland. His current work may be tamer than some of what he did overseas, but it's also some of the most exciting he has ever done, he says. And every day is a new chance to use his favorite lens for learning about the world.
We want to hear what you think about this article. Submit a letter to the editor or write to letters@theatlantic.com.