Loretta Sanchez Places a Bet on a Democrat-Versus-Democrat Senate Race in California
The Blue Dog representative is talking up her record of bipartisan work in anticipation of a possible general election showdown with fellow Democrat Kamala Harris.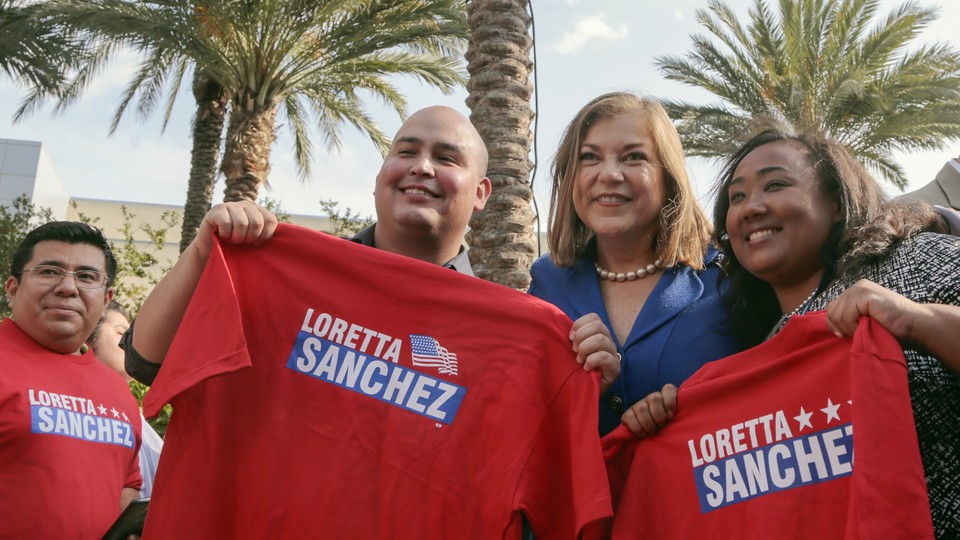 Democratic Rep. Loretta Sanchez's long-shot Senate bid could get an unusual boost if California Republicans fail to coalesce around a single candidate in the state's open primary next June.
Sanchez faces a narrow path to victory over better-known, better-funded Democratic Attorney General Kamala Harris. But that path is slightly wider in California than it would be in any other state. Thanks to the all-party, top-two primary setup that California uses, Sanchez could leapfrog a crowded and splintered field of Republican candidates for a spot in the general election.
It hasn't happened at the statewide level in the two elections since California adopted its current primary system, but political watchers from both parties say the conditions in the 2016 Senate race could be just right. If Sanchez makes it to the general election, allies of the Orange County Blue Dog Democrat say her more moderate profile could help her pick up support from independents and maybe even some Republican voters who wouldn't have a candidate on the ballot.
"If Republicans have numerous candidates with no name ID and no resources to create it, and there's two better-funded and higher-name-ID candidates, I think it's very plausible you get to a D-on-D runoff," said California Republican strategist Rob Stutzman, who pointed to several legislative races in past elections as precedents.
For now, that's exactly the situation California Republicans find themselves in. A handful of little-known GOP candidates have already started campaigning, but none have the money or recognition to claim front-runner status. At the state Republican Party convention in Anaheim last month, there was talk about consolidating behind one candidate if he pulled ahead of the others. But each of the men running spoke zealously about his own path to victory, and Republicans have not been optimistic about ending up with one standard-bearer—especially because other candidates continue to eye the race.
For Sanchez, finishing second in the all-party primary is crucial. Short of some drastic shake-up, Harris's early advantages make the prospect of Sanchez advancing to November 2016 as the lone Democrat nearly impossible. Since announcing her candidacy in January, Harris has raised more than $6 million to Sanchez's $1 million. Harris has also picked up a string of big-name endorsements, including Democratic women's group EMILY's List and progressive leader Elizabeth Warren. In a recent field Field poll and a survey from the Los Angeles Times, Harris led Sanchez by 13 and 9 points, respectively, in primary-ballot tests that included the announced GOP candidates.
For her part, Harris's campaign spokesman, Nathan Click, said the campaign's strategy "has been the same since Day 1 … building a strong campaign that communicates Kamala's record of winning results for California families as a career prosecutor, finishes strong in the June primary, and propels us to victory in November."
But if Sanchez makes it though that primary with her, Harris will have a very different race on her hands.
Well-moneyed business groups and other outside spenders have proven willing to pick sides in recent Democrat-versus-Democrat races in California. Notably, Los Angeles Mayor Eric Garcetti's opponent, a fellow Democrat, won support from the local AFL-CIO as well as the Los Angeles Area Chamber of Commerce in the 2013 race.
Marty Wilson, the vice president of public affairs for the California Chamber of Commerce, said the "people who typically fund Republican campaigns" have seen a lot of success weighing in on local races. If the same opportunity presented itself at the Senate level, he said, it would be no surprise to see more moderate and conservative-leaning donors getting involved.
Though Wilson's group focuses only on state-level races, he said a race between Harris and Sanchez would leave plenty of "opportunities for Republicans and the independent community to make their voice known."
"I don't think Harris is a front-runner in a runoff against Sanchez at all," said Stutzman, the GOP consultant. "Sanchez would have a real opportunity to coalesce a good majority of Republican voters."
Intra-party general elections in California have typically struggled to attract voters from the opposite party; for example, in races featuring two Democrats, there's evidence that many Republicans have simply chosen not to vote. But speaking to Democrats in Southern California earlier this month, Sanchez appeared to be laying the groundwork for just such a campaign.
"I am a Democrat," Sanchez told an audience at Democratic Party headquarters in Cathedral City, according to the Desert Sun newspaper. "But I also know how to work with Republicans. I come from Orange County."
In an interview with National Journal, Sanchez touted her experience working in the financial industry as a key part of her relationship with California's business community. She said she was confident in her ability to make it past the June primary, and she took shots at Harris's lack of experience working across the aisle.
"I have an MBA, and I worked in the financial markets for 12 years before I went into Congress. I work quite a bit with my business community," said Sanchez. "I'm going to tell people about my experience; I'm going to tell them about my business experience, about my finance experience, about my legislative experience, about working with people, about representing an area that has typically been Republican, and how to get along with people, and how to get things moving and get things done."
Sanchez's bipartisan pitch does not include many disagreements with her party. Her record on social matters, including LGBT issues and abortion, has helped make her one of the most liberal members of Congress. What she does have, Sanchez says, is experience on the Armed Services and Homeland Security committees—two areas that resonate particularly strongly with Republican voters.
"If you look at my voting record, you'll see that I'm a great Democrat," said Sanchez. "But it is true that the work I do in Congress, in particular the committees that I sit on … there's certainly some of the less divisive issues that go through the Congress."
Sanchez adviser Bill Carrick said that profile, combined with her Southern California base, would play well in a "structurally different" fall election.
"I don't think any of these voters, if you're a Republican and you're being confronted with two Democrats … they're not looking for someone to be something they're not," Carrick said. "They're looking for a comfort level. I think Loretta can make a good case for that."
Any number of factors, though, could derail a Harris-Sanchez head-to-head matchup. If the Republicans in the race do clear the path for one GOP candidate to soak up most of their primary votes, the math on a divided Democratic side gets much harder. Sanchez would still need to make up that financial gap. And, after all that, she'd need to convince some Republicans to hold their noses and vote for someone with a "D" next to her name.
"Frankly, I don't know what's worse—having an obscure candidate in a general election that no one ever really ends up caring about, losing by 20-plus points … versus being able to elect someone who is more moderate versus more liberal," said Stutzman.