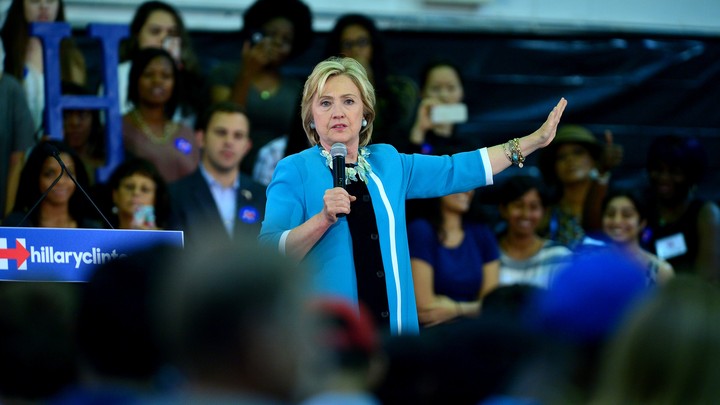 As House Republicans descended into chaos Thursday with the surprise announcement that Rep. Kevin McCarthy is no longer seeking to run for House Speaker, one group of people had cause for celebration: Hillary Clinton and her allies.
Clinton is slated to be on the Hill on Oct. 22 for her long-awaited testimony before the Benghazi Committee—the very group at the center of what ailed McCarthy's short-lived campaign. And the more Clinton and her team can point to the House Republicans' dysfunction on the Hill, the better position she'll be in when she arrives for her testimony.
"Everybody thought Hillary Clinton was unbeatable, right? But we put together a Benghazi special committee, a select committee," McCarthy said on Fox News last week, taking the Clinton campaign from defense on the email story to offense against McCarthy and the Benghazi committee. "What are her numbers today? Her numbers are dropping."
The comments, suggesting a political reason for setting up a congressional committee, were enough of a political gift to Clinton's campaign that they were the subject of her first national television ad, which showed a clip of McCarthy and said Republicans "have spent millions attacking Hillary because she's fighting for everything they oppose."
Her team also released an online video featuring a Kevin McCarthy from Iowa—who because of his Twitter handle was receiving much of the ire meant for the California congressman—calling out the Benghazi panel for "spending our taxpayer dollars to pay electoral politics."
On Thursday, after McCarthy dropped his bid, Clinton's Twitter account sent out a link to the video again, saying, "How about this Kevin McCarthy for speaker instead?"
Clinton's allies, too, immediately pounced on the news of McCarthy's decision not to seek the speakership.
"Kevin McCarthy fell for telling the truth about a political charade. He exposed the partisan effort to sabotage Hillary Clinton's campaign and it cost him the speakership," David Brock, who heads the pro-Clinton groups Correct the Record and Media Matters for America, said in a statement. "The question that must be asked next is, now that his partisan agenda has been exposed by his own colleague, will Benghazi Committee Chairman Trey Gowdy be the next to fall?"
Clinton spokesman Brian Fallon, too, suggested the campaign is far from being done using McCarthy's comments against House Republicans.
"Kevin McCarthy's truthtelling about the partisan Benghazi Committee will live on well past his doomed bid for Speaker," Fallon tweeted Thursday afternoon.
We want to hear what you think about this article. Submit a letter to the editor or write to letters@theatlantic.com.
Emily Schultheis
is a writer based in Berlin with a fellowship from the Institute of Current World Affairs. Her writing has appeared in
Foreign Policy, The Guardian,
and
Politico
, among other publications.