Why Did Lincoln Chafee Even Run?
In a year of inexplicable presidential candidacies, his stood out for its utter pointlessness.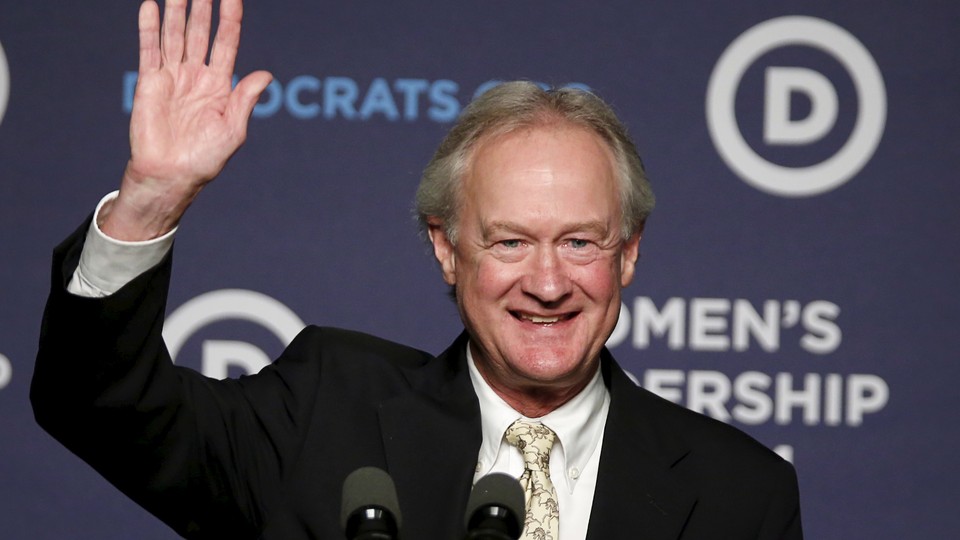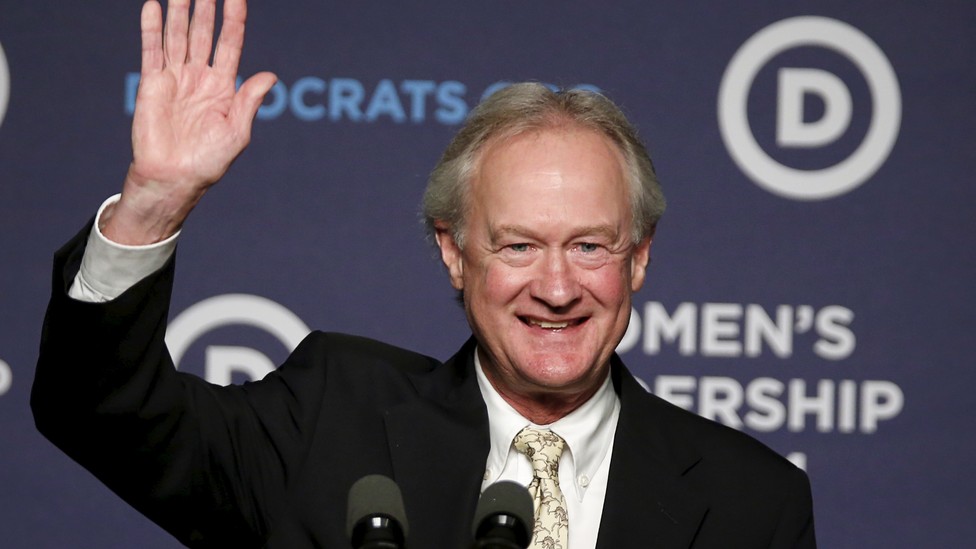 Even when he was running for president, Lincoln Chafee did not go so far as to predict he would end up in the White House. "I'm running to give the people a choice—that's my goal," he said, when I asked him to make such a forecast. "Let them decide." It was a crisp, sunny September day in New Hampshire, and Chafee, whose ruddy head is topped by a mushroomlike cap of gray-blond hair, was standing in a grove of trees, having finished his speech to a group of Democrats gathered in a local activist's backyard.
Chafee dropped out of the race Friday, having apparently realized what was always clear to just about everyone else: that his candidacy was an exercise in pointlessness. A few weeks ago, I joined him in New Hampshire in an attempt to figure out what, exactly, he thought he was doing—but the mystery only deepened.
I had sought out Chafee because he seemed to epitomize a field of presidential candidates notable for its sheer profusion: Combining Democrats and Republicans, it stood, at its peak, at 22 major entrants. (With Chafee's exit, there are now only—only!—18.) Most clown cars, the metaphor pundits tend to reach for to describe this crowd, couldn't hold this many bozos. It is the largest field for 100 years. Never before have so many—with so little chance of success—sought America's sanction to lead the country into the future.
Chafee, I hoped, might help answer the question naturally raised by the candidate glut: What are all these people thinking? From the beginning, he was among the most perplexing of the long-shotters. His announcement speech—delivered in June in an auditorium in suburban Washington, the empty back half of which had been curtained off—was noted mainly for his contention that the U.S. ought to convert to the metric system. It wasn't even big news in his home state: The Providence Journal didn't deign to send a reporter, instead running a wire report inside the paper. Ted Nesi, an analyst for the local CBS station, characterized locals' reaction as "a mix of shock, bewilderment, amusement and outright hostility."
Chafee, despite being a former senator and governor of Rhode Island, had no apparent rationale for his candidacy. Over the summer, Conan O'Brien decided to champion him as the ultimate underdog, and enlisted Ted Leo and Aimee Mann to write him a theme song, to the tune of "She Drives Me Crazy." One couplet: "He's only got 12 Facebook friends; he looks like Chris Matthews on a juice cleanse." In last week's Democratic debate, Chafee described himself as "a block of granite" and tried to explain away a distasteful vote by noting he was new to the Senate at the time; afterward, CNN's Wolf Blitzer told him, "You're going to wind up looking silly if you keep going on like this." In polls, Chafee routinely received not a single respondent's support. Contenders with no obvious base are sometimes termed "vanity candidates," but surely vanity has few antidotes more potent than repeatedly being told nobody likes you.
That day in New Hampshire, I wasn't the only one trying to get my head around what Chafee thought he was up to. His speech had been a rather low-key recitation of his long political resume ("I haven't had any scandals, believe it or not!"), and afterward, he opened the floor to questions. For a tense moment, it seemed like there might not be any. But then a white-haired man in a green fleece vest raised his hand. "I'm not saying this to be derogatory," he began. But when Chafee appeared on Real Time With Bill Maher, he had seemed "very quiet and sheepish," the man continued. "Polls being what they are, why are you persisting with your candidacy at this time?" he asked.
Chafee chuckled awkwardly and said he appreciated the "good, tough question." He chalked his disposition up to his background: After finishing a classics degree at Brown, a young Chafee moved to Bozeman, Montana, where he learned to shoe horses; he went on to work as a farrier at racetracks in the U.S. and Canada. "When you're around horses, you tend to be a quieter person," he said, somewhat apologetically. But he said he put little stock in the polls: "People start to focus as you get closer" to the vote, he said. "I'll put my resume up against any candidate," he added.
Observing and interacting with Chafee, I tried out a number of theories to explain his quest. Was he a narcissist? This did not appear to be the case; he has a mild and self-effacing demeanor. Nor was he clearly a people person—while other candidates and their representatives at the event worked the room shaking hands, Chafee hovered, solitary, on the sidelines when it wasn't his turn to speak. When raffle winners were announced and it turned out he was standing next to the prize table, he quickly got out of the way. Later, he sat down at the table to flip through one of the prizes, a book about the Kennedys. Nobody bothered him.
No-hope candidates are sometimes said to want attention. But when you're one of 22 and on the back end of the polls, attention is hard to come by. Nor does a flashy book deal or television gig seem likely to result from a candidacy nobody noticed. Perhaps Chafee felt this was his birthright—his father was a senator before him, and his great-great-grandfather was a Rhode Island governor. But he told me he had chanced into the family business. Did he just not have anything better to do? If he weren't running, he said, he might have resumed the international studies fellowship at Brown he held from 2007 to 2009, after he lost reelection as a Republican senator, before being elected governor as an independent. "I loved that," he said. "I've always worked."
Chafee's own theory for the profusion of candidates was that the Republicans were motivated by a strong, and partly "racial," hatred of President Obama, while the Democratic field, at 5, was "normal" in size. As for himself, he said he was motivated by international events. "We've made a lot of mistakes since September 11," he said. "We need to fix them. It's alarming to me. That's why I'm running."
Chafee spoke in a reedy near-whisper, punctuated by a frantic grin that flashed across his face at odd moments. He was unsparing in his assessment of Hillary Clinton, the Democratic frontrunner, whom he served alongside in the Senate, where she voted to authorize the Iraq war and he did not—the lone Republican to vote against it. "I've always thought the war vote, even though it's a long time ago, but also the tenure as secretary of state," he said, trailing off without finishing the sentence. "It was just too unilateral an approach to the world," he said.
Chafee's slogan is "Prosperity Through Peace," but he's not focused enough on one topic to be called a message candidate. When I brought up the metric system, he sighed. "I also talked about banning drones," he said. "I also talked about no capital punishment. I also talked about bringing Edward Snowden home, and stopping torture, and stopping warrantless wiretapping. But I haven't gotten one question about bringing Edward Snowden home." His interest in the metric system, he said, stemmed from living in Canada when that country went metric, in the '70s, and seeing how easy the process was. "It's just America growing up a little bit and joining the world," he said, pointing out that the only other non-metric countries are Liberia and Myanmar.
Perhaps, I said hopefully, this policy had attracted metric advocates to Chafee's campaign? He shook his head. "No, no, no," he said.
Chafee's campaign had a staff of two—his press secretary, Debbie Rich, and campaign manager, Jon Stevens, both of whom he had known for decades. (Stevens, an urban planner by profession, described the campaign as "kind of a sabbatical for me.") It received scarcely $50,000 in donations; its main source of funds was a $364,000 loan from Chafee. Once or twice a week, he drove from his home in Warwick, Rhode Island, to New Hampshire, where he was a constant presence at Democratic events. (I was surprised at how widely he was recognized at the backyard picnic in Hampton, until I learned he had addressed the Hampton Democrats twice before. The group's chairman was pleased by Chafee's tendency to respond promptly and personally to invitations.)
Despite his campaign's aimless quality, Chafee professed to be having a good time. "I enjoy listening to people," he said. "Being a horse person, listening is not just words—it's body language and moods." Unlike in politics, where his electoral record is mixed, Chafee was a very successful horseshoer. "No horse came through my shop—and I think 5,000 came through—that I didn't get shoes on," he said proudly. "Some of them came in right out of the pasture." I asked if he preferred horses or people, and Chafee grinned. "Horses, uh, horses don't talk. That's one of their advantages," he said.
In my canvas of the crowd, I couldn't find anyone who planned to vote for Chafee. When I asked people why they guessed he was running, several shrugged; one man actually scratched his head. "Well, I mean, I heard him speak, but that doesn't tell you much," said a woman named Lynn Goodman. The man in the green fleece vest, an author and Unitarian lay minister named George Harvey, said he was planning to vote for Bernie Sanders.
"At first, I thought perhaps he is looking to be an educator candidate, to bring forth the issue that's important to him," rather than to win per se, Harvey explained. But in listening to Chafee, he'd decided that was not the case: "No, I get the sense that he really feels, in earnest, that he is a good candidate." As Harvey spoke, I could see Chafee across the tent, serving himself fruit salad from the buffet. He was a bad candidate but a lovely guest—quiet, polite, unobtrusive. Perhaps, even though he's no longer in the race, he'll still be invited to the picnics.
---
Related Video