Leadership-Aligned GOP Outside Groups Ready for New Speaker
The American Action Network and Congressional Leadership Fund were established early in John Boehner's tenure as speaker to support the party leadership. Now they'll have to defend a huge Republican majority with a new speaker.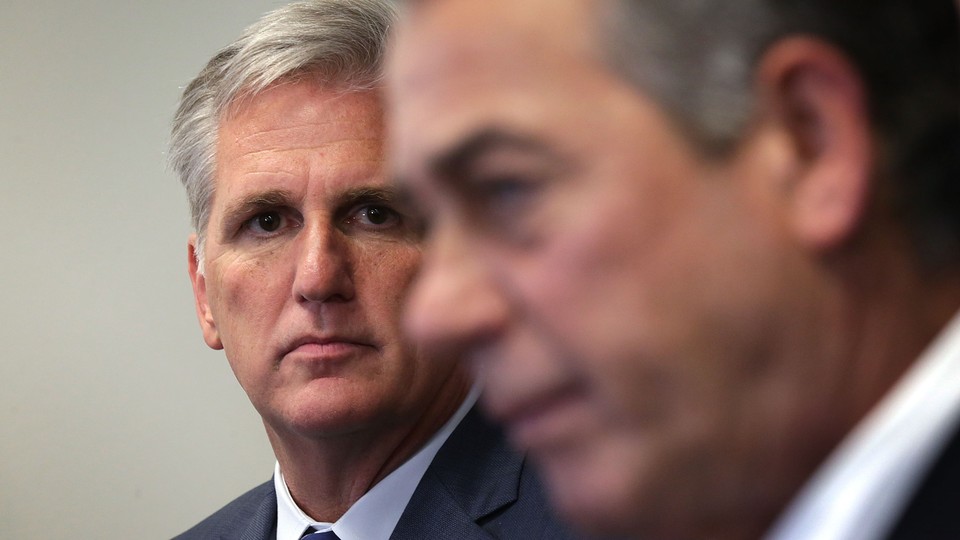 As House Republicans prepare to elect the next House speaker, the leadership-aligned outside groups created to keep them in the majority are preparing for life under a new leader.
The American Action Network and Congressional Leadership Fund—a nonprofit and super PAC combo that can raise unlimited money from big donors—have only ever operated under a Republican conference led by House Speaker John Boehner. At face value, nothing changes; the speaker doesn't actually control either group, even though they were both launched to support party leadership and House GOP majorities.
But just as a new speaker will decide how he'll keep members of his party in line, the American Action Network, which spends big to run TV ads on issues before Congress, will have to determine how and when it puts pressure on fellow Republicans—which it has been doing in 2015 with greater assertiveness than ever.
Mike Shields, a former top staffer at the National Republican Congressional Committee and Republican National Committee who is now president of AAN and CLF, said the groups' goals remain the same. Neither organization is a moderate or centrist group, he said; they're conservative groups that align with the party leadership's approach to passing legislation and avoiding shutdowns.
Shields noted that the group has a good relationship with House Majority Leader Kevin McCarthy, the favorite to become speaker against long-shot challenges from Reps. Jason Chaffetz of Utah and Daniel Webster of Florida.
"Our interest is in having an effective conservative agenda that passes," Shields said, repeating the word "conservative" more than 10 times in a telephone interview with National Journal. "And so there's going to be different tactics along the way in how you go about passing that agenda, but the fact remains that there is not an ideological fight in the party. There is not, for instance, a massive pro-Obamacare wing in the party that's fighting the big anti-Obamacare wing."
As Boehner faced challenges to his leadership this year, American Action Network was more assertive than ever on intraparty battles. In March, American Action Network spent $400,000 to broadcast negative ads against Republican Reps. Tim Huelskamp, Jim Bridenstine, and Jim Jordan after they and other Republicans threatened to withhold funds for the Homeland Security Department unless the funding was tied to reversing President Obama's executive order giving some undocumented immigrants legal status. (None of the three responded to requests for comment.)
After Boehner gave up on undoing Obama's executive action, AAN's TV ads showed images of what appeared to be members of ISIS, saying Huelskamp, Bridenstine, and Jordan were "will­ing to put our se­cur­ity at risk by jeop­ard­iz­ing crit­ic­al se­cur­ity fund­ing."
American Action Network also ran positive ads thanking members who sided with Boehner on DHS funding, as well as ones thanking members who supported the party leadership's proposed budget, supported a leadership-backed Trade Promotion Authority bill, and opposed a White House-proposed set of fiduciary rules.
Shields attributed the group's activity to its fundraising success as it becomes more established.
"This was a higher volume of issue advocacy this spring than the American Action Network had had in the past," Shields said. "And a lot of that was due to the financial success that the organization had had in raising money."
Rep. Walter Jones of North Carolina, a frequent critic of House GOP leaders and allied groups, was not the subject of the negative ads on DHS funding. But he said he didn't take kindly to seeing leadership spend hundreds of thousands of dollars against Republicans.
"These are absolutely what destroys the American people's confidence in members doing what members are elected to do," Jones said. "Because when leadership starts running ads against fellow colleagues because they're not willing to be a puppet for leadership, then that's why you've got Donald Trump … and Bernie Sanders running so strong now."
To Jones's dismay, these groups' involvement in House races highlights the importance of a new speaker's ability to fundraise for the party. As Democrats look to pick off as many swing-seat incumbents as possible, the next speaker needs to be a prolific fundraiser, Shields said.
"It's really important for every member of Congress to understand that the leaders of the House Republican Conference have a massive responsibility to go and raise resources to win races, or else they won't be in the majority anymore," Shields said. "Otherwise, all of these leadership issues they have will be insignificant because Nancy Pelosi will be the speaker and they'll all be in the minority in their committees and have Democratic committee chairmen."
The speaker is allowed to attend and speak at Congressional Leadership Fund events, which helps the group connect with the speaker's supporters. That's in addition to the major role the speaker plays attending fundraisers for vulnerable incumbents. On that front, Boehner will be hard to replace, but McCarthy "comes from a big state with a huge donor network and a national appeal," Shields said. "He's someone who effectively communicates to donors."
Along with the next speaker, both groups will face a major challenge in 2016 in defending a historic Republican House majority. Republicans control 25 districts that Obama won in 2012, and the higher turnout of a presidential year generally helps Democrats. Still, Shields says that in their fourth cycle, both the American Action Network and Congressional Leadership Fund have built enough of a reputation and a fundraising network to handle the job despite the transition.
"Had the organizations been founded a year ago, maybe this would have been more of a challenge," Shields said. "But they're now well-established as the outside groups that work on issues in the House and races in the House. And so that brand alone has put these organizations in a position to thrive now regardless of who is in the leadership."