How California's Largest School District Blamed an 8th Grader for Her Rape
The LAUSD's indefensible effort to defend itself.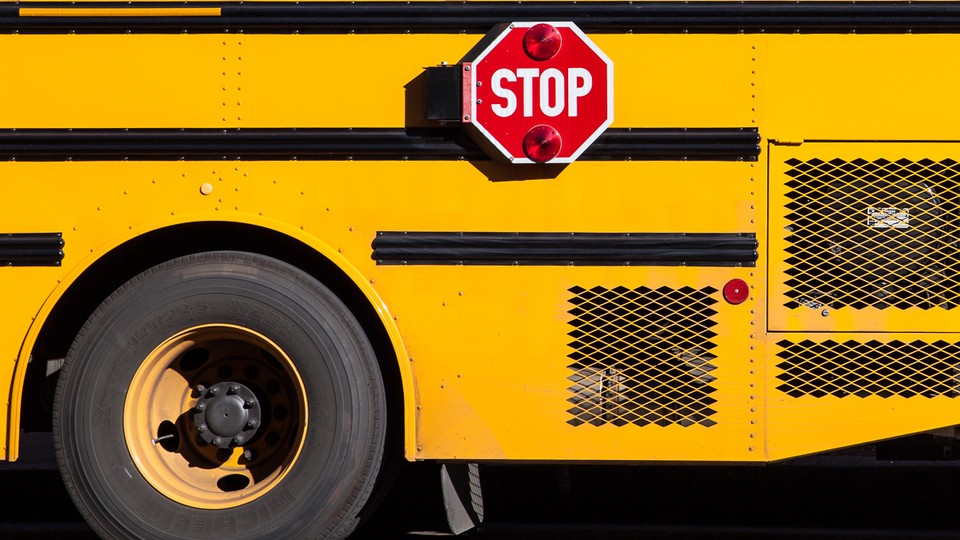 When "M.S." was 13, her math teacher at Edison middle school in Los Angeles invited her to be friends online. Soon, according to a California appeals court, the same teacher started sending her sexually explicit messages. That winter, he called the 8th grader into a classroom and told her to shut the door. The teacher, Elkis Hermida, kissed and hugged the student. In March, he drove M.S. (as she's referred to in court records, to protect her privacy), then 14, to a motel, where, according to the court, "they had sexual intercourse." On a second occasion, "they … had sexual intercourse" in Hermida's classroom.
"The next time they had sexual intercourse was on a Saturday at a motel," the court records say. "Hermida told her that they were not in a relationship but were just having sex." At that point, M.S. "wanted to stop having sexual intercourse with Hermida, but did not feel that she was free to do so." At their next encounter, the teacher wanted anal sex. M.S. objected. "Hermida inserted something into her anus anyway," the court said.
That May, a friend of M.S. alerted another teacher to the relationship. That teacher reported Hermida, who was quickly arrested, charged, and sent to prison for three years. M.S.'s family sued the Los Angeles Unified School District for negligence.
This is the story of the LAUSD's depraved defense.
* * *
Criminal trials are hard on child victims. Since Elkis Hermida pleaded no contest rather than not guilty, M.S. could've been spared a lot of what victims of sexual abuse go through when aggressive defense attorneys try to impugn their character.
Instead the LAUSD made the civil trial needlessly hard on a 14-year-old that it had already failed to keep safe (though whether it acted negligently or not is as yet undetermined). In February 2013, the school district filed a motion to compel a mental evaluation of M.S. "and to permit questioning of plaintiff about her sexual history."
The motion was denied.
In October 2013, M.S. moved "to preclude evidence of her sexual history." The LAUSD opposed that motion too—that is to say, an institution with more than 655,000 students kept fighting to probe the sexual history of an eighth grader molested while in its care. "When she's claiming emotional distress from having been involved in a sexual relationship with a teacher," the school district argued, "but she's also having sexual relations with other people during this same time period, then that's relevant to her contentions that she's going to suffer emotional distress."
The LAUSD cited Dr. Stan Katz, a clinical and forensic psychologist that they hired as an expert witness. In a deposition, defense counsel asked him, "So you're saying that victims of sexual abuse who had prior sexual experiences are less traumatized than those who haven't?" To which Katz responded, "They certainly can be." The expert witness made another statement that the appeals court flagged:
Dr. Katz testified that he believed the relationship made plaintiff more mature. "It always matures someone because you have to go through experiences which most teenagers don't have to deal with. So you learn by experience."

When asked his opinion as to plaintiff's future prognosis, he stated that plaintiff is doing "quite well" and likely will not need future counseling as a result of the abuse.
Think about that.
In a court of law, America's second-largest school district willfully advanced the argument that an 8th grader who has oral, vaginal, and anal sex with a teacher learns maturity from the experience and is unlikely to ever need counseling as a result.
Incredibly, the trial court ultimately allowed the defense to inject the plaintiff's sexual history into its arguments, bungling the relevant law and prejudicing the jury.
The LAUSD also raised another discrediting argument.
As the appeals court put it:
The District then exacerbated the prejudice by using plaintiff's relationships with boys to argue that she was sophisticated and could, in effect, voluntarily consent to sex with Hermida. They argued during closing:

"And no matter what you say about her mind being overcome, from some reason, by Hermida, Hermida wasn't in her classroom. That was a decision she made. And what did [her friend] Andromeda tell you about plaintiff coming back from one of those episodes? Coming back into the classroom after having met with Hermida and had some sexual acts occur. Me and Hermida just had a quickie. A quickie. And at first she tried to act like she didn't know what it was, and then she acknowledged what it was. Now, a quickie, is that a language or thought process of a naïve person, a person that doesn't know what's going on, a quickie?"
The second-largest school district in America argued that a 14-year-old's knowledge of sexual slang that appears frequently in popular culture should lead us to conclude that she is more able to consent to sex with a teacher who was twice her age.
Even more incredibly, the trial court instructed the jury that "there is no 'age of consent' with regard to sexual relations involving a minor. A minor is capable of giving legal consent to sexual intercourse unless said minor has such a high degree of immaturity that the minor could not meaningfully agree to engage in the sexual conduct in question." By law, a 14-year-old cannot consent to sex with an adult.
The appeals court of course reversed the trial court on all of these matters. And it offered a scathing assessment of the LAUSD. "The District ... sought in the trial of this matter to deprive plaintiff of the protections afforded her by law," the appeals court stated.
Its ruling continued:
The District convinced the trial court that minors can consent to sex with adults and so the law imposing responsibility on minors in other contexts should be expanded to the school setting to impose responsibility on minor students for their own sexual abuse by teachers.

On appeal, the District continues to maintain that a minor student who is the victim of sexual abuse by a teacher bears responsibility for preventing that abuse. The District was wrong in the trial court and is wrong now. There is no case or statutory authority or persuasive reasoning supporting the notion that students sexually victimized by their teachers can be contributorily responsible for the harm they suffer.
* * *
​W. Keith Wyatt is the attorney who represented the LAUSD. In the name of the public, while being compensated by taxpayers, he helped to advance the dubious arguments above. The attorney also criticized the molestation victim in a radio interview.
"She lied to her mother so she could have sex with her teacher. She went to a motel in which she engaged in voluntary consensual sex with her teacher," he told an interviewer at the public radio station KPCC. "Why shouldn't she be responsible for that?"
In the same interview he said this:
Making a decision as to whether or not to cross the street when traffic is coming, that takes a level of maturity and that's a much more dangerous decision than to decide, "Hey, I want to have sex with my teacher."
Even after that interview, school district at first insisted that it would keep using the lawyer. Then, last November, LAUSD General Counsel Dave Holmquist announced that the school district was severing ties with Wyatt, calling his remarks "completely inappropriate."
It seemed that common sense had finally prevailed, even if no LAUSD official was ever held accountable for the district's execrable behavior while litigating the case.
Last week, however, the same public radio station, KPCC, reported that the LAUSD has now rehired attorney W. Keith Wyatt and his firm to represent it in court. "We believe that the suspension was sufficient to drive home our concerns about statements he made," a spokeswoman for the school district told the news organization. She added that he has already worked on five cases for LAUSD this year.
If you're an attorney who has argued opposite the LAUSD in a case involving the abuse of a minor, I'd be grateful to hear about your experiences at conor@theatlantic.com, especially if you have knowledge of the school district endeavoring to blame victims for their own rape or molestation on other occasions.