Kevin McCarthy's Response to Criticism of His Benghazi Comments: "Stop Playing Politics"
McCarthy's verbal misstep continues to dog him into Thursday's House speakership vote.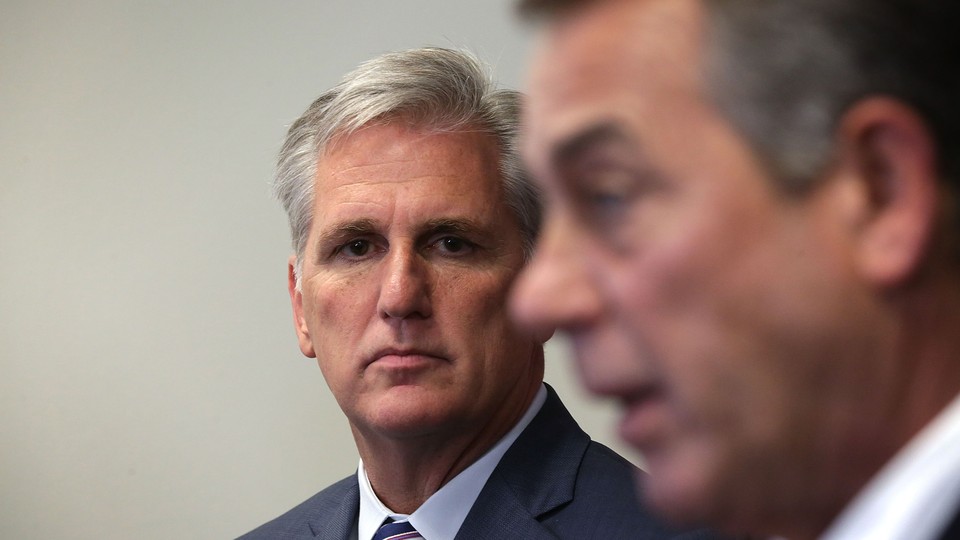 The election for the next speaker of the House is scheduled for Thursday. Rep. Kevin McCarthy of California and Rep. Jason Chaffetz of Utah are facing off in their bids to replace Rep. John Boehner as speaker.
But all reporters wanted to talk to McCarthy about on Wednesday was a comment he made last week about the Select Committee on Benghazi.
At the GOP leadership's weekly press conference Wednesday, Boehner approached the microphone to take the first question, only to be asked to step aside so McCarthy could be asked a question about his recent comments on the Benghazi Committee.
"I still find you newsworthy, but I might have to ask for your colleague," a reporter told the outgoing speaker.
"Wow, just right away," Boehner said, stepping aside, as people in the gaggle laughed and groaned.
In an interview with Fox News last week, McCarthy appeared to admit that the Benghazi Committee was created to do political harm to Hillary Clinton, citing her flagging poll numbers as an effect of the committee's investigation. Clinton's campaign quickly cut an ad using McCarthy's comments against him.
McCarthy backpedaled on those comments at the press conference Wednesday.
"Let's be very clear: Benghazi is not political," McCarthy said. "It was created for one purpose and one purpose only: to find the truth on behalf of the families of the four dead Americans. Period."
"The integrity of [Committee Chairman Rep.] Trey Gowdy, the integrity of the work that has been done has never come into question, and it never should be. Stop playing politics," he added."
"Did you misspeak, though, personally?" a reporter followed up.
McCarthy paused. "I could have been more clear in my description of what was going forward, and I've stated that," he said.
Boehner defended McCarthy's verbal misstep.
"There's not one American who in the course of their lifetime wouldn't rather have the opportunity to say words over again," Boehner said. "Not one American that hasn't had this experience."
For his part, McCarthy defended himself from accusations from Chaffetz that he would not be the most effective deliverer of the Republican message.
"Over time, we'll prove that we have a very good message," McCarthy said.
Another reporter brought up a 1997 spending provision that bars the Centers for Disease Control from studying guns as a health issue. Asked if his caucus would consider tweaking that language, Boehner said "it's not been part of the discussions."
"My heart goes out to the victims that lost their lives and were injured in Oregon last week. We've seen far too many of these," Boehner said. "In '09 and '10, we had Democrat majorities in the House and Senate, we had a Democrat president, and this is clearly not a priority for them. But a president can rail all he wants. Let's talk about what can we do to make sure that people with serious mental illness don't have access to weapons. Let's quit fighting over this and let's start thinking about how, what is doable, and what would have an impact."
Later in the conference, Boehner was asked to respond to McCarthy awarding him a B-minus grade for his tenure as speaker.
"I think I said something to him about it," Boehner said with a grin.
McCarthy quickly cut in, finger raised, to defend his comment.
"You've gotta understand, I think that's the highest grade I ever got!"