Kevin McCarthy's Stunning Exit From the Speaker's Race
The presumptive successor to John Boehner abruptly ended his bid after determining he could not get the support he needed from conservatives.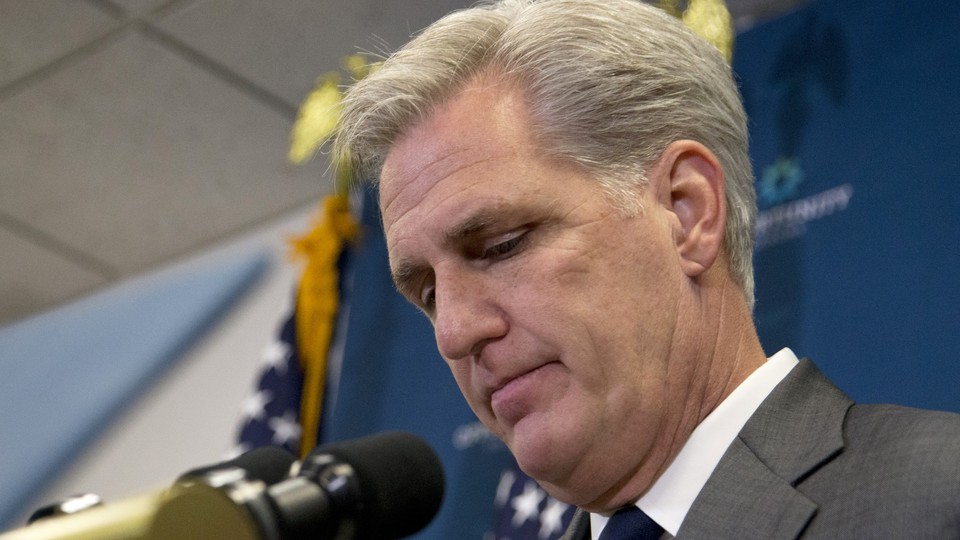 Behind Kevin McCarthy's stunning decision Thursday to end his bid for speaker lay a simple calculation: Even if he could scrape together the 218 votes he needed to win the formal House election later this month, he would begin his term a crippled leader unable to unite a party that he said was "deeply divided."
The majority leader and presumed successor to John Boehner had been widely expected to win the House GOP's secret-ballot nomination on Thursday. All he needed was a simple majority of the 247-member caucus, and he easily had the votes over long-shot challengers Jason Chaffetz of Utah or Daniel Webster of Florida, who won the endorsement of the renegade House Freedom Caucus. But even if he'd won on Thursday, McCarthy knew he was still short of the threshold he needed on the floor, knowing that Democrats would vote as a bloc against him.
Conservatives had effectively held McCarthy hostage, just as they had done weeks ago to Boehner: The 30-odd member Freedom Caucus was threatening to block his ascension unless he agreed to empower its members through committee and leadership slots, procedural reforms, and possibly even legislative promises that he would be unable to keep. That dynamic was even more significant that McCarthy's stumble on Fox News last week, when he suggested that Republicans had created the special committee on Benghazi to bring down Hillary Clinton. But as the chastened majority leader acknowledged Thursday, it "certainly wasn't helpful."
When McCarthy made his announcement to the party, Republican lawmakers "were all in shock," Representative Robert Pittenger told reporters. "The room was in total silence." Those who were stunned included Boehner, who remains speaker and quickly postponed the election for his replacement so Republicans could regroup. Boehner cancelled a scheduled appearance Thursday on The Tonight Show and said he would stay on until his replacement is chosen. "I'm confident we will elect a new speaker in the coming weeks," he said.
McCarthy acknowledged that he had become a political liability for some rank-and-file Republicans, who were getting calls from constituents demanding that they vote for someone else. Hillary Clinton had plastered his comments about the Benghazi committee on a national television ad, and late-night talk show hosts began lampooning his penchant for inartful statements. And in the week's most puzzling development, Representative Walter Jones, a McCarthy critic of from North Carolina, had circulated a letter demanding that any leadership candidate who had committed any embarrassing "misdeeds" since arriving in Congress should withdraw. The request recalled the last dramatic House GOP leadership shuffle in 1998, when Bob Livingston abruptly resigned rather than be sworn in as speaker after acknowledging marital infidelity. (This came during as the House was debating the impeachment of President Clinton.) When a reporter asked McCarthy if the Jones letter had contributed to his decision, he simply shook his head and said, "Nah."
"I think it's best to have a new face," McCarthy told reporters.
Immediately, the debate turned to just who that would be. It won't be Paul Ryan, the chairman of the Ways and Means Committee and 2012 vice presidential nominee, who remains by far the most popular Republican in the House. "I will not be a candidate for speaker," Ryan tweeted within minutes of McCarthy's announcement. He has repeatedly resisted calls for him to run, citing his young children and his desire to remain atop the influential tax-writing committee.
Chaffetz and Webster remain candidates, but it seems likely that Republicans will cast a wider net in search of someone who can unite the wings of the party. There's Jeb Hensarling, the chairman of the Financial Services Committee and a favorite among conservatives. And both Steve Scalise, the party whip, and Tom Price, the budget chief, might try to run now that they can't replace McCarthy, who will remain as majority leader. Under the Constitution, the speaker doesn't even have to be a member of the House. "Our conference is going to have to do some deep soul-searching," Chaffetz said, adding that he was "absolutely stunned" by McCarthy's decision.
For now, Boehner remains in charge, perhaps for longer than he—or his conservative critics—had wanted.