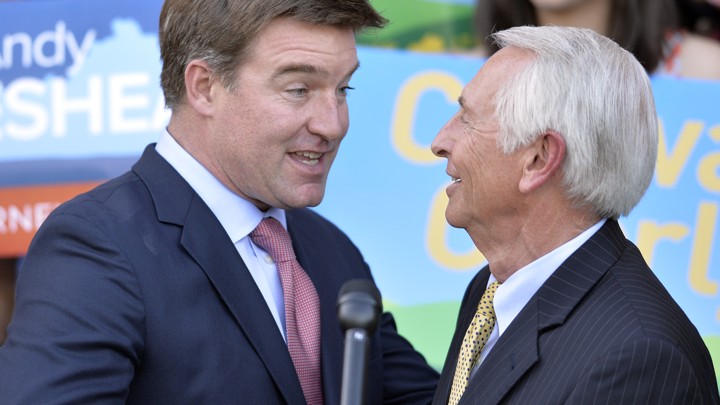 Kentucky is considered one of the great successes of Obamacare, with its share of residents without health insurance falling more than any state since the Affordable Care Act was implemented in 2013. But because Democratic Gov. Steve Beshear accomplished much of that by executive order, his signature achievement faces a unique threat as Kentucky elects his successor next month.
The future of Kentucky's Medicaid expansion and health-insurance exchange programs could fall into the hands of Republican Matt Bevin, who has been one of the most staunchly anti-Obamacare gubernatorial candidates in the nation over the past few years. He has trailed Democratic Attorney General Jack Conway in public polls, but the governorship is still well within Bevin's reach in a GOP-trending state and a low-turnout election.
And if Bevin wins, it would mean major changes to the state's health care landscape. Conway, meanwhile, has said he would keep things intact and has been attacking Bevin for wanting to dismantle the current system.
"All of this was able to be accomplished without legislation, which was good news for Kentucky," Beshear said in an interview. He was one of just three governors, along with ones in Alaska and West Virginia, to pursue Medicaid expansion through executive action; Kynect, the state health-insurance exchange, was established the same way.
"And at the same time, a governor who wanted to abolish the program could very easily do it," Beshear continued.
Since 2013, Kentucky saw the largest drop in the number of uninsured of any state. More than half a million Kentuckians gained health-insurance coverage, mostly through Medicaid, and the state's uninsured rate is down to roughly 9 percent from over 20 percent in 2013.
Bevin says he intends to dismantle the state's health-insurance exchange and switch people over to the federal exchange, which would require people to re-enroll. Beshear noted any such transition would take at least a year to complete, because "you'd have to give at least 12 months' notice under the law before you relinquish control of your local exchange."
There would also be costs involved. "If you were to abolish the exchange and go to the federal exchange, the projections we have at this point is that the IT work alone, that would take about nine months to complete, would cost over $23 million, and the Commonwealth would be responsible for the cost of decommissioning our local exchange," Beshear said.
Bevin's campaign points to uncertainty around how the state will pay for Kynect and Medicaid expansion over the long run as justification for immediate change. Bevin campaign spokeswoman Jessica Ditto said, if he's elected, "Matt would start the process of transitioning Kynect immediately, with the goal of having the transition complete by the 2017 open-[enrollment] season."
Even with the early technological issues experienced by many state-run insurance exchanges, like the one in Oregon, no state has yet decommissioned an operational exchange. "As far as the expansion, we haven't actually seen anybody necessarily roll back the coverage," said Laura Snyder, a senior policy analyst for the Kaiser Family Foundation.
On the topic of Medicaid expansion, in February (in the midst of the Republican primary), Bevin said he "would reverse that immediately," but he has since backed away from that comment—perhaps realizing the political and practical difficulties involved. And despite Democrat's hand-wringing over that specific comment, Bevin wouldn't be able to achieve the changes he seeks quickly. Any changes would take months, not days to accomplish.
"It would be much more difficult than he anticipates, but unfortunately, he has no experience in government. He has no experience in these kinds of programs, and he actually believes what he's saying, and that's the scariest part of all this," said Beshear.
Bevin's campaign acknowledges the challenges involved and that it may not be possible to get a new Medicaid plan in place before 2017.
Starting in September, Bevin has said he'd re-evaluate Medicaid expansion and explore an alternative compromise plan through what's known as a federal 1115 waiver. States have to seek 1115 waivers any time they want permission from the federal government to waive certain provisions written into federal statutes defining Medicaid benefits and how they're delivered. Six states, including Arkansas, Indiana, Iowa, Michigan, New Hampshire, and Pennsylvania expanded Medicaid under Obamacare using waivers, allowing them to include provisions for things like health savings accounts or to require that recipients pay small premiums. Bevin most often points to Indiana's plan as an example.  
According to Snyder, with a waiver plan, "It's not like a blank check, and they usually take quite a bit of negotiating between the states and the federal level."
"The goal would be to get a waiver approved prior to 2017, when the state starts to pick up our share of the Medicaid expansion," Ditto said. "However, that is a lofty goal, given all the moving parts and the need for insurance companies to develop new plans based on new standards."
Bevin's campaign stands by statements that they would repeal Medicaid expansion, but contrary to charges that they would kick 440,000 people off Medicaid immediately, Ditto said it should be noted that until that federal approval is granted for a waiver plan, the details of which they would hope to craft with the legislature and various stakeholders, "We would continue to operate under the current Medicaid construct so that people could stay covered."
Ditto said the goal is that when those covered under Medicaid expansion go to re-enroll, they would be offered a new plan under a waiver agreement "that will require more skin in the game and that certain requirements are met to continue eligibility." 
Both Conway and the Beshear administration point to reports showing waiver plans like the ones Bevin's proposing would result in higher costs and less extensive coverage, and Beshear himself says it's one reason why he has been campaigning so hard to elect a Democratic successor.
"I've been in the race with both feet because not only do I think Jack is the best candidate," Beshear said, "but I don't want to see the work of eight years thrown out the window in six months."
The yearlong time line involved in any potential change would also give groups that advocated for Kentucky's current programs—including businesses, hospitals, and insurance companies—to build resistance to any changes Bevin might try to make.
"We were very supportive and encouraged by the state-based exchange," said Ashli Watts, the public-affairs director for the Kentucky Chamber of Commerce. "So as long as it's run more efficiently than the federal exchange and hopefully cheaper, then we would encourage the governor to continue it."
We want to hear what you think about this article. Submit a letter to the editor or write to letters@theatlantic.com.