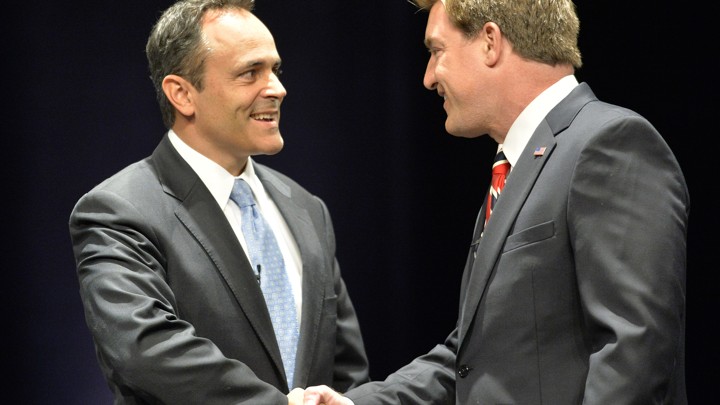 BEREA, Kentucky—Before Senate Majority Leader Mitch McConnell headed back to Washington this week, his state director reached out to Matt Bevin, the GOP's candidate for Kentucky governor and the man who challenged him in a bitter Senate primary last year. The majority leader offered to hold a get-out-the-vote rally in vote-rich Louisville on Monday, just over one week before the highly competitive gubernatorial race. McConnell's thinking, according to sources familiar with the outreach: prevent Democrats from holding onto the governorship, help rally Republicans to take over the statehouse, and publicly bury the hatchet with a bitter Republican rival.
Bevin, who is narrowly trailing Democrat Jack Conway, turned down the offer. In an interview with National Journal, he said he wanted to keep his pledge to hold a meet-and-greet with supporters in the small town of Berea at the Dinner Bell restaurant, an event hosted by state representative Marie Rader. He left open the possibility of rallying with McConnell the Monday before Election Day. But McConnell allies were stunned, given that some previous overtures to Bevin have also been squelched.
"He's done three fundraisers for me. He's maxed out for me. He's been great," Bevin told National Journal after the event. "This was the last chance I had to do an event with him. You know, it's pretty pathetic. I felt bad, you have the Senate majority leader offer … it really would have been good because in certain areas, it would have been huge. Instead, we tried to use him to make some calls."
In a year of the political outsider, the too-close-to-call Kentucky gubernatorial race is a telltale example of both the potency of being a campaign novice and the limitations of running as a candidate disconnected from the political process. Bevin is running competitively against Conway—public polls show him narrowly behind—but his insistence on doing things his own way is hurting his viability in a race that should favor Republicans.
Bevin, a businessman who unsuccessfully tried to oust McConnell from the Senate last year, proudly declares his political inexperience, saying he "doesn't owe anything to anybody." He begins his stump speech by focusing on national issues, such as gay marriage, abortion, and American exceptionalism. He praised Donald Trump's campaign as "being good for America," and, like the brash reality show star, even trumpets that he's not beholden to political insiders because he's mostly self-financing his campaign. And he'd rather hold an event at the Dinner Bell with a smattering of supporters in rural Kentucky than hobnob with the most powerful Republican in Congress in the state's population center.
"People here are fed up with Washington-style politics. Insiders no longer can control things for an eternity," said former state Rep. Lonnie Napier, a Bevin supporter. Napier, who was elected to the Kentucky legislature the same year McConnell was elected to the Senate, said he counts the Majority Leader as a friend but secretly voted for Bevin in last year's Senate primary.
But Bevin's outsider appeal is hampered by the fact that he often sounds like he's not focused on Kentucky-specific issues in the race, but national issues, as if he was running for president. He opened his speech by noting Planned Parenthood's support of Conway and questioning whether the group should receive federal funding. He then underscored his opposition to gay marriage, a hot-button issue in the state where clerk Kim Davis refused to issue marriage licenses to same-sex couples. "These social issues have surged more to the forefront—I care more about those issues now on the campaign trail than anything else," Bevin told the Dinner Bell audience. (In March, Conway tearfully declined to appeal a federal judge's ruling declaring the state's gay marriage ban illegal.)  
Two of Bevin's biggest campaign priorities—pension reform and reining in labor unions—also have limited appeal to Kentucky's working-class voters, who have migrated from the Democratic Party in recent years. After he made the case for making Kentucky a "right-to-work" state, one voter asked him what the policy catchphrase meant. Bevin has also been under fire from Conway for saying that he would reverse Medicaid expansion under the president's health care law, a position he's been forced to backtrack from in the general election.
Asked if his criticism of entitlement programs could turn off voters who receive such support, Bevin said: "People aren't suckers. Most people deep down inside know when they're being lied to, know when they're being offered a free lunch that isn't really free ... People in Kentucky are smart. These are simple folks in some of these country towns where they don't have a lot of money, but they're very intelligent, they're very savvy, they're very proud, they have a good work ethic."
If Bevin is campaigning as though the traditional rules of politics don't apply in the governor's race, his Democratic opponent is making the opposite bet. Conway is hoping that his experience in Kentucky government—serving as state attorney general since 2007 and running unsuccessfully for the House in 2002 and the Senate in 2010—is his biggest political asset. He attacks Bevin for not having the temperament to be governor.
"I've got a reputation of reaching across the aisle. Having experience in the context of bringing people together rather than all this partisan bickering is a different conversation, and one that I'm trying to have with the people," Conway told National Journal.
Conway's biggest challenge is his party label. Even though Democrats have held the Kentucky governorship for 40 of the past 44 years, the national party's aggressively liberal positioning on coal and cultural issues has become a significant burden for statewide candidates. Even though Bill Clinton has been a frequent surrogate for Kentucky Democrats—including in last year's marquee Senate race—neither he nor any other national Democratic figures have showed up in the state to help Conway's campaign. 
Conway, who calls himself a "Kentucky-fried Democrat," also struggles to explain his position on gay marriage, and frequently finds himself on the defensive in debates over his support for President Obama. The Republican Governors' Association and Bevin's own campaign have spent millions on campaign ads tying Conway to the president.
Indeed, the Kentucky governor's race is an example of what happens when both candidates run away from their national party leaders. For Bevin, it's a matter of choice. For Conway, it's a matter of necessity.   
We want to hear what you think about this article. Submit a letter to the editor or write to letters@theatlantic.com.