John Kasich Tries to Thread the Needle on … Pretty Much Everything
Don't count on the Ohio governor calling it quits anytime soon.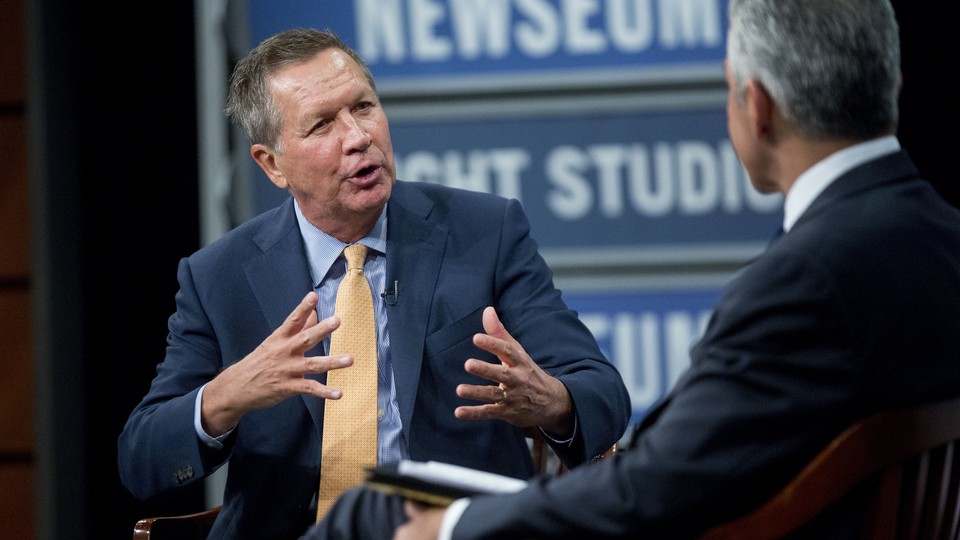 John Kasich—with the exception of an eight-year interregnum between his time in Congress and the Ohio governor's mansion, which he spent working for Fox News and Lehman Brothers—is a career politician.
When he was 18 years old, Kasich met with President Nixon in the Oval Office—an anecdote he likes to tell on the campaign trail. In 1978, at the age of 26, Kasich became the youngest person elected to the Ohio Senate.
In person, Kasich gives off the same self-effacing earnestness as Willy Loman. Speaking at the Newseum on Tuesday for an event with the U.S. Hispanic Chamber of Commerce, Kasich said that in Washington, people try to "obfuscate" a problem rather than solve it.
"I've been working on saying that word for two weeks," he joked.
In an interview with Javier Palomarez, the Hispanic group's president, Kasich embraced the mushy middle on most political topics that Palomarez asked him about. Kasich said his mother, a Croatian immigrant who could "barely speak English," influenced his own nuanced, somewhat confusing views on immigration. If his parents hadn't immigrated to the United States, Kasich noted, "I'd probably be running for president of Croatia."
He said he believes in expanding the guest-worker program, and that undocumented immigrants deserve a "path to legalization," but not full citizenship, saying immigrants shouldn't be rewarded for "jumping the line."
Kasich admitted that a border wall would be costly, but not "prohibitive," and that other technology—"sensors and drones and things like that"—could be used to supplement border security.
"Do you lock your doors at night?" Kasich asked Palomarez, who said yes. "Don't you think a country needs to lock its doors?"
When asked about birthright citizenship, Kasich chuckled.
"We're not going to change the 14th Amendment. I can't even get a balanced-budget amendment through!" Kasich said, then added, "But I will when I become president."
On same-sex marriage, Palomarez asked if he believed Republicans should accept the Supreme Court ruling, which a majority of Americans agree with.
"Well, I'm not fighting it," he said. "It's decided, so we've moved on from that."
But he quickly added that he doesn't personally support gay marriage, and that a "totally secular society" would be "dangerous."
On financial regulation, Kasich (who, again, worked at Lehman Brothers for seven years, up until the 2008 financial crisis) warned of "making big banks bigger and killing community and mid-sized banks."
Palomarez, himself in a tricky spot as head of a pro-business group, paused. "I have to say that in transparency and fairness, we work with all of the large banks, and the small ones," he said.
"OK, Javier, good advertisement. I know you still need their money. But it would be better if we didn't strangle the little banks, right?" Kasich said. "The more local it is, the more customized it is, the better we all are."
Palomarez then pointed out that Kasich has also worked with JPMorgan Chase and other Wall Street banks, before Kasich cut back in.
"I'm not against the big banks!" Kasich said, his voice verging on exasperation. "You're the one defending the big banks! I'm the one who worked on Wall Street!"
Call it the Kasich Paradox: the less popular his actions are, the more confident he seems to get.
Now that Wisconsin Gov. Scott Walker is out of the race, Kasich is perhaps the only candidate running for president who touts his own unpopularity with voters. When asked about his status as an "establishment" Republican, Kasich insisted that his political experience has shown him to be as much of an outsider as the three outsider candidates—Donald Trump, Ben Carson, and Carly Fiorina—who have won over many primary voters' hearts:
"From the time I got into politics all the way through where I am today, there is no one I can think of who has consistently shaken up the status quo more than I have. Do you know what it's like to be a Republican on the Defense Committee and you start trying to limit the production of a weapons system, or you're trying to affect procurement? Do you know what it's like to be an individual member of the House and be offering budgets against your own president? Do you know what it's like to fight against your own Appropriations Committee? Do you know what it's like to go to Ohio and face the problems I had and say, 'We're not raising taxes,' and shake the state from top to bottom, and in your first year become the most unpopular governor in America because you're a change agent?"
That Kasich is not only unafraid to talk about his own unpopularity in his home state, but uses that as an example of his leadership skills, suggests that he won't be dropping out of the race any time soon. He's polling in seventh nationally, but Kasich is running a New Hampshire-centric campaign in the hopes that it will catapult him to the top come January. On Tuesday, he noted that campaigning in the Granite State, with its 1.2 million residents, has a lower activation energy than big, politically volatile Iowa.
"That's like running for Congress," Kasich said.
Kasich boasts that his campaign has the best New Hampshire organization in the entire field, and so far he's done 18 town halls in the state to try to better acquaint himself with primary voters there.
"They poke you and they smell you and they look at you in the eye and they try to figure out who you are," he joked.
It's a strategy that appears to be only somewhat working: He may be polling 10th in Iowa, but he's fifth in New Hampshire.
For now, he's happy to weather the slings and arrows from GOP primary voters who favor a less compassionate brand of conservatism. When Trump's fans—who Kasich alludes to as the "yelling and the screaming" faction of the party—call him a Republican in name only, or RINO, Kasich shrugs it off.
In his talk Tuesday, Kasich recalled a recent conversation with former Senate Majority Leader Trent Lott, who has endorsed him for president, and Bob Walker, who chaired Newt Gingrich's 2012 campaign.
According to Kasich, Lott turned to Walker at one point and asked, "When did we ever become RINOs?"