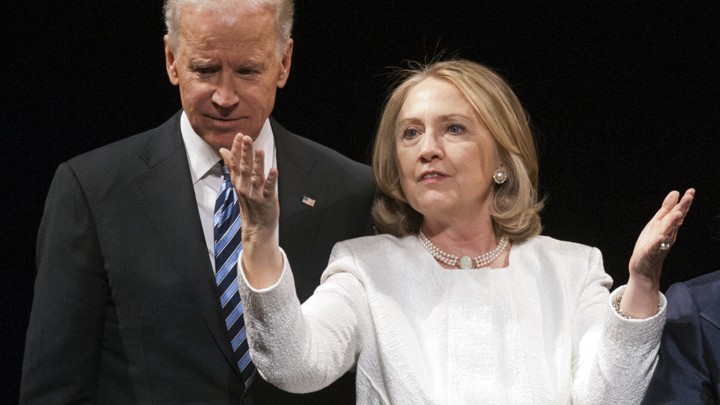 In the span of eight days, Hillary Clinton went from a wobbly front-runner to the all-but-certain winner of the Democratic presidential primary.
A comeback that began last week with a command performance at the first Democratic debate crested Wednesday with the sudden news that Vice President Joe Biden would not run for president. Speaking from the White House Rose Garden, the vice president said that although his grieving family was supportive, he had run out of time to successfully challenge for the Democratic nomination.
For months, there had been no surer sign of the Clinton campaign's unexpected primary struggles than the interest in Biden, a mainstream Democrat who—unlike Sen. Bernie Sanders—offered an agenda and worldview that largely mirrored Clinton's. Instead, support for Biden stemmed from his off-the-cuff authenticity and relatively baggage-free past, two attributes that had eluded Clinton during a summer of stilted campaign trail events and never-ending questions about her private email server at State.
Biden's decision seems to acknowledge that those woes, while lingering, have diminished in the past week and won't be enough to topple Clinton. And without the vice president's candidacy, Clinton might not face an opponent with the standing and experience to plausibly build a broad, winning coalition of supporters.
Her main rival for the nomination, the liberal favorite Sanders, remains a potential threat. But the senator from Vermont has struggled to grow his base beyond a bloc of white, liberal-leaning supporters who constitute big chunks of the Democratic electorate in early states such as Iowa and New Hampshire but a diminishing share of the vote elsewhere.
His most likely path to the nomination had been capturing both Iowa and New Hampshire, a back-to-back victory that could propel him to broader support in other states. But Biden's decision means that Clinton might be able to win one or both of those states by coalescing support among the moderate, working-class supporters who were attracted to both of them.
Polls show that Biden's absence overwhelmingly benefits Clinton. A CNN/ORC national survey of Democrats from this week found that without Biden on the ballot, Clinton's support in a matchup with Sanders grew from 45 percent to 56 percent. A Wall Street Journal/NBC News poll found her drawing 49 percent support nationally with Biden in the race—she drew 58 percent without him.
That means the uptick in Clinton support since last week's debate might continue. A WBUR poll of New Hampshire released Wednesday found that Clinton has reclaimed the lead in Sanders's strongest state, leading 38 percent to 34 percent, a 7-point bump for the front-runner since the survey ran in September. The poll included Biden, who drew 9 percent support.
Despite her struggles, Clinton was always the front-runner for the Democratic nomination. But her poll numbers in the Democratic primary had slipped further than most expected, and with Biden's potential entrance, losing both Iowa and New Hampshire seemed a startlingly real possibility for her.
More worrying for her supporters were the never-ending questions about her email server at State, inquiries that seemed to sap her popularity with the public (and will be in an even brighter spotlight during Thursday's House Benghazi Committee hearing). In some head-to-head matchups with hypothetical Republican foes in a general election, she actually performed worse than Biden and Sanders.
But her debate performance, in which she adeptly sparred with her on-stage rivals and even showed a rarely seen passion when talking about women's issues, was a reminder that for all her faults, she remains far more skilled than her fellow Democratic contenders. And inquiries about her email server, while still a potent issue in the general election, may be mostly irrelevant in a Democratic primary after Sanders declared during the debate that he was tired of hearing about them on the campaign trail.
That moment provided a momentum boost in her campaign for the Democratic nomination—one continued by Biden's decision Wednesday. Many of Clinton's problems haven't disappeared, but she's once again a near-certain lock to win the party's primary.
We want to hear what you think about this article. Submit a letter to the editor or write to letters@theatlantic.com.