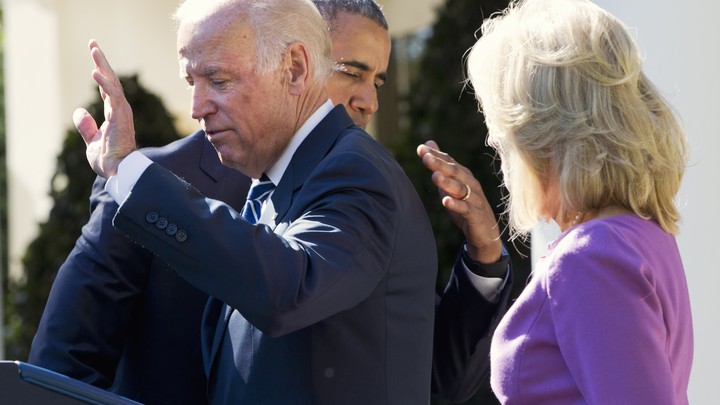 Vice President Joe Biden's emotional Rose Garden valedictory Wednesday was both dramatic evidence of how far he has come in his long career and poignant testament to how short he fell from where he wanted to go.
He was close to where he wanted to be—in the Rose Garden. There, under bright blue skies on a beautiful fall day, just steps outside the Oval Office, he announced that the end of his 43 years in government in Washington will come in just 15 months. But it was not how he wanted it to be. He was not the president and the Oval Office, though within reach, was not his. The reins of power were held, instead, by the man to his right, President Obama, whom he jokingly thanked "for lending me the Rose Garden for a minute."
And his message was not about what he had accomplished, but about what Obama had achieved and what remains to be done by the next president. Clearly, it was not easy for him to acknowledge to himself and to the nation that he would not be that next president.
On a day of rueful recognition that a lifetime dream will not be realized and close-by reminders of what he didn't achieve, it was, perhaps, even tougher for anyone to appreciate how far he had come. Just the setting should help there, though. This was the third time that Biden has dropped out of a race for the Democratic presidential nomination. The first time he did it was Sept. 23, 1987 in a Senate hearing room in the heat of controversy and a touch of shame. Biden was doubly embarrassed that day, for he had been caught on video angrily inflating his college resume and he had been caught plagiarizing a biographical speech from a British politician.
Even as he retired from the campaign, he concluded that day on an upbeat note, declaring, "There will be other presidential campaigns. And I'll be there out front. ... There'll be other battles, other places, other times and I'll be there." He added, "I'll be back. There's plenty of time."
Twenty years later, he was there again. This time, he made it as far as the first contest. But, again, he fell short, something he had to acknowledge shortly after midnight on Jan. 3, 2008, the night of the Iowa caucuses. After spending more than 90 days in the state, he finished in fifth place with less than 1 percent of the delegates. Standing in a dimly lit room in the Science Center of Iowa, with more than a dozen of his family members standing behind him crying, Biden stated that he was dropping out of the race. Almost defiantly, he declared, "I ain't going away." The announcement was so late and so unexpected that only one network carried it, and for only a few seconds.
Now, seven years after that declaration, he has burst out of that dimly lit room into the sunshine of the Rose Garden. And a nation was watching this time, as multiple networks stayed with his entire 13-minute oration. This time, though, the message was that there is no longer "plenty of time" and that he won't be a participant in any more of those presidential campaigns he anticipated that night in 1987. This time, he had to confess, "Unfortunately, I believe we're out of time." Time, the very commodity he always thought he had plenty of during all those years when he was the youngest candidate, the youngest senator, the youngest chairman, has run out for a man who will leave office as the second-oldest vice president.
For all his protestations that he "won't be silent" and will be a player in coming congressional battles, the message is that Biden soon will be passing from the Washington scene. After 36 years and 12 days in the Senate and eight years as vice president, he will hold no elected office after Jan. 20, 2017, ending a political career he began at age 25.
For those who relish Biden's obvious love of politics and mastery of government and who can't wait to hear the next thing he blurts out, that is bad news. But for President Obama, it is good news for his agenda over the next year. Had Biden entered the nomination fight, Obama would have lost his most effective ally in working with Congress. Nowhere would that have been more telling than in his uphill quest to get Congress to approve the Trans-Pacific Partnership, the controversial trade deal that he negotiated with 11 other Pacific countries.
If Biden were vying for Democratic primary votes, he would have stayed loyal to the president. But he would have had little choice but to downplay his support for a pact that's deeply unpopular with the party's progressive base. Now, free of personal political ambition, the vice president can work those many contacts built over his four decades in the Capitol.
There is no doubt Biden will throw himself into the upcoming fights and will, as he promised, "speak out clearly and forcefully" to influence the nomination battle. But there also can be little doubt that Biden would have preferred to be making a different announcement Wednesday. He used his opening sentences to pull out of the race. But the bulk of the speech was what he would have said in an announcement of his candidacy, as he championed the middle class, saluted working families, stood up for compromise and demanded that Washington "begin to function again."
This was a man who still wanted to run for president just as ardently as he did in 1987 and 2008. On this day that he was putting the dream behind him, what he seemed to want—and need—more than anything else, was someone to offer the soothing words he recalled from his parents: "Honey, it's going to be okay."
We want to hear what you think about this article. Submit a letter to the editor or write to letters@theatlantic.com.