Joe Biden Not Running for President
The vice president announced his decision at the White House Wednesday afternoon.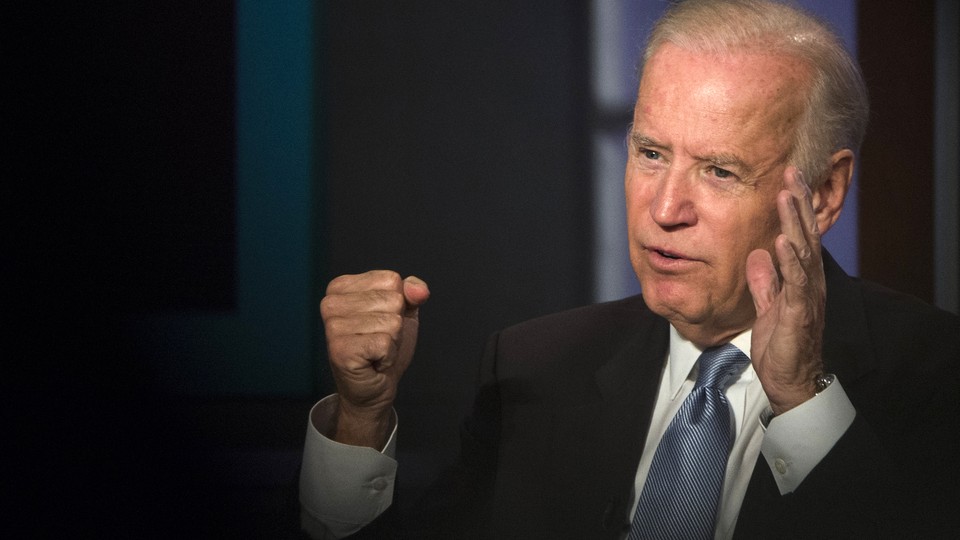 Vice President Joe Biden will not run for president in 2016, he announced at the White House Wednesday, putting an end to weeks and months of speculation about whether he would enter and reshape the race for the Democratic nomination.
"As my family and I have worked through the grieving process, I've said all along what I've said time and again to others: that it may very well be that that process, by the time we get through it, closes the window on mounting a realistic campaign for president," Biden said, referencing the death of his son Beau earlier this year. "I've concluded it has closed."
The hastily gathered press conference—the White House Press Office announced it 10 minutes in advance—was the first time Biden gave a definitive statement about his presidential ambitions.
Still, Biden said he plans to be a vocal part of the 2016 campaign, and he urged his fellow Democrats to run on President Obama's record—a warning to Hillary Clinton, Bernie Sanders, and other Democrats who have opposed major aspects of the Obama administration's agenda in recent weeks.
"While I will not be a candidate, I will not be silent," he said. "I intend to speak out clearly and forcefully to influence where we stand as a party and where we need to go as a nation."
Throughout the year, Biden had maintained that he was considering a presidential bid, but it wasn't until the summer when the speculation truly heated up. The Wall Street Journal reported in July that his son, Beau Biden, urged his father to run for president before his death earlier this year. Then, an August column in The New York Times suggested Biden was actively interested in the race.
Biden made repeated reference to his son's death, and his family's grieving process, in his Wednesday speech.
"I know from previous experience that there is no timetable for this process; the process doesn't respect or much care about things like filing deadlines or debates and primaries and caucuses," he said. "The good news is the family has reached that point—as I've said many times, my family has suffered a loss, and I hope there would come a time that, sooner rather than later, that when you think of your loved one it brings a smile to your lips before it brings a tear to your eyes. That's where the Bidens are today, thank God. Beau was our inspiration."
Reports that Biden had been calling operatives and activists in the four early-voting states—and that his allies were charting a path for him to take on Hillary Clinton for the Democratic nomination—further increased speculation that Biden could jump into the race at any point.
But those actions came alongside mixed messages from the vice president, making it difficult to discern his intentions. His timeline for a decision, initially set for the end of the summer, kept getting pushed further and further back. And by the time of last week's first Democratic debate in Las Vegas, a tailor-made launch pad for a campaign, Biden had still said nothing.