Editor's Note:
This article previously appeared in a different format as part of The Atlantic's Notes section, retired in 2021.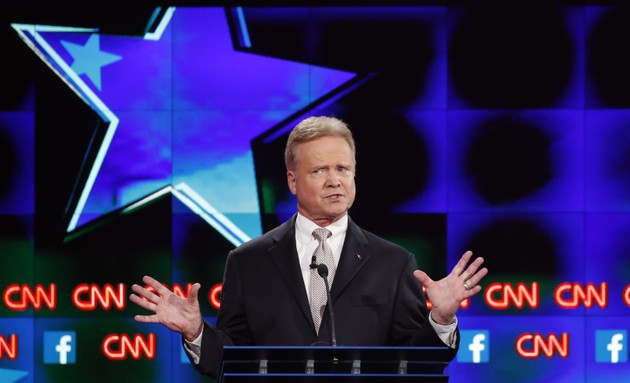 Former Senator Jim Webb, whom I've considered a friend since the late 1970s, is about the most independent-minded person I've ever met. That is part of what makes his writing so distinctive and sharp. Thus it seems natural, almost fated, rather than disorienting or disturbing that he would contemplate an independent run for president, rather than continuing as a Democrat.
Webb's most consistent message—as a writer, in the Senate, during his recent campaign—has involved duty, loyalty, and the respect owed to those who serve. In the Senate, he was also a very early champion of the cause of decarceration and criminal justice reform. If you wanted an antidote to what I have called Chickenhawk Nation—a country always at war, most of whose citizens are untouched by war—you would find it in the Webb family. Many of its members have fought and thus are careful rather than cavalier about the causes for which they would send others to fight.
Senator Webb's son, writing as Jim Webb, contributed a powerful op-ed to the WaPo defending his father against those who mocked his debate statement that the enemy he was proudest of making was the Vietcong soldier who tried to kill him (and whom Webb killed instead). The final paragraph of this op-ed was a more penetrating statement about our current chickenhawk predicament than I've heard from any of the candidates. It's relevant to note that the younger Webb spent five years of the recent wars as a Marine infantryman:
This country has been at war for almost 15 years, and as I think about the ridicule leveled at my father in the past 24 hours, I can't help but imagine what these same people must think about the service of my own generation. In their eyes, did we simply spend some kind of twisted 'semester abroad' in a place with plenty of sand, but no ocean? Or conversely, do they ignorantly dismiss our experiences, as they have my father, as those of cold callous killers?
***
In practical terms, either a Democrat or a Republican is going to be sworn in as the 45th president fifteen months from now. Not an independent—Webb, Trump should he run that way, anyone else. I'll bear that reality in mind when voting, as I did during Ralph Nader's run in 2000 and as I hope others do too.
But Webb is a voice to be heard and a figure to be respected, even if the dynamics of the Democratic contest were not allowing him that role. An independent path may give him a chance to make his case in the way truest to him.