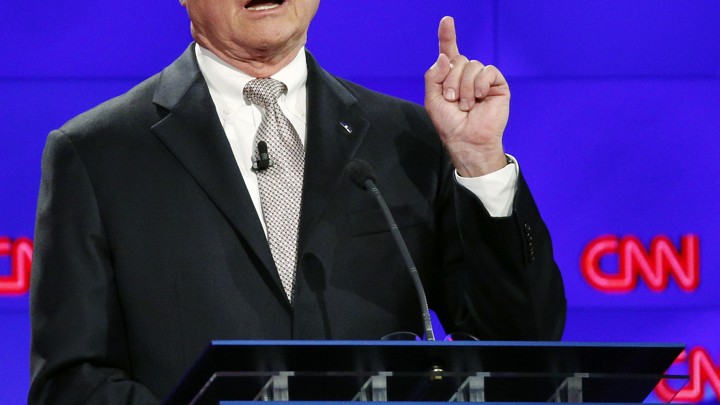 It's official: Jim Webb is dropping out of the Democratic presidential race. 
The former senator from Virginia announced the suspension of his 2016 Democratic bid at a press conference at the National Press Club on Tuesday. Webb hinted strongly at the possibility of launching an independent presidential bid, but he stopped short of formally declaring that he would run as an independent in the 2016 race. 
"I'm stepping aside from the Democratic primary process, but I will never abandon my loyalties to the people who do the hard daily work of keeping this country great at home and secure abroad, and we'll just have to see what happens next," Webb said. 
Webb was quick to say that despite exiting the Democratic race, he intends to remain "fully engaged in the debates that are facing us." 
"I'm not going away. I'm thinking about all my options," Webb said, adding that he plans to "meet with people from all sides of the political landscape" in the coming weeks to gauge support. 
The former senator offered up a critique of modern American politics and portrayed himself as a moderate with the ability to reach across the aisle.
"Our political process is jammed up. It needs an honest broker who respects all sides ... I've worked with both sides, I have a lot of respect for many people who are members of both political parties," Webb said.
Despite struggling to gain traction in national polls, Webb successfully made it onto the main stage for the first Democratic presidential debate earlier this month.
Webb squared off against Hillary Clinton, Bernie Sanders, and the rest of the Democratic 2016 field, but he complained during and after the debate that he was not afforded as much time to speak as Clinton and Sanders.  
The former Virginia senator and Vietnam War veteran grabbed headlines during the debate when he alluded to a violent confrontation with an enemy soldier after the candidates were asked to name a political enemy. 
Taking a veiled swipe at Clinton, who declared during the debate that Republicans were her enemy, Webb said on Tuesday that "Americans are disgusted by all this talk of Republicans and Democrats calling each other the enemy, instead of reaching out across the table and actually finding ways to work together."
"Our country is more important than a label," Webb added.
His campaign announced earlier in the week that Webb was considering an independent run. Fox News first reported that Webb would take his name out of the running for the Democratic presidential nomination on Tuesday. 
Webb faced an uphill climb in seeking the Democratic primary nomination, a point that commentators and fellow politicians have been quick to make. 
"I don't know if he ever had a base," Senator John McCain, a former Republican presidential contender, told reporters in the Capitol on Tuesday. "Sanders has a base. ... I'm not sure that Jim ever really had that unless it was with defense-oriented people, and usually that's more on the Republican than Democrat Party." 
This story has been updated. 
---
Alex Rogers contributed to this article
We want to hear what you think about this article. Submit a letter to the editor or write to letters@theatlantic.com.
Clare Foran
is a former associate editor at
The Atlantic
.