Jeb Bush's Dilemma
His last name is his greatest liability—but it's also his primary asset.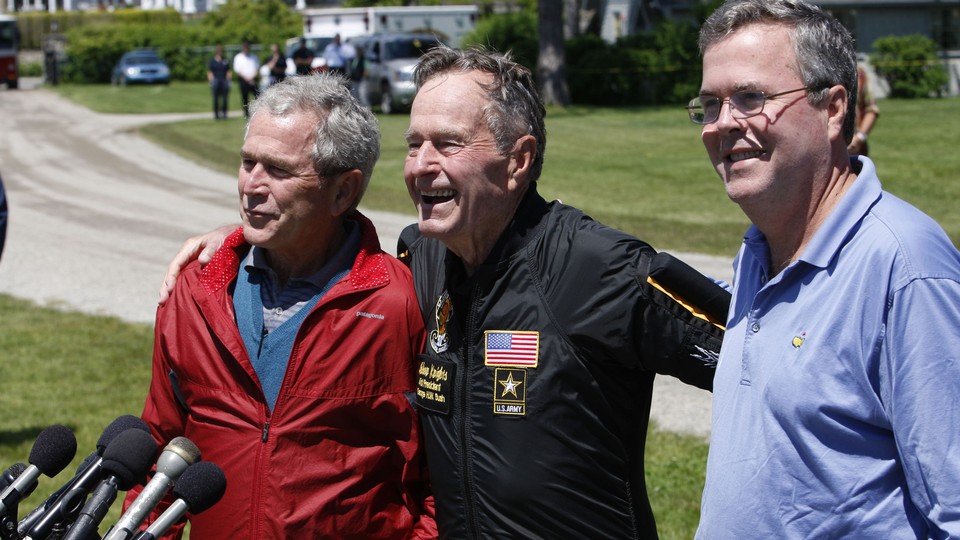 It's now clear: Jeb Bush wants to speak about his brother's record on 9/11 as much as possible. Donald Trump launched the controversy last Friday when he told Bloomberg News, "When you talk about George Bush, I mean, say what you want, the World Trade Center came down during his time." But then Trump quickly tried to tamp it down. Later that day, after Bush called his remarks "pathetic," the billionaire candidate refused to answer questions about the controversy while leaving a rally. That night, Trump tried to change the subject, tweeting:
But Bush wouldn't let him. On Sunday, the former Florida governor told CNN's Jake Tapper that, "Mr. Trump is probably going to say that FDR was around when Japan attacked Pearl Harbor." The next day on Sean Hannity, he made an even bolder bid to extend the story, saying that the president who really deserves blame for 9/11 is Bill Clinton because "the Clinton administration made a mistake of thinking bin Laden had to be viewed from a law-enforcement perspective." On Tuesday, Bush wrote a column about the controversy for National Review.
At first, this struck me as strange. After all, Bush has worked hard to convince voters, and journalists, that he's his own man. His campaign posters include only his first name. He claims that, as a former governor, he's a political outsider. He's even declared, hilariously, that Washington is "just not part of my DNA."
So why is he suddenly talking so much about his brother? Perhaps because at the heart of Bush's campaign lies this deadly irony: His last name is the reason he'd be a terrible general-election candidate. But his last name is also the only thing about his candidacy that Republicans really like.
Think about the best moments of Bush's campaign so far: They all involve being a Bush. Early this year, Bush claimed the mantle of GOP frontrunner because he vastly outraised his opponents. And as numerous articles have detailed, he only raised that much because he's George H. W.'s son and George W.'s brother. An AP investigation found that, as of August, a majority of Bush's donors had previously donated to his father or brother. When it comes to small donors, by contrast, the mark of a candidate who is generating public excitement, Bush has done terribly. A Politico report in July found that he had raised less in small increments than he had donated to himself.
The other best moment of Bush's candidacy came during the September Republican debate. His biggest applause line of the night came when he responded to Trump's criticism of George W.'s presidency by declaring, "When it comes to my brother, there's one thing I know for sure: He kept us safe." Bush's campaign even tweeted out the line the next day, alongside a photo of his brother at Ground Zero.
To smart commentators like Jonathan Chait, the reliance on George W. and 9/11 seemed "bizarre." But if you look at the polls, it makes sense. According to a September YouGov survey, 79 percent of Republicans approve of the way George W. handled himself as president. Eighty-one percent think he did a good job keeping America safe. A plurality would vote for him in 2016. No wonder that when Bush invoked his brother standing amid the rubble of 9/11, the crowd at the GOP debate roared.
The survey also confirms that nothing else Bush has said excites Republican voters nearly as much. When asked whether Jeb "would do a better or a worse job than George W. Bush," Republicans answered "worse" by a margin of almost three to one. It's not entirely clear why this is. But clearly, George W. was a far better campaigner. Bush fumbles for words like his older brother, but lacks his macho charm. And Bush's effort to rouse ordinary Republicans by trumpeting his record as Florida governor, which ended more than eight years ago, is failing badly.
So it makes sense for him to return to the subject that has worked so far. The problem is that while being George W.'s brother helps Bush with Republican donors and voters, it hurts with Americans as a whole. By a margin of 11 points, Americans disapprove of the way George W. handled the presidency. By 15 points, they don't think he did a good job keeping America safe. And by a margin of 45 points, they wouldn't vote for him in 2016.
That's Bush's dilemma. With his last name, he reminds most Americans of the bad old days they want to leave behind. Without it, he's George Pataki. Option number one is better than option number two. But it's still pretty bad.