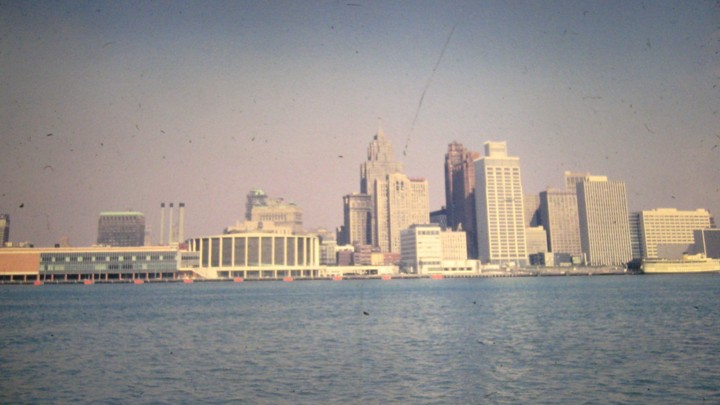 A mesmerizing cast struts through the pages of David Maraniss's evocative new book about Detroit in the early 1960s, Once in a Great City.
In Maraniss's capable hands, mobsters rub shoulders with athletes; the city's mayor, Jerome Cavanagh, balances national ambitions with simmering local tensions; Henry Ford II and Lee Iacocca feud their way into automotive history by developing the iconic Mustang; and late-night scene-seekers squeeze beside gamblers and hustlers to hear Billie Holiday, Etta James, and Jackie Wilson at the "exotic, hypnotizing, enthralling" Flame Show Bar. Riveting figures such as John F. Kennedy and Martin Luther King make extended appearances. The overall effect is like sitting on a bar stool next to one of the great old-time city newspaper columnists (think Mike Royko or Jimmy Breslin) who seemed to know, and drink with, everyone in town.
Maraniss, a former Washington Post reporter who has become a premier contemporary historian and biographer, braids together these stories for a panoramic portrait of a city unknowingly nearing the end of its golden run as the world's automaker. The 1967 race riot and the tsunami of foreign car imports that would batter Detroit's foundations from within and without loom just offstage.
But of all the stories Maraniss tells, the most compelling may be the rise of Berry Gordy Jr. and Motown Records. It is also the story most relevant to the challenges facing cities today.
In many respects, America's cities are reviving. The Brookings Institution reports that 63 of the 100 largest metropolitan areas have more jobs today than before the financial crash in 2007. Between them, those cities have added 8.4 million jobs, more than three-fourths of all U.S. employment created since then. Young college graduates drawn to urban life are reinvigorating neighborhoods from Washington, D.C.'s 14th Street corridor to SoMa in San Francisco as entrepreneurial hubs and destinations for bustling shopping and nightlife. In a telling reversal, after decades of flight, the white population has increased since 2000 in about half of our largest cities, Brookings reports.
Yet cities everywhere are struggling to extend these expanding opportunities to all of their residents. In visits this year to places as different as Denver, Atlanta, Chicago, and Austin, the most common concern I have heard is that the kids growing up there—most of them African-American or Hispanic—are not being equipped with the skills to compete for the jobs the cities are again generating. That sense of disconnection deepened the urban unrest that flared in places from Ferguson, Missouri, to Baltimore and fueled the "tale of two cities" concerns that dominated the most recent mayoral elections in New York City and Chicago. Alicia Philipp, president of the Community Foundation for Greater Atlanta, crystallized the frustration I heard across those cities when she told me recently, "What we need is an opportunity infrastructure."
Maraniss is a brilliant storyteller, not a policy analyst. But his account of Gordy's rise offers keen insights into what such an infrastructure might look like. The key is that it involves public, private, and civic institutions each playing complementary roles.
How did Motown give the world such transcendent talents as William "Smokey" Robinson, Diana Ross, Stevie Wonder, and Martha and the Vandellas? Certainly the answer starts with the musical and entrepreneurial genius of Gordy, who was equal parts songwriter, impresario, and empire-builder. But, as Maraniss shows, Gordy's inspired musical innovation rested on a sturdy foundation built by communal institutions.
That list starts with Detroit's public schools. Many of Gordy's stars (and the session musicians who supported them) were products of the city's schools, which valued music and lovingly nurtured talent. "Talk to musicians in Detroit," Maraniss writes, "and odds are they will recall—vividly and fondly—the teachers who pushed them along." The schools were supported in that mission by the city's vibrant black churches, which provided both a rich musical tradition and another nursery for incubating young talent. Aretha Franklin, for one, was the daughter of the formidable C. L. Franklin, the city's leading African-American minister.
Less obvious, but equally essential, was the role of the Grinnell Brothers Music House, a downtown music shop whose classes and affordable financing for families of all incomes and races meant, as one local observer told Maraniss, "all these working-class families in Detroit … had their own piano." If Grinnell had narrowed its business strategy to serving only the affluent, fewer young people (such as Smokey Robinson, who grew up playing a Grinnell piano) would have discovered the gifts Gordy later harvested.
Even in those years, Detroit suffered from segregation, discrimination, and inequality. But Gordy and Motown showed what's possible when the spark of private-sector innovation is applied to talent that was systematically developed by public and civic institutions. That's still the most promising formula for reconnecting all of our communities to opportunity—even if it's unlikely to again produce the constellation of musical brilliance that Maraniss so vividly recreates.
We want to hear what you think about this article. Submit a letter to the editor or write to letters@theatlantic.com.