Is Nevada's Labor Movement Ready to Forgive Democrats?
"Fool me three times, I'm dumber than dirt. You're not going to fool me four times."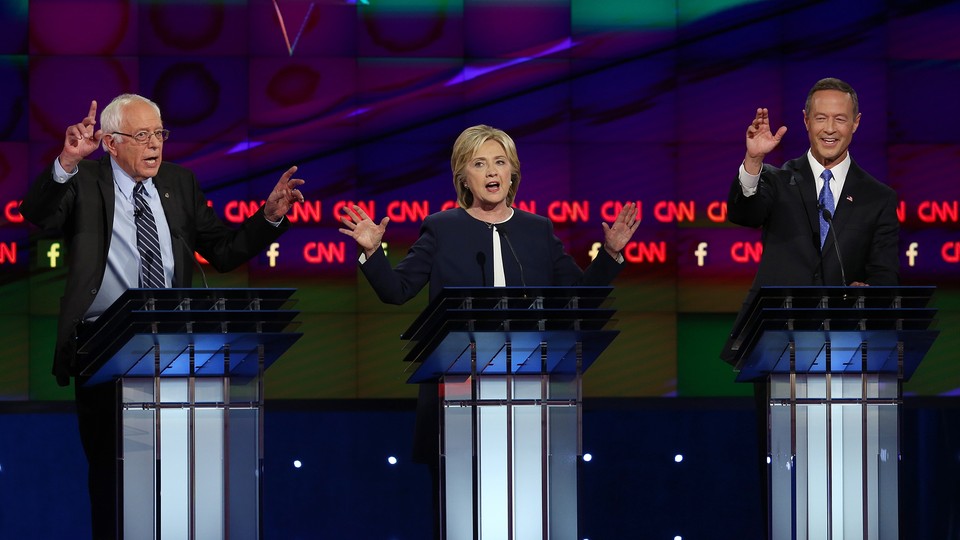 LAS VEGAS—Last year, as the Republican wave crested across the country, labor organizers seeking to rally union members in Nevada foresaw a rout. The evidence was in their door-to-door efforts to excite the faithful: Some workers slammed their doors. Others tore up campaign literature and threw it in the organizers' faces. Still others simply asked, "Why?"
It was a stark display of a dispirited movement that has been the backbone of the Democratic Party in this swing state for decades. Democrats and labor leaders say the sour economy and congressional inaction on labor's top priorities—most notably, comprehensive immigration reform—sapped enthusiasm in 2014. The malaise was particularly pronounced in the Culinary Union, the state's largest and politically the most powerful labor organization.
The results were nothing short of devastating for labor: Republicans swept Nevada's constitutional offices, captured control of the statehouse for the first time in three decades, and introduced a raft of measures targeting unions.
Now, the question of whether labor can rekindle its intensity is one of the biggest factors looming over the race to capture Nevada's six electoral votes in 2016. Will the state be another Ohio, where union members swarmed to the polls to fight antilabor legislation and lifted Democrats, or another Wisconsin, where Gov. Scott Walker and his curbs on collective bargaining remain, despite a labor-backed recall effort?
The answer is vitally important for Democrats. Nevada is one of the few remaining labor bastions in the country, and union households can make up as much as a quarter of the electorate here, according to exit polls.
In the wake of GOP efforts to weaken unions, some labor leaders say they are already sketching battle plans to retake the Legislature—and lift Democrats up and down the ticket: "Labor people are pissed off," said Danny Thompson, head of the Nevada AFL-CIO, "and they want to get even."
Unions played a key role in winning Nevada for Barack Obama twice and securing the reelection of Sen. Harry Reid during the tea-party wave of 2010. As Reid faced tough odds, the Culinary Union, which represents some 55,000 hotel and casino workers, ran shuttle buses from most major casinos throughout Election Day that year to ensure its members voted.
But in 2014, disenchanted with Democrats and enmeshed in long-running campaigns to unionize a pair of casino operators, the Culinary Union focused on a single state Senate race—and lost by 10 points.
"No one turned out," Thompson said. "The apathy, you could cut it with a knife."
D. Taylor, head of the Culinary Union's national parent union, Unite Here, summed up the prevailing attitude of his members: "Fool me once, shame on you. Fool me twice, shame on me. Fool me three times, I'm dumber than dirt. You're not going to fool me four times."
The election produced a legislature of conservative upstarts who pushed a series of measures to weaken collective bargaining, alter public-pension plans, and eliminate the use of prevailing wages on school construction projects. Taken together, union officials said it spelled "Armageddon" for organized labor in Nevada. The existential threat jolted unions into action.
The Nevada AFL-CIO spent $300,000 on a grassroots organizing campaign, sending union activists into GOP-controlled districts, where they collected 75,000 pro-labor cards from voters. They sent those cards to Republican legislators, warning them that their constituents opposed the legislation. Surprising many lawmakers in the remote, sleepy state capital of Carson City, hundreds of union members staged rallies and flooded capitol hallways to protest the measures.
Perhaps most importantly, political serendipity gave Democrats leverage: Republican Gov. Brian Sandoval needed Democratic votes to pass a $1.1 billion tax package for education initiatives—a large levy that was deeply unpopular within his own party. In return for their support, Democrats insisted on concessions on labor bills. That, combined with GOP infighting, meant that the most far-reaching measures died, though some modest restrictions on unions ultimately passed.
"Had the governor not pushed to get the tax package through, it would have been a different session," said Yvanna Cancela, political director of the Culinary Union.
Labor officials say the Republican efforts turned apathy to anger: "In some ways, it's the best thing that ever happened," said Brian Shepherd, political director of SEIU Nevada, which represents about 17,000 health care workers and public employees in the state. "Now our members understand in a real meaningful way that politics matter. You cannot sit it out."
Republicans say labor is exaggerating the threat it faced to drive enthusiasm; several controversial measures suffered swift deaths in GOP-controlled committees. They argue that whoever wins the GOP presidential nomination—and that person's approach to labor—will be more consequential to turnout than anything the party proposed in the legislative session.
"If it's a very strong reform agenda that labor views as threatening, they will certainly be even more energized," said Robert Uithoven, a Republican strategist in Nevada who is overseeing Sen. Ted Cruz's campaign in the state.
The Nevada AFL-CIO isn't waiting to find out; it's working to parlay member outrage into a turnout operation in 2016. The effort, dubbed "Never Again," will focus on voter registration and expanding labor's reach on both sides of the aisle; organizers plan to enhance voter lists by gathering signatures for an official plank in the Democratic platform in support of raising wages.
"It was an arrogant overreach that in the end will cost them," Thompson said of Nevada Republicans. "We're never again going to find ourselves at the mercy of these people."
Union leaders said Republicans had overplayed their hand by pushing legislation that would have affected all public employees, including police officers and firefighters, many of whom typically align with the GOP. Officials said they would remind voters of the proposals to overhaul public employee pension plans and restrict collective bargaining.
"There was an issue for everybody," Thompson said. "We've got a lot of ammunition."
Not everyone, however, is quite so passionate. Culinary Union leader Geoconda Arguello-Kline said Democrats must overcome the lingering disappointment her members feel toward the Obama administration. At the top of the union's wish list: repealing the so-called Cadillac tax, a 40 percent levy on high-priced health plans that could mean fewer benefits and higher deductibles for workers.
"If they want to earn our support, they have to demonstrate that they really will support us," she said. "We don't want to hear only words. ... What we like to have is actions."
Hillary Clinton and Bernie Sanders, both of whom support repealing the health-plan tax, are working to prove their commitment to labor.
Last week, Sanders met with postal workers, and hundreds of nurses from the National Nurses United paraded across pedestrian bridges on the Las Vegas Strip to support his campaign. Many held oversized images of Sanders' head in a Robin Hood-style hat to promote his proposal to tax stock transactions to fund tuition at public colleges.
Clinton, meanwhile, attended a boisterous rally with members of the Culinary Union in front of Donald's Trump's gold-sheathed hotel. Dressed in red to match the union's t-shirts, she pledged solidarity with housekeepers and cooks trying to organize the property. Later, across town, she visited a training facility of the International Union of Painters and Allied Trades, where she accepted the group's endorsement.
Backed by about two dozen workers, Clinton specifically pledged to "stand against this really shortsighted effort that the Republicans are engaging in to undermine unions."