In New York, Jail Reform Includes Releasing Data
A new law requires jails and courts to collect stats, and to provide inmates with a bill of rights.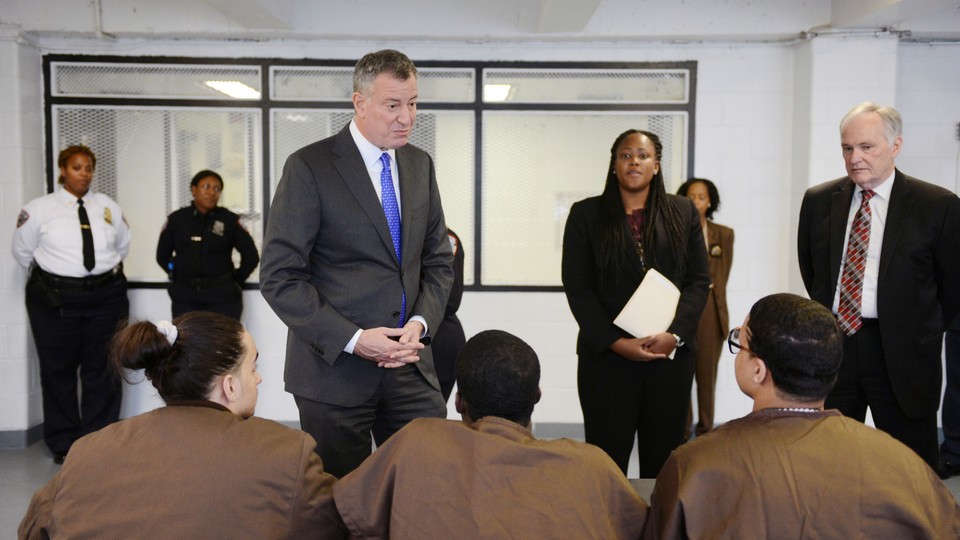 This article is from the archive of our partner

In the seventh-season premiere of The Good Wife this past Sunday night, viewers found the main character, attorney Alicia Florick, serving as a bail-bond lawyer. It's in this role that Florick learns firsthand that, in a fictionalized Chicago, mostly Black defendants are caged by the dozens in court cells daily,waiting for a seconds-long hearing before a judge who steadily sets bails higher than they can afford. Those who can't pay get carted off back to jail until their trials start, which could be months or years.
The episode shined light on some hard truths about the real-life criminal-justice system, namely overcrowded jails and overtaxed defendants. In New York City, 40 percent of the jailed population are there because they couldn't afford bail—most of them for nonviolent drug crimes. The city spends $42 million on average annually incarcerating non-felony defendants. (This is what Queens rapper Nas was talking about when he called out judges in his song "Memory Lane" for handing out "un-correct bails for direct sales.")
Wednesday, NYC Mayor Bill de Blasio signed into law legislation aimed at helping correct these bail problems, providing inmates a bill of rights for when they're detained and addressing other problems that lead to overstuffing city jails with poor people of color.
The omnibus package of criminal-justice reform bills will require the city to produce better accounting of how many people are in city jails, what they're average incarceration time is while waiting for trial, the average bail amounts imposed on defendants, and a whole host of other data points on incarceration. Under the new legislation, the city will have to release reports quarterly and semi-annually to the public—much of it from data now sheltered within the city's Corrections Department.
"This is bringing sunshine to information that is already being looked at internally but is better off being public data," New York City Council Member Helen Rosenthal tells CityLab. "We can better understand what polices we need to change if we have the data to understand what's going on in the system."
Rosenthal tells CityLab that she was moved to action after reading the story of Kalief Browder, the young, Black man who languished for three years in the city's notorious Rikers Island detention center awaiting trial for a crime prosecutors could not prove he committed. After months of struggling with readapting to society after his release, Browder committed suicide this past June.
The city passed a package of transparency bills last month that focused on Rikers, but the legislation passed Wednesday will focus on the city's courts and jail system as a whole.
"It is unacceptable that New Yorkers who can't afford bail for low-level offenses are held for months, or sometimes years, in city jails without being formally charged," said Alyssa Aguilera, political director of the grassroots community group VOCAL-NY, which has been pushing the city on these reforms for years. "It is a drain on public resources and an affront to the civil rights of those needlessly warehoused in jail."
This article is from the archive of our partner CityLab.