In Major Shift, Obama Will Keep 5,500 Troops in Afghanistan
The president announced Thursday a halt to the withdrawal of troops in the country.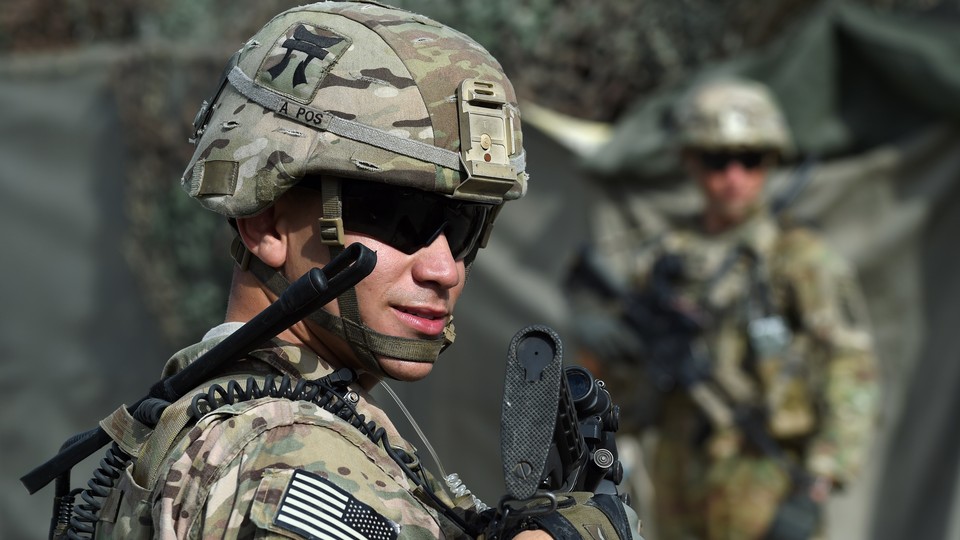 The United States will stop its military withdrawal from Afghanistan, President Obama announced Thursday, leaving more than 5,000 troops in the country through the end of his term in 2017.
Under the amended plan—a significant departure from previous policy—the 9,800 troops currently in the country will stay there through most of 2016, Obama said in a statement from the Roosevelt Room Thursday. Rather than a drawdown to a normal embassy presence in Kabul by the end of next year, the number of troops will drop to 5,500.
"I do not support the idea of endless war," he explained. "I have repeatedly argued against marching into open-ended military conflicts that do not serve our core security interests. Yet, given what's at stake in Afghanistan, the opportunity for a stable and committed ally that can partner with us in preventing the emergence of future threats, and the fact that we have an international coalition, I'm firmly convinced that we should make this extra effort."
The announcement is a turnabout from the White House's previous exit plan, unveiled last year, which stipulated that only about 1,000 U.S. troops would remain in Afghanistan by the end of 2016.
The major shift for the White House manifests an acknowledgement from the administration that Afghan forces are struggling to ward off threats from the Taliban. It also comes after mounting pressure on Obama from the Pentagon and Congress to keep troops in the country.
He made the decision, he said, after speaking with Afghan leaders, members of Congress, and international partners, and he emphasized that the U.S. commitment to Afghanistan "remains firm."
"Afghan forces are still not as strong as they need to be," Obama said, noting that while the security forces have developed "critical capabilities," the Taliban has made serious gains, and the terrorist group the Islamic State has emerged in the region. "Bottom line, key security of the country is still very fragile."
For a president who campaigned on ending the war in Afghanistan by 2014, it's a serious blow. To members of the military, he offered an explanation.
"I do not send you into harm's way lightly. It's the most solemn decision I make," he said. "But as your commander in chief, I believe this mission is vital to our national security interests in preventing terrorist attacks against our citizens and our nation."
In comments to reporters after his statement, he drew a contrast between the plan and when the United States was "actively engaged in a war with Afghanistan," calling it a "very different scenario."
But it's not disappointing, he told reporters, stressing that "the nature of the mission has not changed, and the cessation of our combat role has not changed."
"After so many years of war, Afghanistan will not be a perfect place," Obama said in his statement, warning that if Afghans weren't able to protect their country, "they would endanger the security of us all." The "modest but meaningful extension of our presence, while sticking to our current, narrow missions can make a real difference."