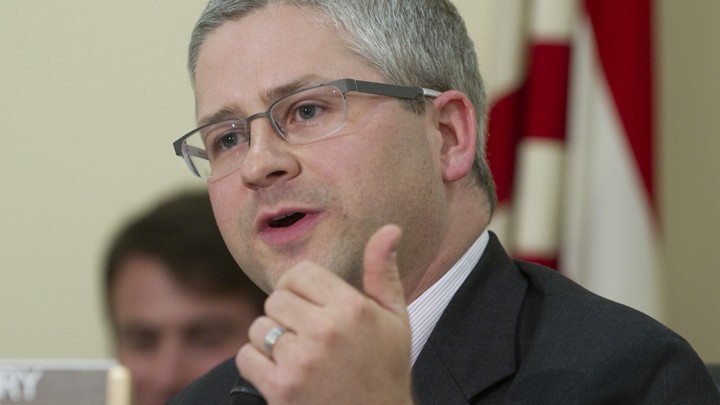 In the leadership race that may never happen, the lead candidate is trying to avoid the fate of the leader who never was.
With most focused on the races for House speaker and majority leader, a quiet contest is brewing in the four-way battle to be the next majority whip. Of course, barring a rules change or a resignation, a loss by Majority Whip Steve Scalise in his bid to be majority leader would leave him in place and there would be no race to replace him.
But if Scalise bests Budget Committee Chairman Tom Price and moves up, his second-in-command, Chief Deputy Whip Patrick McHenry, is looking for a promotion. The problem is, with an undercurrent of dissatisfaction with the leadership, members are grumbling that it would send the wrong message to their constituents to simply promote the next three members in line.
"We shouldn't just move everybody up a slot. That's a very dangerous message for Republicans to send back to the electorate that is ready to elect either Donald Trump, Carly Fiorina, or Ben Carson," Rep. Thomas Massie said. "If you go back to your town hall and say: 'Guess what guys? We listened to you. We got rid of the speaker, and now we've just moved everybody up a slot,' you're going to hear crickets before the tomatoes come."
McHenry's opponents are hoping that would leave him the odd man out. That's exactly what happened to Rep. Peter Roskam, who declined to run for leadership this year. He was the chief deputy whip last year, but he lost to Scalise in the race for whip amid a call for a fresh face at the leadership table.
But McHenry's backers are hoping to bulwark him against that sentiment by making the case that he is simply the best man for the job. McHenry has been on every whip team dating back to then-Minority Whip Roy Blunt. He has built up a reputation in the role for being a no-nonsense whip, even if he has at times irritated his colleagues.
"McHenry's pissed me off. On numerous occasions. But I think that's what makes Patrick a good whip. Patrick doesn't pull any punches or sugarcoat anything," Rep. Tom Rooney, who is whipping for McHenry, said. "If he was born to do something, that dude was born to be a whip in the House of Representatives. He is a real worker bee. He is also really convincing."
As the National Republican Congressional Committee recruitment chair in the last cycle, he has support from some freshmen. Rep. Lee Zeldin said McHenry was the first person to call him and ask him to run, and Rep. Mark Walker said McHenry was the first person to call him when he won his race.
But McHenry's main competition so far is coming from Rules Committee Chairman Pete Sessions, who as a former NRCC chairman has similar relationships with the large classes of 2010 and 2012, and he is making the case to colleagues that he can raise more money—a trait that will be sorely needed after Speaker John Boehner retires.
The Texan said most of his 25-strong delegation, the biggest in the conference, is backing him, though Rep. Kay Granger announced her support for McHenry on Thursday. Sessions said he has seen too many bills come to the Rules Committee that never went through their relevant committees, and he wants to change that.
"We have an organization that does not understand discipline, or structure, or process," he said. "We've got to clean the process and bring authority and responsibility back."
Sessions has already begun to set himself apart from the current leadership. He and Price joined many conservatives in voting against the stopgap spending bill on the floor Wednesday, while McCarthy, Scalise, and McHenry voted for it. Rep. Ken Buck, who is supporting Sessions, said he was impressed with his willingness to embrace even the rebellious members of the conference who other leaders have tried to punish.
"In spite of my voting against the rule, even though he is chairman of the Rules Committee, and in spite of my voting against leadership, he has always been someone ready to sit down with me and say, 'Ken here's the way forward,' and has been a mentor to a lot of conservatives that he didn't have to," he said.
Still, Sessions, too, is battling the perception that he would be more of the same. He has a seat at the leadership table and was directly appointed to the Rules Committee by Boehner. And some members worry privately that Sessions, who flirted with a 2014 bid against McCarthy for majority leader, is running to gain leverage to maintain a seat at the leadership table in a McCarthy House.
Rep. Dennis Ross, a senior deputy whip who is running as well, is making a case similar to Sessions's. He released his Compact with Congress, which promises—within 90 days—a vote on an alternative to Obamacare and a border-security bill, both of which have eluded the current leadership team.
"We're going to have to take tough votes," he said. "Members feel excluded because this has been an operation where bills come to the floor without going to committee."
Finally, two-term Rep. Markwayne Mullin is running, promoting his business experience and the fact that he is the only candidate with no ties to House leadership. Mullin declined to comment, but his advocates say his pitch is that he took over his father's floundering plumbing business and turned it around, and he hopes to do the same for the House Republican conference.
We want to hear what you think about this article. Submit a letter to the editor or write to letters@theatlantic.com.
Daniel Newhauser is a staff correspondent for National Journal, where he primarily covers the House of Representatives. He was formerly a House leadership reporter for Roll Call, where he started as an intern in 2010 and quickly earned a slot as a beat reporter.
A native of San Antonio, Texas, Newhauser traveled further West to study journalism at Arizona State University's Walter Cronkite School of Journalism and Mass Communication and write for newspapers including the East Valley Tribune and the Green Valley News & Sun.