Immigrant Business Owners Struggle After Baltimore Riots
Despite the city's best efforts to keep them, small-business owners wonder if they can afford to stay.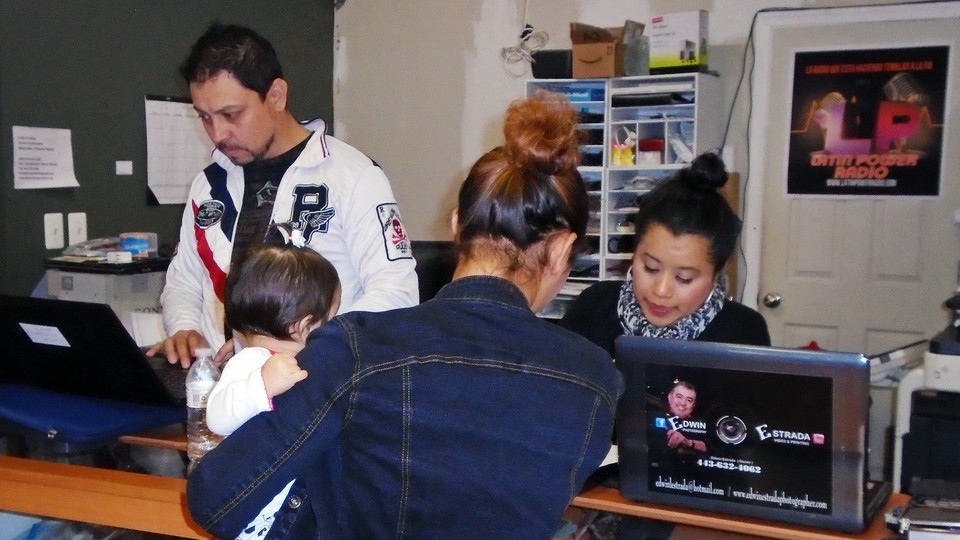 For years, Baltimore has been known among Latino immigrants as a city of opportunity. A place with cheap rents and high demand for retail services. Central American immigrants have moved here from places like Los Angeles and New York, opening shoe stores, jewelry stores, and shops in the southeast part of the city.
"I always told people that Baltimore was the last hope for immigrants in the United States," says Daniel Paredes, a 37-year-old Guatemalan who owns a printing shop on South Broadway Street. "Just come up with an idea, and you can make a good living."
But now he says he's not so sure. Ever since riots swept the city in April following the arrest and death of Freddie Gray, immigrant entrepreneurs have struggled to keep their businesses afloat.
Though looters were unable to break into Paredes's store, he said the violence has kept customers away. In May, he saw a $7,000 drop in sales. Now he makes 30 percent of what he made before the riots, he says. "There are still some times when we might just make $50 or $100 in one day," he says, while helping a customer design birthday-party invitations in his shop on a recent afternoon.
Paredes doesn't want to leave Baltimore, he says, but he doesn't know when business will pick up again.
That's exactly the kind of thing city officials don't want to hear. Three years ago, Mayor Stephanie Rawlings-Blake launched an aggressive effort to make Baltimore a welcoming city for immigrants like Paredes. Immigrants today own 21 percent of Baltimore's businesses, although they are only 7 percent of the population. And they are helping revive once-derelict neighborhoods.
Baltimore is one of several Rust Belt cities that have started to view immigration as a solution to boosting their shrinking populations.
Under Rawlings-Blake, the city launched the New Americans Task Force to "support and retain" these newcomers. Police have been ordered not to ask people about their immigration status. Rawlings-Blake also created the Mayor's Office of Immigrant and Multicultural Affairs, which lobbies for the interests of immigrants in city policy.
After the riots, the office reached out to immigrant business owners to include them in meetings about recovery loans. But they face more obstacles than other business owners, says Catalina Rodriguez-Lima, director of the multicultural-affairs office. Many immigrants don't qualify for traditional small-business loans because they don't have Social Security numbers or credit histories.
"We really wanted to find a way to keep them here, so they see Baltimore as a place they would want to live for more than just three years," says Rodriguez-Lima.
That's why the city helped fund the opening of a Baltimore office for the Latino Economic Development Center, which provides low-interest microloans to immigrants who might not qualify for traditional ones. Since launching in 2014, they have hired two full-time staff members and have provided 25 small-business loans ranging from $5,000 to $50,000 in the city of Baltimore. After looters damaged hundreds of businesses in April, the center created an emergency, $5,000 recovery loan for immigrants whose businesses were affected.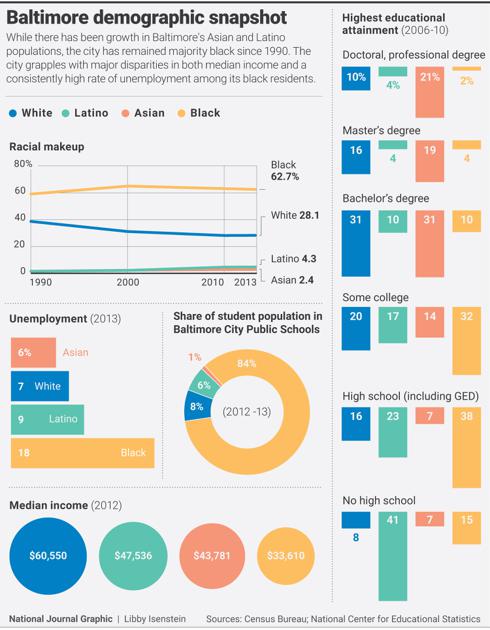 "A lot of [immigrants] were skeptical at first," says Diana Avellaneda, the center's lending-program manager. "We had to explain to them that we are a nonprofit and that we are here to help." In the end, they approved nine recovery loans. The center does not work strictly with Latinos, Avellaneda says, and many of their clients are from Africa.
Paredes, who owns the printing shop, said the center was quick to approve his application for a recovery loan. He has no credit and always paid cash for everything. He says the loan helped him keep his business open despite the staggering losses. After he pays it off, he says he might apply for another loan to buy a banner printer and to build his credit.
Paredes is more optimistic than other Latino immigrants whose businesses were actually burglarized. Though looters tried to break into his shop, they were unable to open the iron grate.
Not everyone was so lucky.
Just a mile away, in the emerging Latino neighborhood of Highlandtown, businesses are not allowed to install grates for aesthetic reasons. So on the night of April 27, looters took advantage of the chaos and broke into about a dozen stores in the neighborhood's commercial corridor on Eastern Avenue. About half of them were Latino-owned.
Carmen Amaya thought her husband was lying when he told her looters had smashed the window of her jewelry store. Highland Jewelry Service had been growing ever since she opened the business two years ago. But when she showed up the morning after the looting, everything was gone—about $40,000 worth of gold and silver jewelry. All she found was a brick and baseball bat.

"You have no idea what it's like to see all your hard work and effort gone in an instant," says Amaya, standing outside the boarded-up shop. The 43-year-old Salvadoran woman has been unable to reopen the store because she can't afford to buy more inventory. Their store has been closed for six months. Their inventory wasn't insured. A loan from their church and the $5,000 recovery loan from the Latino Economic Development Center have helped pay the $1,500 monthly rent for the store.
She's been waiting months to find out if she was approved for a $35,000 recovery loan from the Baltimore Development Corp. But the quasi-public economic-development agency has already exhausted the $300,000 it raised to fund recovery loans for hundreds of other damaged businesses, according to the Baltimore Business Journal.
The whole situation gives Amaya frequent anxiety and panic attacks, says her husband, Antonio Candia. Amaya moved to Baltimore six years ago from New York. Now she wonders if she will have to leave. She says her three children don't feel safe in the city, so she is trying to sell their house and move to the suburbs.
---
Janie Boschma contributed to this article