How Will Trump Respond to Ben Carson's Iowa Surge?
Can the former frontrunner outflank the new leader, and will he buy TV ads to do it?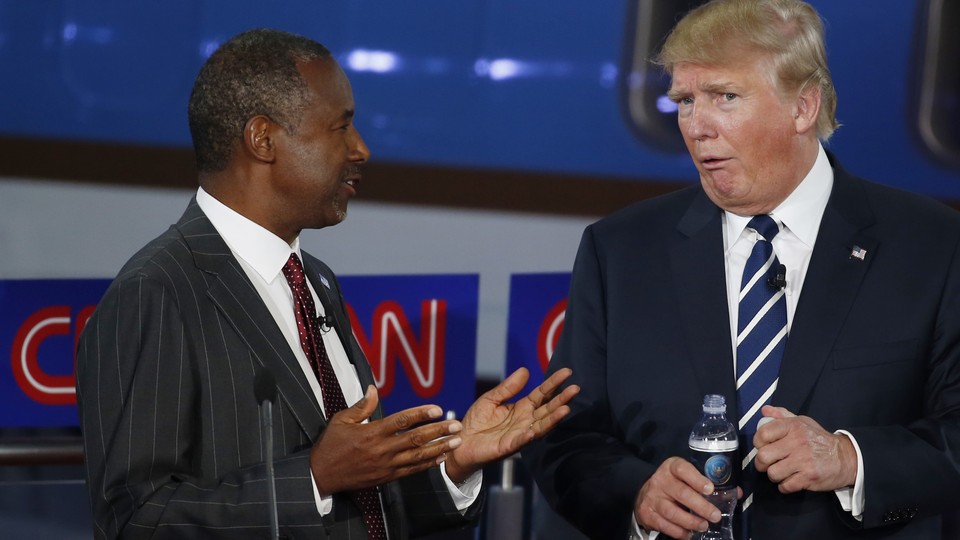 Ben Carson's rise in Iowa might force Donald Trump to finally put up or shut up. And given historical precedent about the latter, maybe that means the former is in the cards.
This week, two separate polls showed Carson pulling out ahead of Trump in Iowa. The Quinnipiac poll (whose accuracy some pollsters question) had them at 28 and 20 percent respectively, while a Des Moines Register/Bloomberg News poll had the gap at 28-19. It was the Quinnipiac poll that led to a disparaging tweet about Iowans being retweeted from Trump's account, and then deleted, with Trump blaming an intern.
But Trump's troubles in Iowa run deeper than undisciplined tweeting. Look at their polling trend in Iowa, via RealClearPolitics:
---
Republican Presidential Candidates in Iowa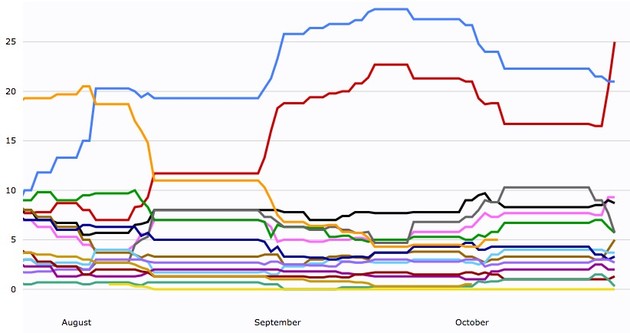 ---
That's Trump in blue and Carson in red. While the two have moved mostly in concert over the last three months, they've suddenly diverged recently. And while Trump's favorable/unfavorable rating sits at 59-37 among Iowa Republicans overall, Carson's is an incredible 84-12.
What would reverse the trend? Trump's brand is built on outlandish comments, but Carson is no stranger to controversy either. (Here's a roundup.) The poll asks respondents about how they rate certain facets of Carson's personality, and it's amazing. All of the things that might typically be considered weaknesses rate highly:
---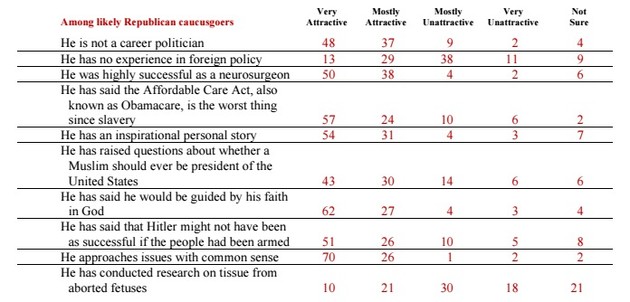 ---
He said Obamacare was as bad as slavery? Attractive to 88 percent. Suggested an unconstitutional religious test for office? 73 percent. Made historically suspect claims about Hitler? 77 percent. There's almost no way for Trump to outflank Carson on these things.
Even worse for Trump, Carson is about to buy TV ads in Iowa for the first time, which could widen the gap. Trump's campaign has been telling the press since at least August that he's mulling ad buys (see The Washington Post on October 7,for example), but no one's seen any in New Hampshire, and in Iowa the only TV presence is anti-Trump spots.
As usual, predicting trouble for Trump is a fool's errand. But Carson's surge and ad buy might make Trump finally get off the TV sidelines and spend.