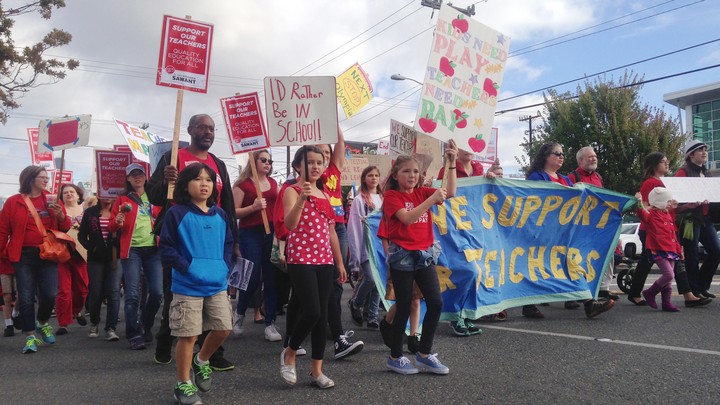 This article is from the archive of our partner

Decline in union participation—halved since the 1980s—is one reason that middle-income wages have stagnated for decades. Unions tend to create compressed-income structures, where more workers earn similar wages. Now, high and low incomes sit on increasingly distant shores.
This wage-structure effect is key feature of unionism's relationship to middle-class workers. But what does it mean for their children? A new working paper from the National Bureau of Economic Research asks how unionism relates to intergenerational mobility: how parents pass along wealth and other forms of social capital to offspring.
Using data from the decades-long Panel Study of Income Dynamics (PSID), a team of economists led by Richard Freeman—director of NBER's Science and Engineering Workforce Project and a professor of economics at Harvard University—looked at the relationship between parents' union status and the incomes of their children, once they entered the workforce. Drawing from PSID income, education, and health data for two generations of labor, the researchers compared the incomes of full-time workers, ages 26 to 37, by the union status of their parents.
Looking at the simplest spread of data, workers who had at least one union-participating parent earned higher incomes than those with no union-participating parents. The difference is even more dramatic when you look at the offspring of parents with low-education levels: Children of parents who did not finish college but who did participate in a union had incomes 16 percent higher than the average income of children of nonunion, nondegreed parents.
The data shows that people who grew up in union families also go further in their own education, even if their own parents didn't make it to college. These kids also have better health outcomes—which might be accounted for by the medical and child-care benefits that unions often provide. All of the above findings held true after the researchers controlled for attributes like age, race, ethnicity, and job status for parents and children.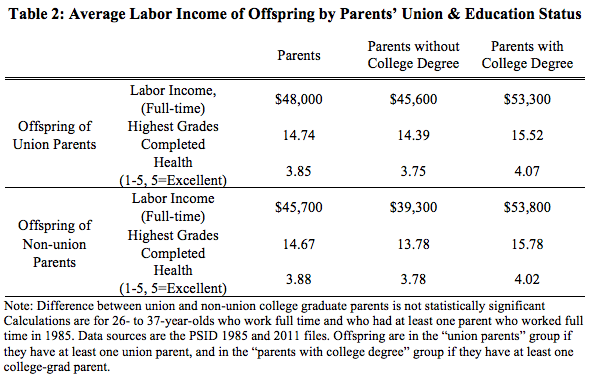 The study also finds evidence that, even for those whose parents did not belong to unions, children who simply lived in a community where union participation was high had higher incomes once they entered the workforce.
Drawing from Census-based rates of union membership in commuting zones and external data on intergenerational income mobility, the researchers found a positive association between the union "density" of a community—that is, how many people in a community were unionized relative to its size—and the future incomes of kids who grew up there. There might be a spillover effect at work here, since union advocacy often creates policies that benefit all workers, like higher minimum wages and increased education spending.
Certainly, parsing these findings requires a hunk of salt. The researchers have found correlations—not causation—between the union status of parents and their childrens' wealth and health. And the many major economic shifts between the 1980s and now would make it exceedingly difficult to nail down causation. Blue-collar jobs are more competitive than they used to be, with many industries outsourcing their labor or otherwise deregulating their wages.
Still, the authors write, there is one clear implication:
[T]he U.S. will find it harder to address the problem of the diminishing middle-income group than if trade unions were as strong and viable as they were 30, 40, or 50 years ago. A strong union movement is not simply sufficient for high levels of intergenerational mobility and middle-class membership, but it could be necessary.
This article is from the archive of our partner CityLab.
This story is part of our Next America: Workforce project, which is supported by a grant from the Annie E. Casey Foundation.
We want to hear what you think about this article. Submit a letter to the editor or write to letters@theatlantic.com.