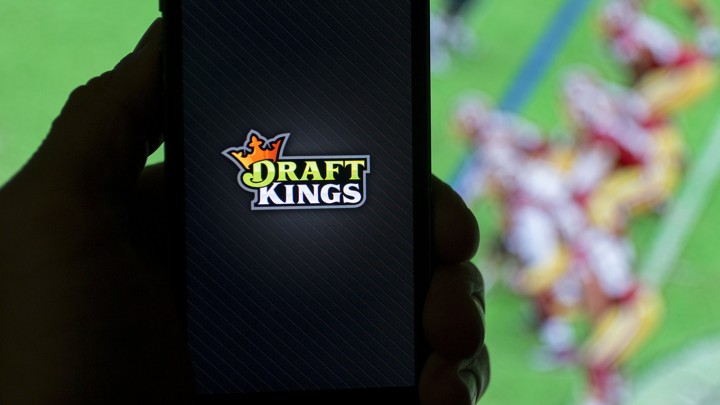 Daily fantasy is having an odd fall. On one hand, sites like DraftKings and FanDuel are enjoying a business boom, and they're flooding the airwaves with ads about how to get rich (quick) by doing something millions of Americans love to do anyway: play fantasy sports. But the industry's sudden rise has not gone unnoticed—including by regulators questioning whether the games need to be reined in.
Nevada deciding Thursday that daily fantasy is gambling and requires a license is just the latest bit of trouble for the booming industry. The FBI is reportedly opening an investigation into alleged illicit activity by the sites, the New York state attorney general has started an inquiry, and Congress is getting on board as well.
And on Capitol Hill, one well-placed Democrat is pushing Congress to take action: Energy and Commerce ranking member Frank Pallone.
Pallone, a New Jersey Democrat, has said that sites like FanDuel and DraftKings skirt laws that ban online gambling and operate in a "Wild West" with no regulation. He's called for a hearing in his committee about the legality of the sites.
But Pallone is no Puritan who's shocked (shocked!) that there's gambling, or something like it, going on. In fact, he sees the investigation into daily fantasy as working in tandem with an ongoing effort to legalize sports betting.
"Why should these daily sites be allowed to rake in millions unregulated, without people even knowing what they're getting into, but the NFL and the other sports leagues are still opposed to sports betting?" he said in an interview. "It's just not fair. There's no difference between daily fantasy and sports gambling."
In January, Pallone and New Jersey Republican Frank LoBiondo introduced bills that would legalize sports betting, saying that the proposals would remove the criminal element from a practice that's already ongoing. LoBiondo's bill would create a four-year window during which states could pass their own sports-betting laws, while Pallone's bill would legalize the practice only in New Jersey.
Their home state has been leading the drive to open up sports betting, arguing that the government should regulate—and profit from—a practice that's already going on behind closed doors. New Jersey has tried to offer legal sports gambling, but was sued by four professional sports leagues and the National Collegiate Athletic Association. The three-year legal battle took another turn this week when a federal appeals court offered to rehear a previous ruling against the state.
That's good news for the legislative supporters: "We think we have a very good chance here," said LoBiondo in an interview. "And if it does not come down our way, it should give us a very good idea of the legislation that should be enacted."
Pallone said that he saw the court decision as the best way forward, rather than the slog of legislation. A legal verdict that allowed New Jersey to legalize sports betting, he said, would then open the door for more states to follow.
Nationally, backers say that there's growing momentum for sports betting to be brought out into the open. ESPN talks about point spreads on its preview shows. National Basketball Association Commissioner Adam Silver said in an editorial last year that Congress should change sports betting laws and allow "states to authorize betting on professional sports, subject to strict regulatory requirements and technological safeguards," becoming the first major sports commissioner to make such a call.
Even Republican Sen. John McCain has called on Congress to examine the 1992 Professional and Amateur Sports Protection Act, which barred stated-sponsored sports betting in all but four states (Nevada is the only one that permits single-game wagers).
"It's just become so prevalent. And I think there's a real cultural shift," said Dennis Drazin, a New Jersey attorney advising parties involved in the court fight. "The sports leagues all encourage it, they're just being hypocritical in saying they're against it."
But daily fantasy has thrown a new element into the mix. The sites —where users pay to participate in a cash prize context on a daily or weekly basis—are legal thanks to a loophole in the 2006 Unlawful Internet Gambling Act, which allowed wagers for fantasy sports. They enjoy the support of Major League Baseball and owners in the National Football League, not to mention regular TV ad spots and branded segments on ESPN.
But legally, experts say they exist in a gray area, prompting questions about whether they really are games of skill or of chance (the latter would make it gambling). Former Rep. Jim Leach, who wrote the carve-out, told the Associated Press that he didn't envision something akin to "today's cauldron of daily betting."
On Thursday, the Nevada Gaming Control Board said the sites must cease and desist all activity in the state and will require a license to operate, declaring that they are a form of gambling. Nevada, of course, has a vested interested in protecting its own legal casino gambling.
"If you and I have a fantasy game over the course of a season and you win, probably a lot of that winning had a lot to do with what you brought to the table in terms of research and choosing the right players," said Jeffrey Standen, dean of Northern Kentucky University's law school. "The shorter the game, the more luck is involved. As these fantasy games go from season-long contests to weekly or daily contests, they look a lot more like the traditional, prohibited gambling."
On top of that, the sites have been hounded with other legal questions. There have been allegations that a DraftKings employee won $350,000 from rival site FanDuel after inadvertently releasing internal data from his own company, opening up questions about whether the sites are suspect to something akin to insider trading. A New York Times and Frontline investigation published Thursday charged that the sites are part of a broader failure of federal laws to stop online gambling.
Executives from the sites have defended themselves. FanDuel CEO Nigel Eccles told Fortune that his site hosts games of skill similar to "a golf tournament or a spelling bee or a road race" and that "high-skill players will win predominantly." In an interview with Fox Business News this week, DraftKings CEO Jason Robins said that a third party was reviewing the site's internal practices and that employees from his site were now barred from any daily fantasy activities.
They're also staffing up for a D.C. fight; FanDuel has hired the lobbying firm Steptoe and Johnson to represent them and DraftKings is retaining the law firm Greenberg Traurig LLP.
The Energy and Commerce Committee has not scheduled the hearing requested by Pallone, although chairman Fred Upton has said he'd be open to one. Pallone said that having a hearing would help shine light on the "hypocrisy" that exists in gambling law.
But is a crackdown on a legal enterprise inconsistent with a desire to legitimatize illegal betting?
"This is such a gray area and it needs to be determined to be black or white," said LoBiondo. "Having hearings would draw more attention to the fact that this is such a gray area and help make our case."
The ultimate goal, supporters said, would be to bring daily fantasy and sports wagering onto the same level—in the open, run and regulated by the state or federal government.
"The NFL and sports leagues are spending money to stop New Jersey from having sports betting, saying it's illegal, it's immoral, that the players get involved in organized crime and all this nonsense," Pallone said. "Then they turn around and invest in daily fantasy, but we don't call it gambling. Somehow that's okay, it's not immoral. Meanwhile, there's no guarantee of protection for the consumer.
But Standen, who has studied gaming law, said that regulating daily fantasy also has its own benefits: removing a competitor to New Jersey and other states looking to get in on the game. In the Senate, New Jersey's Robert Menendez and Nevada's Harry Reid are among those who have raised questions about the game, and whose home states could also benefit from a crackdown.
"You've got private companies that are growing based on quasi-gambling games that look an awful lot like what New Jersey wants to do," he said. "I think the state would be very jealous and suspicious of private companies getting into this business without state licensing."
We want to hear what you think about this article. Submit a letter to the editor or write to letters@theatlantic.com.
Jason Plautz
is a Colorado-based reporter covering energy and environment policy.