How NIH Funding Got Caught in a Budget Battle
Boosting funding for research and medical innovation is popular—but where will the money come from?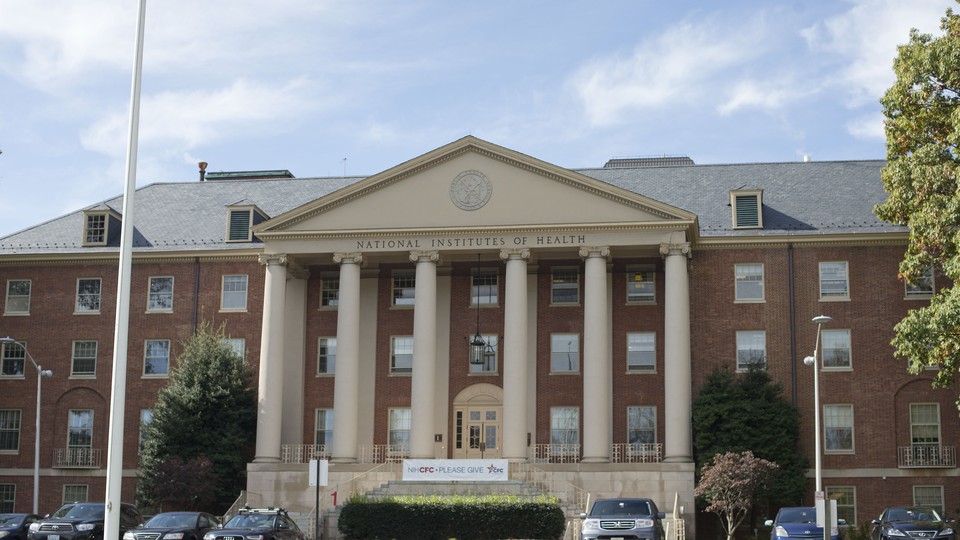 If there's one question that has the potential to create a kumbaya moment in Congress, it's deciding whether the National Institutes of Health should get more funding. (The answer is yes.) But if anything is going to disrupt that moment, it's the question of how to pay for it.
Sens. Lamar Alexander and Patty Murray expect to have a medical-innovation bill introduced this fall, and true to fashion, they're working together on the details. While there are plenty of components that both hope are included, one with a large price tag, NIH funding, has the potential to get caught up in the budget battle currently brewing in the Senate.
A week after the budget deal that Murray negotiated with Rep. Paul Ryan in 2013 expired, she spoke at a hearing on NIH funding, bringing up the HELP committee's medical-innovation effort.
"I'm pleased that so far, we've seen bipartisan interest in ramping up investments in the NIH and the FDA, and I've made clear that I'll only support a bill that does just that," she said. "I am hopeful that Republicans and Democrats can work together to build on the bipartisan foundation set in the budget deal last Congress and make the investments we need to seize these and other opportunities in a way that helps our economy and country work better for every family."
But a boost in NIH funding was also included in the Republicans' appropriations legislation. The Labor and Health and Human Services bill passed in its committee along party lines, foreshadowing a fight to come, albeit over the more contentious subjects in the subcommittee's jurisdiction—including the Affordable Care Act, which the bill stripped of funding.
"Governing is about setting priorities, and I voted for this legislation because it provides critical funding for medical research and innovation at the National Institutes of Health—as well as support for the Centers for Disease Control and Prevention and for our nation's students," Alexander said in a statement released after the bill's passage.
It's unclear whether increased funding will be included in the HELP committee's medical-innovation bill, a budget deal, or both—although neither seems like a safe option to rule out. It's also unclear how much additional funding the NIH will receive, although the Labor-HHS bill appropriated an additional $2 billion to it.
And then there's the House medical-innovation bill, which may offer clues as to how much funding the NIH could receive, but also where fights may be brewing.
For months, Alexander has held that the Senate is working on a "parallel track" with the House. While the Energy and Commerce Committee's 21st Century Cures bill originally authorized an additional $2 billion in mandatory spending for the NIH for five years, this got reduced to $1.75 billion a year over the same time period in discussions about offsets.
When the Cures bill came to the floor for a vote, it passed with only 77 votes against it, and almost all of those opponents were Republicans who thought the funding bump should be discretionary, not mandatory. It seems unlikely this interparty argument will go away in the Senate, unless the money is marked as discretionary from the onset.
But Alexander and Murray have other priorities for the bill, too. In an interview in his Senate office, Alexander pointed to several of them: a new approval pathway to help speed access to medical devices, finding ways to help the Food and Drug Administration hire talented people, and improving electronic health records.
Murray has a set of priorities when it comes to medical innovation as well, some overlapping with Alexander's: hers include access to safe, effective new medical products, upholding the FDA's "gold standard" of patient and consumer safety, adding more women to clinical trials, and combatting antibiotic resistance.
As far as how closely the Senate bill will resemble the House bill and what its contents will be, the committee has revealed few specifics, speaking in terms of what its own priorities are while praising the House's efforts.
"Senator Murray and I continue our work on a parallel track in the Senate Health Committee to produce a bill that we can combine with 21st Century Cures and send to the president's desk—and start getting safe treatments and drugs into Americans' medicine cabinets more quickly," Alexander said in a statement released after Cures passed in the House.
Murray also released a statement commending the bipartisan effort behind the legislation: "I believe strongly that our federal laws and resources should support our nation's tradition of leadership in the life sciences, while upholding the highest standards of patient and consumer safety," she said.
Alexander has said the committee's effort will include precision medicine, a developing field in which a patient's genome is used to determine a personalized treatment plan. This is an area with large potential for bipartisan support and not just on Capitol Hill: Obama unveiled the White House's Precision Medicine Initiative at the beginning of the year.