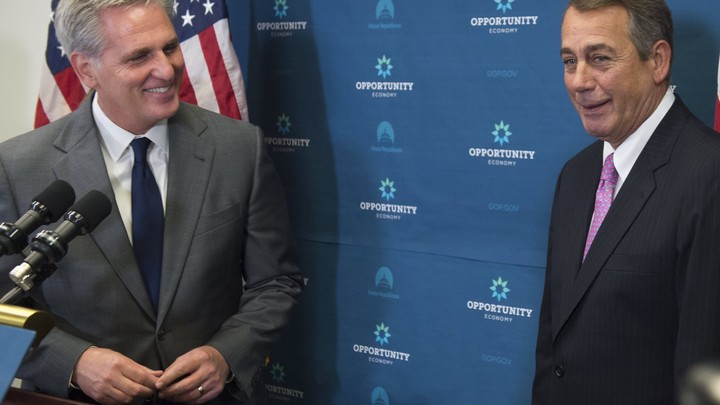 Ohio Republicans vying to replace John Boehner are stuck in an unlikely—and challenging—situation: campaigning for a special election that doesn't yet exist.
The chaos on Capitol Hill over who will be the next House speaker is reverberating in Boehner's Western Ohio district, where Republicans running for the seat won't know the date of their election until Boehner finalizes his exit from Congress. Boehner originally said he would step down on Oct. 30. But now, after House Majority Leader Kevin McCarthy's exit from the speaker's race left House Republicans without a clear front-runner for the job, Boehner is vowing to remain in office until a new speaker is chosen.
Even at that point, the timeline to pick a successor in the 8th Congressional District won't become immediately clear. Under state law, Ohio Gov. John Kasich has significant leeway to set a special-election date, as long as 45 days are allotted for military absentee voting. Theoretically, a competitive, multicandidate primary could be mere months away—or be delayed until mid-March.
That's added a magnitude of unpredictability into a race that, in the early stages, is already without a clear single front-runner.  
Six Republican candidates have declared their bids: state Rep. Tim Derickson, state Sen. Bill Beagle, Butler County Auditor Roger Reynolds, Lakota Board of Education member Todd Parnell, businessman Scott George, and former teacher J.D. Winteregg, who lost by a wide margin to Boehner last year.
"The uncertainty is not helpful for fundraising, and it's not helpful for voter targeting," said Zachary Werrell, Winteregg's senior adviser. "If there's uncertainty in any market, there's going to be some paralysis."
The handful of Republicans angling for the seat are still trying to ramp up their campaign operations—even as it's unclear when voters will cast their ballots.
"It's not going to deter our interest in the seat, but it does delay some of the activity," Derickson said. "Regardless … we still have to prepare. We just can't put things on hold."
When Boehner initially picked Oct. 30 as his retirement date, some GOP operatives predicted that Kasich would set the special general election to align with the state's presidential and congressional primaries on March 15. In that case, Kasich could schedule a January or February primary election.
If Boehner stays on through the end of his term, the congressional primary would take place on March 15.
The candidates and their campaigns are pledging that they'll be prepared for the election, whenever it may come. And, for now, Ohio Republicans are operating as if the seat could still open Oct. 30. In a crowded race, the campaigns say they're wasting little time in meeting with voters and courting donors.
"This gives candidates an opportunity to actually build a little bit of an organization and better prepare for whenever the election might be," said Brittany Warner, spokeswoman for the Ohio Republican Party, whose central committee hasn't decided if it will endorse.
But without details in place, some potential candidates are taking a wait-and-see approach to the race.
Several Republicans are still weighing bids, including former state Rep. Ross McGregor, state Sen. Chris Widener, and West Chester Township Trustee Lee Wong.
"Right now, nobody knows when the election is going to be set. Nothing is in place," said Wong, who plans to make a decision on the race only once it's clear when Boehner is leaving.
But in a field that's already packed, candidates say there isn't time to pause campaign activities, especially for a seat that Boehner has held since 1990. The district is also prime territory for Republicans: Mitt Romney won there by 26 points in 2012.
The timing "isn't really impacting our campaign on a day-to-day basis," Beagle said. "We are putting together a team, we are getting endorsements, and we are going to begin attending events."
And the candidates say the possibility of a delayed special election could actually be a plus. "The 8th District covers six counties … and that's a large area to get out and meet people," Reynolds said. "The extra time will be helpful."
Reynolds recently brought on Boehner's former field director, Alex Scharfetter, as his campaign manager. But Boehner himself has been quiet about whether or not he has a preferred successor. At a discussion with Ohio reporters last week, he dodged a question about whether he backs one of the contenders.
"There's no election [date set] yet," Boehner said. "I don't know how many people will get into this."
At this point, "it's full steam ahead," said Bob Kish, an Ohio-based GOP ad maker, "and the jockeying has begun."
We want to hear what you think about this article. Submit a letter to the editor or write to letters@theatlantic.com.
Kimberly Railey is an editorial fellow for National Journal Hotline. Prior to joining National Journal, she covered Congress at the Washington bureau of The Dallas Morning News. She has also written for The Boston Globe, USA TODAY, and The Christian Science Monitor. Originally from South Florida, she graduated from the Medill School of Journalism at Northwestern University, where she served as managing editor of The Daily Northwestern.