How Loitering Laws Lead to Profiling
A government email raises concerns that police use laws to target undocumented immigrants.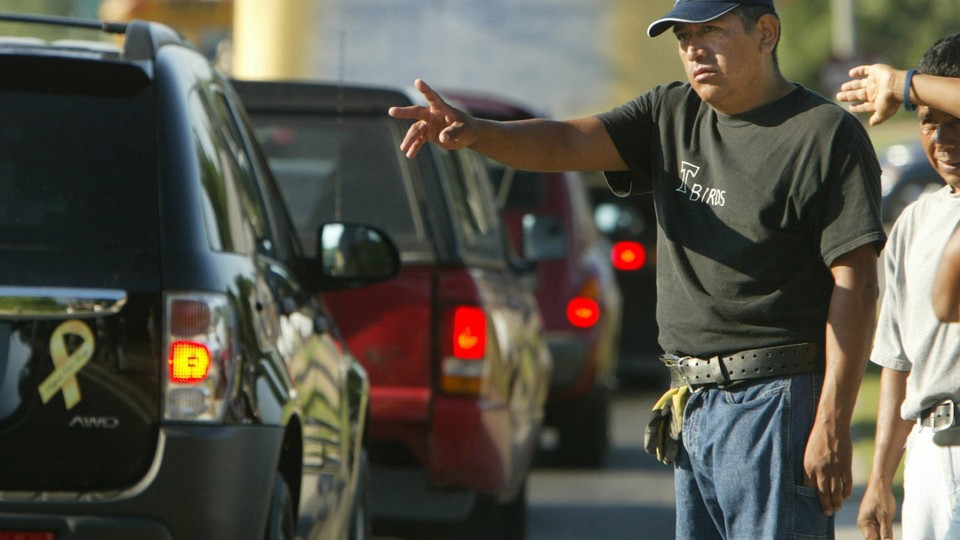 This article is from the archive of our partner

The Los Angeles Times obtained a recent email exchange between the Department of Homeland Security and the New Orleans Workers' Center for Racial Justice discussing a case of possible ethnic profiling of two immigrants currently awaiting deportation.
According to the Times, Jose Adan Fugon-Cano and Gustavo Barahona-Sanchez were standing outside a motel in New Llano, Louisiana, waiting for a ride to a construction job, when local police approached and arrested them for loitering. The charges were never filed. Instead, the police ran an immigration check and, upon discovering their unauthorized status, reported them to Border Patrol.
In the email exchange, DHS lawyer Megan Mack expressed concern that the two men were picked up not because they were suspects in a crime or posed public safety threats, but because they looked Hispanic. (NLPD has denied this charge to the Times.) Here's how Mack put it:
The men appear to have been arrested, transported, and detained for an extended period of time, without any local law enforcement interest in charging them with a crime, solely for an immigration check; and it seems clear that NLPD's interest in the immigration status of the men was based on their ethnicity and the way they were awaiting pickup for a job. We believe it's imperative that the Department, [Immigration and Customs Enforcement], [Customs and Border Protection] avoid becoming a conduit, or an incentive, for improper profiling by local law enforcement.
The exchange brings to light how easily vague vagrancy and loitering laws can be used to round up undocumented immigrants who would otherwise not have been high on the government's priority list for deportation.
ICE prioritizes deporting immigrants with criminal records
Immigration and Customs Enforcement can choose not to enforce immigration law against low-priority undocumented immigrants—defined as those who don't pose terror threats and haven't committed big or small crimes, according to this 2014 memo. Immigrants with young children in the country are also sometimes shown leniency. This "prosecutorial discretion" has been more aggressively applied to cases since 2011, according to The New York Times, and partly responsible for the drop in the number of deportations.
Fugon-Cano and Barahona-Sanchez's lawyers argue that they should be considered for prosecutorial discretion because they have no criminal records. (Barahona-Sanchez also has young children living in the U.S.) ICE officials, however, say they're being deported because they've been removed from the country once before, according to the L.A. Times.
Still, the fact that they were checked in the first place rests on flimsy constitutional grounds, gauging what's expressed in the email above.
Plenty of undocumented day laborers work in Louisiana
Post-Katrina Louisiana saw a massive influx of Hispanic day laborers. These immigrants often congregate on street corners looking for their next construction job—just like Fugon-Cano and Barahona-Sanchez were doing when they were arrested—and a 2012 court decision protects their right to do so.
Still, these workers (many of whom are undocumented) are routinely profiled by law enforcement in and around Louisiana, on loitering (and other) charges, according to Jolene Elberth, an organizer at the Congress of Day Laborers. (The ACLU is fighting a contentious law in nearby Arizona that allows these kinds of checks in court.)
"In Louisiana, and many other places in the Deep South, we have a huge problem of local law enforcement using minor charges to act as a larger immigration enforcement dragnet," says Elberth, via email. "The problem is not necessarily the laws in this case but instead the racially biased way in which they are enforced."
There are several problems with loitering laws
The 14th Amendment protects our right to move from one spot to another in a public space, according to a U.S. Supreme Court ruling in 1900. But state, city, and local ordinances often forbid dilly-dallying in one spot for too long.
In 1999, one such local ordinance in Chicago was struck down by the Supreme Court for being "too vague," because police officers could enforce it on the basis of merely thinking someone looked like a gang member. (The Arizona law is similar.) The Chicago law led to 40,000 arrests of primarily blacks and Latinos in the three years it was in effect. Here's Bob Herbert at The New York Times on the decision:
The law was an abomination, just like the practice in New York of stopping and frisking black and Hispanic people by the tens of thousands for no good reason.
Since the ruling, legal experts and courts have generally agreed with this verdict. Here's law professor Andrew D. Leipold (now at University of Illinois College of Law) explaining the problem with these laws in a legal article following the Chicago ruling:
Although loitering and vagrancy statutes typically specify at least some prohibited acts, usually the conduct is not itself harmful. Instead, the prohibited conduct is often described in a way that correlates to the behavior of the poor and the dispossessed, making much of their public behavior subject to police oversight.
These laws are enforced arbitrarily and primarily against poor communities of color, including undocumented immigrants, instead of effectively resolving urban crimes (drug trafficking, street harassment, gang violence) they're ostensibly meant to address. Considering the problematic use of these laws, it's a wonder that they're still being passed as a solution to street crime in areas around the country.
This article is from the archive of our partner CityLab.