How LGBT Rights Fit Into the Republican Party After the Supreme Court's Decision and Kim Davis
The culture wars have shifted in favor of gay rights, and LGBT Republicans hope their party will come around.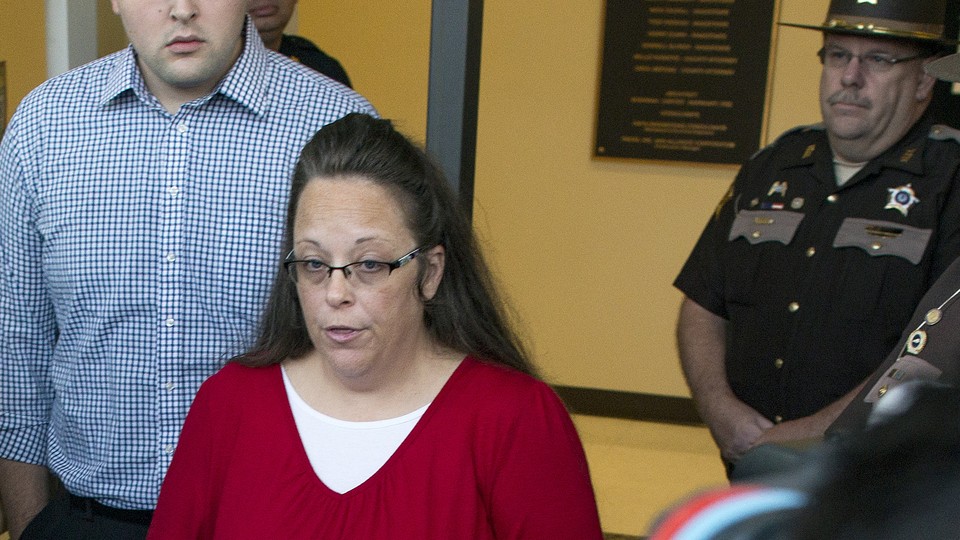 Late last week, in a reception room at the Grand Hyatt Washington, the Log Cabin Republicans held a dinner mingling with various Republican leaders who support LGBT rights, optimistic that they can win the hearts and minds of those who are still opposed.
The Thursday dinner came at a momentous time for gay rights in the United States—several months after the Supreme Court's decision made same-sex marriage legal in all states and not long after Kentucky County Clerk Kim Davis's refusal to grant marriage licenses to gay couples made her a cause célèbre among some high-profile Republicans. Throughout the night, there were attempts to highlight Republican support for LGBT rights, with an obligatory invocation of Ronald Reagan. A campy cartoon was shown with Republican members of Congress and the Senate supportive of LGBT rights pictured on superhero bodies, dubbed "Super Friends."
The political debate around same-sex marriage has changed for Republicans. Just in the past decade, Republican then-President George W. Bush backed a federal amendment to the Constitution that said marriage should only be between a man and a woman. In July, a poll from Pew showed 32 percent of Republicans support same-sex marriage, nearly twice as much support as there was in 2004.
Gregory Angelo, president of the Log Cabin Republicans, said his organization's goal is the same as the goals of other Republicans: to win the 2016 election. Angelo said he didn't if know the Supreme Court's decision this summer would really impact his organization's actions.
"Outside of the fact that we are going to be encouraging Republicans to understand that, despite this difference of opinion on marriage equality and what some would call traditional marriage, marriage equality is here to stay in this country," Angelo told National Journal. "Obsessive fixation on turning back the clock is not going to help achieve those victories."
Throughout his speech at the Spirit of Lincoln Dinner, Angelo said his organization did not see other Republicans as enemies: "Just future allies."
Republican National Committee Co-Chair Sharon Day was in attendance, despite her opposition to same-sex marriage.
"I support traditional marriage," Day told National Journal, before adding, "The Supreme Court's made a ruling."
That was a sentiment echoed throughout the night. Grover Norquist, president of Americans for Tax Reform, told National Journal, "The central issues that one might have had questions about are largely settled; therefore, now what?"
And it appears in some areas of the country, Republicans are more willing to have LGBT people in their leadership, as is the case with Ed Williams, the first openly gay chairman of the Republican Party of Clark County, Nevada.
"As a Republican Party, we have a big opportunity to be better at our messaging," said Williams, who talked to National Journal about the range of 2016 presidential candidates. "Embarrassment of riches. I mean, we've got the greatest variety of candidates I have ever seen in our presidential field. It's amazing."
For some Republicans at the event, supporting same-sex marriage came after an evolution. Rep. Charlie Dent from Pennsylvania said when he was in the Pennsylvania House of Representatives, he voted for the state's ban on same-sex marriage but over time changed his opinion.
"I came to realize if some people's idea of happiness is marriage, the government should not stand in the way," Dent told National Journal ahead of the dinner.
Dent pointed to recent statements by Republican presidential candidate and Ohio Gov. John Kasich, who mentioned attending a wedding of a gay friend, and Jeb Bush, who has said, "We should love our neighbor and respect others, including those making lifetime commitments."
One of Bush's advisers, former Deputy Defense Secretary and uber-neoconservative Paul Wolfowitz, delivered the keynote at the dinner after Massachusetts Gov. Charlie Baker was unable to attend due to an injury.
Wolfowitz said it was important not to cede gay rights to the Democrats. He used his speech to criticize the foreign policy of the Obama administration, particularly the Iranian nuclear deal, highlighting that the Log Cabin Republicans' opposed the deal, which the organization criticized in July, because of Iran's killing of LGBT people.
When asked if he has discussed gay rights with Bush, Wolfowitz told National Journal that he doesn't talk about what he discusses with candidates, but that he has not talked about this specifically with Bush.
The Log Cabin Republicans still don't have nearly as many resources as major outside conservative groups. According to 990 tax forms from 2013, the Log Cabin Republicans had a total of $36,102 in assets by the end of the year, while its sister think tank, Liberty Education Forum, had $41,740 that same year.
Comparatively, in that same time, the National Organization for Marriage, which opposes same-sex marriage, had $232,984 in assets and the Family Research Council, another socially conservative organization, had $4,980,939.
In terms of political spending, there is also no comparison between social conservatives and the Log Cabin Republicans. In the 2014 midterm elections, the Log Cabin Republicans' political action committee, LCR PAC, had $17,641 in total receipts and spent $17,946 according to opensecrets.org. Conversely, Open Secrets showed the Family Research Council's PAC had $304,150 in receipts and spent $237,681 in the same cycle.
On Thursday, Angelo called out for people who were willing to become trustees for the organization by a show of hands as if it were an evangelical altar call.
"There has never been a time when Log Cabin has been really flush with cash," Jimmy LaSalvia, who co-founded the now-defunct Republican pro-gay-rights group GOProud, said. "What I call the Log Cabin heyday was when they were pushing back against the Federal Marriage Amendment," from 2004 to 2006. And even then, LaSalvia, who has since put a book out explaining why he left the Republican Party, said much of the money came from gay liberals. LaSalvia confesses that he's not optimistic about the Republican Party's future.
"Their brand is unacceptable to most Americans. Kim Davis is unacceptable to most Americans. Mike Pence is unacceptable," he told National Journal, the latter in reference to the governor of Indiana who signed a bill many were concerned would lead to anti-gay discrimination. Pence later signed revisions to the law.
But there are signs there might be a generational shift. During his speech, Wolfowitz pointed to polling showing most Republicans under 50 support same-sex marriage.
Being a gay Republican is about small and incremental steps toward acceptance. Earlier this year, when Caitlyn Jenner came out as transgender and as a Republican, Norquist tweeted support for the athlete-turned-reality-star's conservative credibility. When asked about his support, Norquist said "he" before correcting himself to say, "She is a great Reagan Republican." Those small steps toward understanding are what Log Cabin Republicans are seeking.