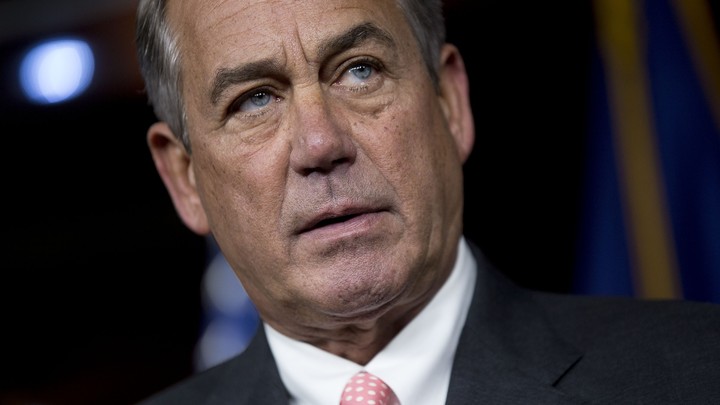 The political tumult surrounding the House Select Committee on Benghazi that has aided Hillary Clinton has its roots in an unlikely place: outgoing House Speaker John Boehner's office.
The committee has been thrown onto the political defensive ahead of Clinton's high-profile testimony on Oct. 22. But the course of the panel's probe could have been quite different.
A tidbit in a New York Times story Sunday says Boehner decided months ago that the inquiry into Clinton's emails would stay within the Benghazi panel, not another House committee. That may have unintentionally left the committee and Chairman Trey Gowdy more vulnerable to criticism that it's a partisan attack against Clinton's campaign.
The Times piece describes a committee that has shifted from a wide-ranging look at the Benghazi attack to a heavy focus on the private email system, which the panel's probe helped to reveal, and the State Department. From the story:
Mr. Gowdy said in the interview last week that he had pressed Mr. Boehner to have another House committee examine the matter of Mrs. Clinton's emails, but that Mr. Boehner had rejected the request.

"I would have liked nothing more than for the speaker to find another committee," Mr. Gowdy said.

Senior Republican officials, who spoke on the condition of anonymity because they were discussing confidential conversations, said that Mr. Boehner had long been suspicious of the administration's handling of the attacks and that Mrs. Clinton's emails gave him a way to keep the issue alive and to cause political problems for her campaign. But he thought that the task was too delicate to entrust to others and that it should remain with Mr. Gowdy, the former prosecutor.
Boehner's aides declined comment. But it's clear that an earlier plan for an inquiry by the House Oversight and Government Reform Committee was blocked. A source familiar with the topic said the issue was discussed in meetings between Boehner, Gowdy, and Jason Chaffetz, who heads the Oversight Committee.
The source said that Gowdy and Chaffetz had decided together that Chaffetz's panel would explore the email issue and Gowdy's probe would stay "pure" to Benghazi. In mid-March, Chaffetz even announced plans to send a detailed inquiry to the State Department. But it didn't happen, and the source said it was Boehner who quashed the Oversight Committee's plans.  
To be sure, having one committee probe Benghazi and a second going after the email question also would have opened up Republicans to charges of a political witch hunt.
But regardless, Gowdy's pursuit of the emails—which has included an attempt to depose a former Clinton aide who set up her private server—and the State Department's role in Benghazi probe has added fire to allegations of a partisan inquiry.
Several days ago, Bradley Podliska, a former GOP investigator who was fired from the committee, alleged that after the revelation of Clinton's private server in March, the investigation moved from a wide-ranging inquiry to something focused heavily on Clinton and the State Department.
According to CNN, which interviewed him, he's preparing a lawsuit alleging he was fired in part because "he resisted pressure to focus his investigative efforts solely on the State Department and Clinton's role surrounding the Benghazi attack."
Gowdy has pushed back hard against the allegations, stating among other things:
"[T]his staffer has never mentioned Secretary Clinton as a cause of his termination, and he did not cite Clinton's name in a legally mandated mediation. He also has not produced documentary proof that in the time before his termination he was directed to focus on Clinton. The record makes it clear not only did he mishandle classified information, he himself was focused on Clinton improperly and was instructed to stop, and that issues with his conduct were noted on the record as far back as April."
But the story has come at a difficult time for the committee's Republicans due to the unintended consequences of another Boehner move: his surprise decision to retire that touched off a race to replace him as House speaker.
A major turning point in that still-unresolved race came at the end of September when Majority Leader Kevin McCarthy, who was running to replace Boehner but since dropped out, credited the Benghazi committee with hurting Clinton's White House campaign.
"Every­body thought Hil­lary Clin­ton was un­beat­able, right? But we put to­geth­er a Benghazi spe­cial com­mit­tee. A se­lect com­mit­tee. What are her num­bers today?" McCarthy said on Fox News.
The comment in the heat of the speaker's race was a political gift to Democrats and the Clinton campaign, who held it up as proof that the probe into the 2012 attacks is political.
"It is a partisan vehicle, as admitted by the House Republican majority leader, Mr. McCarthy, to drive down my poll numbers," Clinton proclaimed during Tuesday night's Democratic debate. "Big surprise. And that's what they have attempted to do."
We want to hear what you think about this article. Submit a letter to the editor or write to letters@theatlantic.com.
Ben Geman
is an energy and environment correspondent at
National Journal