How Hillary's Nevada Stronghold Explains Her Campaign
The Democratic frontrunner is pouring resources into state-based organizing, hoping to execute an Obama-like strategy in both the primary and general election.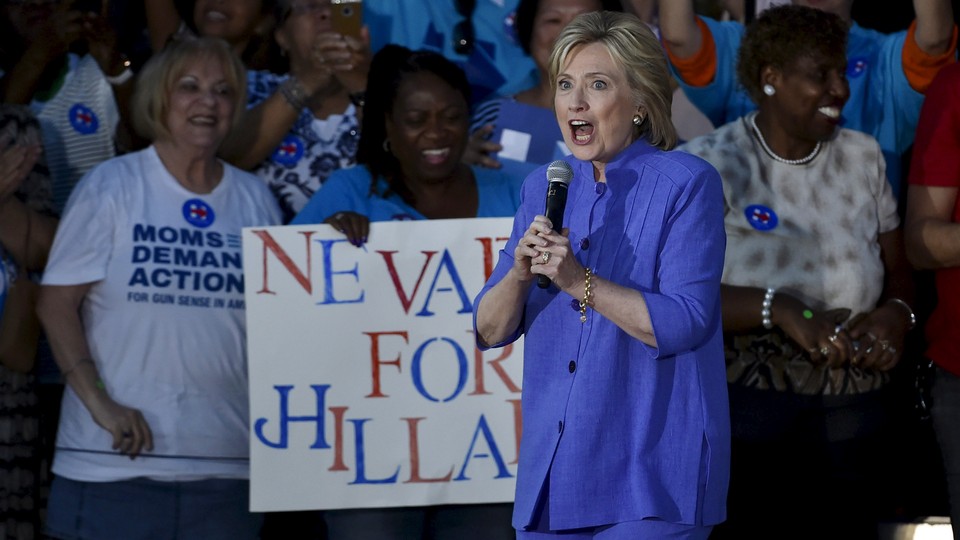 LAS VEGAS—A few days after last week's Democratic debate, Hillary Clinton's headquarters here buzzes with activity.
Like most campaign offices, the office-park suite off Rancho Drive is a drab, cluttered space, with the exception of a couple of beautiful murals—one of Clinton's face, one of the red rocks that rise up on the city's outskirts—contributed by a member of the local painters union. A dozen staff and volunteers sit at tables in the middle of the room entering data into laptops. Between Clinton's strong debate performance last week and her rally here the day after, there are thousands of new supporters to enter in the campaign's database.
"Especially coming off the debate, there is a ton of energy," Jorge Neri, Clinton's Nevada organizing director, told me as he surveyed the hubbub. "Our job is to engage those folks and turn that energy into action." Nevada, Neri believes, is "really Hillary country."
Clinton is certainly hoping that's the case. Nevada is shaping up as the linchpin of her strategy to become the Democratic nominee, and she has built the biggest organization here of any candidate, Democrat or Republican: offices in Las Vegas and Reno (a third, in the Vegas suburb of Henderson, will open soon), 22 paid staff, and more than 3,000 volunteers. Clinton's Nevada operation began staffing up in June; her top Democratic rival, Senator Bernie Sanders, just hired a state director and opened a Nevada office this month.
Nevada's Democratic caucuses are scheduled to come third on the primary calendar, right after the Iowa caucuses and New Hampshire primary. Iowa and New Hampshire are dominated by white left-wing activists, Sanders's core demographic, and that has both of them looking like close contests. Nevada, on the other hand, has a diverse Democratic electorate, dominated by Latinos and union members. The most recent poll of the state's Democrats put Clinton up by 16 points, and that was before the debate.
Nevada has special significance to Clinton's team. Two of her top national aides—Robby Mook, her campaign manager, and Marlon Marshall, the director of state campaigns—ran her Nevada operation in 2008, when she took 51 percent of the vote to Obama's 45 percent on caucus day. It was one of the few caucus states in which Clinton prevailed (though Obama, because he was stronger in rural areas, ended up winning more delegates from the state), and she did it despite having lost the endorsement of the state's powerful Culinary Union to Obama. In the days leading up to the caucuses, Bill Clinton could be found shaking union members' hands in casino kitchens, trying to keep the state in his wife's column.
Nevada is also a microcosm of Clinton's approach to the campaign nationally. Across the country, she is building similar staff- and office-intensive operations, determined not to get caught off guard by an organization-focused challenger the way she once was by Obama. It's a risky and expensive strategy. From July to September, Clinton's fundraising could barely keep pace with her overhead—she spent 90 percent of what she raised keeping her operation running. But Clinton is betting that this approach will box out her primary rivals, by making it impossible for them to compete with her across the map during the primary's long haul, even if they catch some momentum early on. And in the general election, these state-based operations will be the building blocks of a national ground game.
The Nevada caucuses are a relatively new thing, having joined the ranks of the much-scrutinized early states only in 2008. Largely at the urging of Nevada's senior senator, Harry Reid, the Democratic National Committee added Nevada to its early calendar, and Republicans added a contest on their side to avoid being outmatched. (This time, the Nevada Republican caucuses are scheduled be held on a different day than the Democratic ones, coming fourth on the calendar—after the South Carolina primary—rather than third.) Reid, who is not running for reelection, believes strongly that his state is superior to the traditional early states. "You go to New Hampshire, there are not any minorities there and nobody lives there," he told an audience in Las Vegas prior to the debate. Iowa, similarly, is "a place that does not demonstrate what America's all about," he said.
But while those states have long traditions of primary participation, Nevada is a state with a somewhat transient, politically disengaged population. As a result, Clinton's organizers spend much of their time just trying to put the caucuses on voters' radar. To do this, they've gotten creative. They've held house parties for gays and Latinos, sought "faith captains" in African American congregations, and hosted a Filipino Kamayan-style dinner—in which guests ate with their hands from dishes served on banana leaves—for the Asian community. There was a Hillary-themed poetry slam at an independent bookstore in Las Vegas and Team Hillary hiking trips in Reno. There is a running club, of which Neri is a member, something he says has helped him avoid the usual weight gain associated with campaign work.
Clinton's rivals acknowledge she will be difficult to beat here. "Hillary, to her credit, came here early, and she obviously sees Nevada as a kind of firewall," says Tick Segerblom, a liberal state senator who is the only elected official in Nevada to support Sanders. Compared to Iowa and New Hampshire, he says, "it is certainly a much better state for her, and she's much better organized." Sanders drew 4,500 people to a rally in Reno in August, but until recently, his Nevada campaign consisted of a bunch of volunteers and a Facebook page, Segerblom tells me.
Segerblom has introduced Sanders when he comes to Las Vegas, but has not been offered a formal role in the campaign. "I think they're hoping to have a more diverse face for the campaign, not just angry old white men—but they're an important constituency too!" he jokes. He hopes Sanders puts more resources into the state in the next four months before the caucuses.
As a still-new addition to the early-state lineup, Nevada receives less attention than Iowa and New Hampshire, and the state has a bit of an inferiority complex as a result. (The dean of the Nevada press corps, Jon Ralston, has called it "the Rodney Dangerfield of early states.") But there are signs the candidates' bid for Nevada votes is having an effect. Clinton came to Las Vegas to announce her immigration platform in May, pleasing advocates by staking out a position more aggressive than many had expected—she said she would expand on President Obama's executive actions to halt deportations. And both Clinton and Sanders have declared themselves against the "Cadillac tax" on high-cost health-insurance plans in Obamacare, a provision the Culinary Union strongly opposes. Sanders, in last week's debate in Las Vegas, also came out in favor of Nevada's ballot initiative to legalize recreational marijuana; Clinton did not.
The day before the debate, Clinton appeared on the picket line at a Culinary protest of the Trump International Hotel, a gleaming, 24-karat-gold-plated 64-story tower a block off the Strip. (In 2012, Mitt Romney appeared at the hotel to accept Donald Trump's endorsement.) Her appearance cleverly combined expressing solidarity with the union and ripping the GOP frontrunner. And the day after the debate, she headed to a suburban union hall to accept the painters union's endorsement.
There, she was introduced to Linda Overbey, a union member who had painted the murals in the campaign office—and a matching portrait of Clinton, in black and yellow, at the union hall. "That is so wonderful!" Clinton exclaimed.
"When I was in high school, I tried to take shop. They wouldn't let me because they said it was too far out," Overbey, a bespectacled woman in a black T-shirt with the union's logo, told Clinton. "So I know a little bit about glass ceilings."
Overbey said she was proud of the union for its endorsement of Clinton, and the candidate grinned. "I am too! It means the world to me," she said. Come caucus time, Clinton's support in Nevada could be quite meaningful indeed.