How Goldman Sachs Made Money Investing in Preschool in Utah
The Wall Street firm issued a first-ever social impact bond as a test case and the results are in.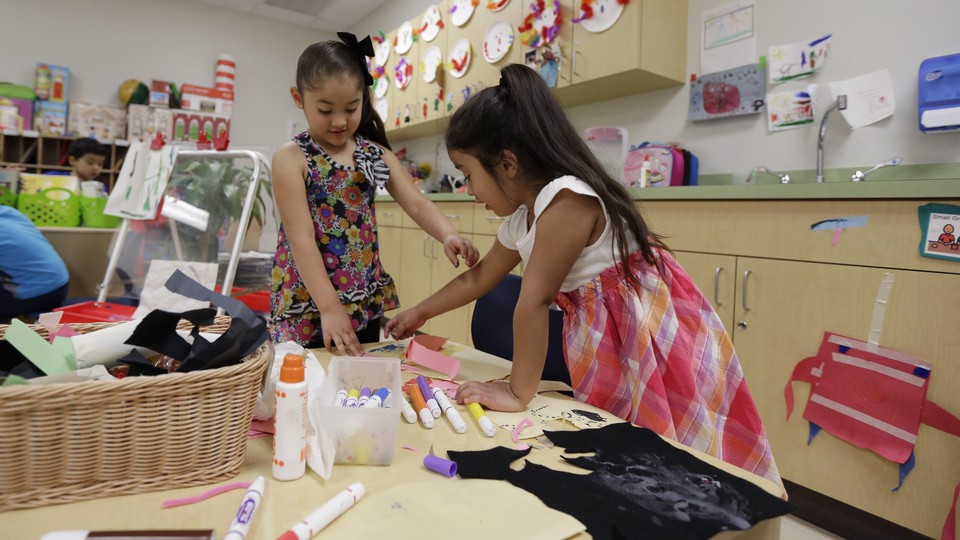 The results are in on a Goldman Sachs-backed early-childhood-education investment, and the firm is set to make money.
Goldman is the first major Wall Street investment bank to employ a social-impact bond in the early learning realm—and the first to earn money at it. Essentially, Goldman (in partnership with venture capitalist J.B. Pritzker's foundation) agreed to loan several million dollars to the United Way of Salt Lake, the project intermediary, to send hundreds of low-income children in Utah to preschool through a pay-for-success agreement in 2013.
At the outset, everyone involved agreed on a measure of success—in this case, special-education status. If the preschool program worked, and fewer children than expected required special education in elementary school, Utah would pay Goldman and the other investors back, plus interest. If it failed, Utah was off the hook, and Goldman would be out a few million dollars, a drop in the proverbial bucket for the bank.
The strategy is relatively new (the first social-impact bond was launched in England in 2010), but increasingly appealing both to investors and to cash-strapped cities and states.
In the Utah program's first cohort, 595 3- and 4-year-olds attended preschool. Initial testing suggested that 110 of them would likely need special education in grade school. Of those students, just one needed special-education services. In other words, the findings suggest a 99-percent success rate, well beyond the 80-percent benchmark. The 110 students will be monitored through sixth grade, and Utah will continue to make payments based on how many of those children avoid special education each year. The payment marks the first time that investors have profited from a social-impact bond in the United States. The partnership with Utah is expected to ultimately serve more than 3,000 children in five cohorts.
"This pioneering effort is a perfect example of data-driven collective impact with the larger goal of assuring every child is ready for school," Bill Crim, president and CEO of United Way of Salt Lake, said in a statement. "When business, government and the social sector work together in this way, large- scale social change is possible."
The theory is that everybody wins because, even though they're paying interest, Utah will save money because it won't have to offer expensive special education courses to as many children. The initial savings for the Utah bond come in around $281,550 (based on a $2,607-per-child special-education add-on cost). Investors received 95 percent of that figure, around $267,000.
Yes, Utah still pays most of what it would have spent, but since research suggests that students who receive special education are more likely to end up in costly juvenile detention programs, the long-term savings add up.
Following the initial results, Pritzker and the Bridgespan Group published a "funders guide" that outlines early-childhood-investment opportunities, including social-impact bonds. As the report lays out, the Rockefeller Foundation and others have furthered the social impact bond arena by backing, in Rockefeller's case, Harvard's Social Impact Bond Technical Assistance Lab, which offers free assistance to states and cities pursuing the bonds.
Still, the total social-impact bond market is small, around $80 million. Goldman's share of that is around $30 million. Bank of America Merrill Lynch entered into a social-impact partnership in 2013 with New York to fund a five-and-a-half-year workforce reentry program for formerly incarcerated people. Goldman declined to provide details on investors, but both foundations and individuals have expressed interest in these types of investments, and interest appears to be growing, and is not limited to early childhood education. The concept is being considered as a way to address environmental issues. The bank said it has fielded inquiries from governments and private foundations in Asia.
While initial results in Utah appear to be positive, social-impact bonds don't always yield a profit for investors. Goldman's first foray, to reduce recidivism at Rikers Island prison in New York, was scrapped after poor initial results. That experience, Andrea Phillips, a vice president in Goldman Sachs' Urban Investment Group, told Next America, indicated that the model is "better suited to the expansion of existing programs...rather than taking a program that has been used elsewhere and bringing it to a new operating environment."
Critics of the idea question the involvement of big banks in early-childhood education and say governments might feel like they can cut budgets for badly needed programs and rely on the bonds instead. The federally funded Head Start program was slashed as Goldman ramped up preschool funding, PBS noted. But Goldman doesn't dictate curriculum, and proponents say the bonds could lend real weight to efforts to expand early-childhood education and conservation efforts, and force everyone involved to focus on measurable markers, which are too often ignored. A bipartisan group of advocates, including Save the Children Action Network and Republican Sen. Orrin Hatch, who introduced an amendment in the No Child Left Behind reauthorization to expand pay-for-success programs, have praised the idea.
For early-childhood-education advocates and backers of other causes that social-impact bonds might serve, the concept offers a path toward progress that is often slow or nonexistent through traditional government channels. For investors, the bonds are a chance to make money and feel good about the change they are impacting at the same time.