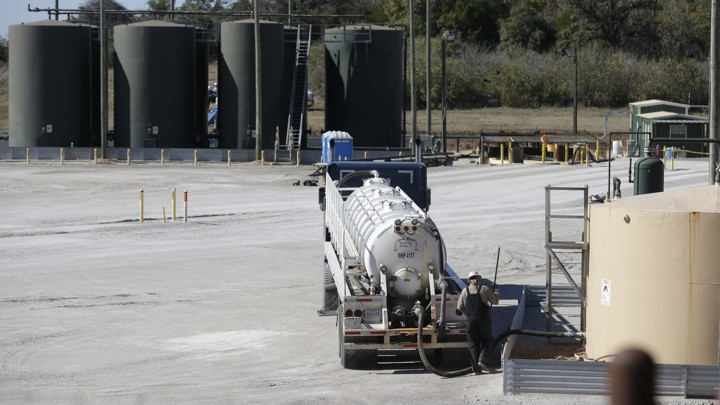 One piece of the budget deal that the White House struck with Re­pub­lic­ans speaks volumes about the trans­form­a­tion of the U.S. en­ergy land­scape in re­cent years.
Pro­vi­sions to raise or save money in­clude selling oil from the fed­er­al stock­pile called the Stra­tegic Pet­ro­leum Re­serve, which contains 695 mil­lion bar­rels of oil stashed in cav­erns along the Gulf Coast.
Us­ing the SPR to raise cash is easi­er when the U.S. is swim­ming in do­mest­ic­ally pro­duced oil tapped through hy­draul­ic frac­tur­ing, and re­li­ance on for­eign im­ports is down sharply thanks to the drilling boom and in­creased con­ser­va­tion.
"The SPR piece of the budget deal prob­ably would not have been pos­sible without frack­ing," said Kev­in Book, man­aging dir­ect­or of the con­sult­ing firm Clear­View En­ergy Part­ners.
The tent­at­ive budget deal, which would raise fed­er­al spend­ing by $80 bil­lion over two years, calls for the sale of 58 mil­lion bar­rels over sev­en years, be­gin­ning in fisc­al year 2018.
While the amount of cash raised de­pends on oil prices, the Con­gres­sion­al Budget Of­fice estimates the pro­vi­sion will raise about $5 bil­lion. A re­lated pro­vi­sion al­lows for oth­er sales to raise $2 bil­lion to mod­ern­ize the in­fra­struc­ture of the SPR, which was cre­ated in re­sponse to the Ar­ab oil em­bargo of 1973-1974.
It's the latest bill in re­cent months to use the SPR as an ATM, but it will be the first to reach the fin­ish line if the deal hangs to­geth­er.
The Sen­ate passed a sweep­ing trans­port­a­tion-pro­grams bill in Ju­ly that en­vi­sions selling $9 bil­lion worth of SPR oil, while a bill that the House passed that month to boost de­vel­op­ment of lifesav­ing drugs in­cludes the sale of 80 mil­lion bar­rels.
Tap­ping the SPR to raise money—as op­posed to us­ing it to com­bat sup­ply dis­rup­tions—would have been a much tough­er sell at the out­set of the Obama years, when the na­tion's en­ergy se­cur­ity looked more pre­cari­ous.
In 2008, U.S. crude pro­duc­tion had been tum­bling for two dec­ades and was down to around 5 mil­lion bar­rels per day.
But soon, ad­vances in hy­draul­ic frac­tur­ing—or "frack­ing"—and ho­ri­zont­al drilling began en­abling pro­du­cers to ex­tract much more crude oil from shale form­a­tions in Texas, North Dakota, and else­where.
Crude-oil pro­duc­tion is now around 9 mil­lion bar­rels per day des­pite some pro­duc­tion loss due to the col­lapse in prices. And U.S. re­li­ance on im­ports has been fall­ing for years along­side the pro­duc­tion surge (in fact, pro­duc­tion sur­passed im­ports in 2013 for the first time in roughly two dec­ades).
This dra­mat­ic change has lessened con­cern about U.S. vul­ner­ab­il­it­ies to sup­ply dis­rup­tions. To be sure, the coun­try still buys lots and lots of for­eign oil, with net im­ports of over 6 mil­lion bar­rels per day, but that's well be­low the roughly 10 mil­lion bar­rels of daily im­ports a dec­ade ago.
It also means the U.S. needs less oil in its stock­piles to meet the In­ter­na­tion­al En­ergy Agency re­quire­ments that coun­tries hold enough sup­plies to meet 90 days worth of im­port levels.
"We would have had enough oil to sell some [per IEA re­quire­ments] even pre-shale boom, but there is no ques­tion the ex­tra pro­duc­tion provides an ad­ded buf­fer that opens up all of these dis­cus­sions about mon­et­iz­ing this stra­tegic as­set," said Jam­ie Web­ster, a seni­or ana­lyst at the prom­in­ent con­sult­ing firm IHS.
And there is some pre­ced­ent for us­ing the SPR as a budget tool. In the mid-1990s—an­oth­er era with a Demo­crat­ic pres­id­ent and a GOP-con­trolled Con­gress—23 mil­lion bar­rels were sold in the name of de­fi­cit re­duc­tion.
We want to hear what you think about this article. Submit a letter to the editor or write to letters@theatlantic.com.
Ben Geman
is an energy and environment correspondent at
National Journal