The Contest for House Speaker Heats Up
Congressman Jason Chaffetz threw his hat in the ring on Sunday.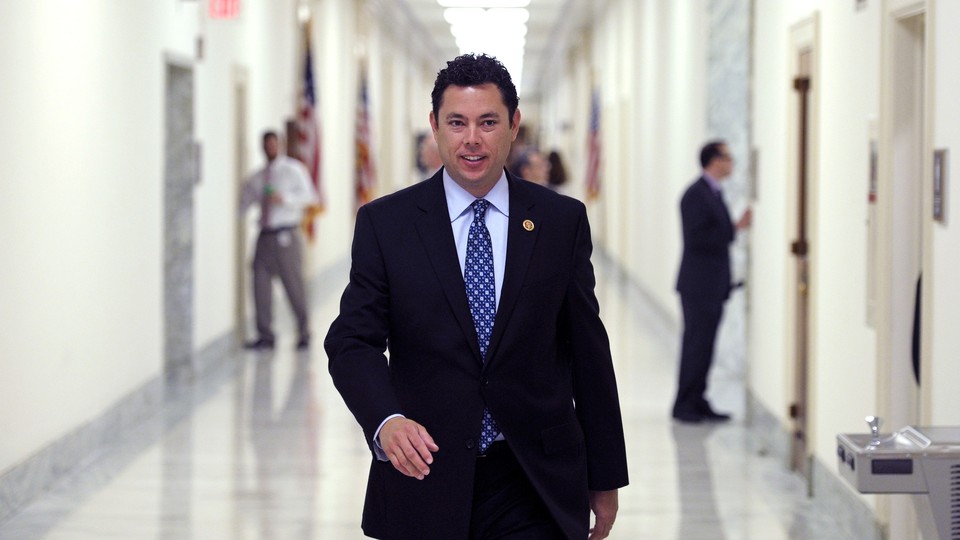 Jason Chaffetz, the representative from Utah, said Sunday he will run to be House speaker, joining the race just days before Republicans cast their ballots.
Chaffetz made the announcement during an appearance on Fox News Sunday. Several news outlets had reported Friday that the lawmaker was planning to run.
"I didn't plan on running for speaker, but I don't see anyone else stepping up," the Republican lawmaker said in an interview with Politico this weekend. "I know I'm the underdog."
Chaffetz is indeed a long-shot candidate compared to the front runner, House Majority Leader Kevin McCarthy of California, the second-ranking Republican in the chamber, and who has extensive support among members of the House Republican Conference. Hours after John Boehner said he would resign last month, McCarthy was already making calls to colleagues. He announced his bid three days later. Daniel Webster of Florida joined the race the day Boehner resigned, but he is not considered serious opposition to McCarthy.
Boehner has said he believes McCarthy "would make an excellent speaker."
Chaffetz disagrees. "We need a speaker who speaks," he told Politico. "We lose the communication war time and time again, and I think the conference wants a proactive communicator."
Chaffetz pointed to McCarthy's comments to Sean Hannity this week that suggested the congressional committee investigating the 2012 Benghazi attack was created as a political tool to use against Hillary Clinton. McCarthy's spokesman later walked back the comments, but the damage was done. Clinton supporters jumped on his words, saying they publicly affirmed what Democrats have long said and Republicans have long denied.
Chaffetz was first elected in 2008. "He's not exactly a conservative hardliner," as my colleague Russell Berman notes, but he chairs the powerful Oversight and Government Reform Committee, which has held often contentious hearings on high-profile cases like the Planned Parenthood controversy, Secret Service blunders, and the IRS's treatment of conservative groups. McCarthy arrived to Congress a year earlier, and has spent most of his tenure in senior leadership. The Washington Post recently pointed out that McCarthy would be the least-experienced House speaker since 1891. By its measure, so would Chaffetz. Boehner, meanwhile, had been in Congress for 20 years before he became speaker nearly five years ago.
It's not yet clear whether Chaffetz will be able to mount a significant challenge to McCarthy. Republicans will vote in private for their speaker on Thursday, and a floor vote will take place later this month.