House Republicans Leave D.C. With No Answers, And No Paul Ryan Breakthrough
A Friday meeting gave no resolution to the fallout from Kevin McCarthy's sudden decision to drop his speaker bid.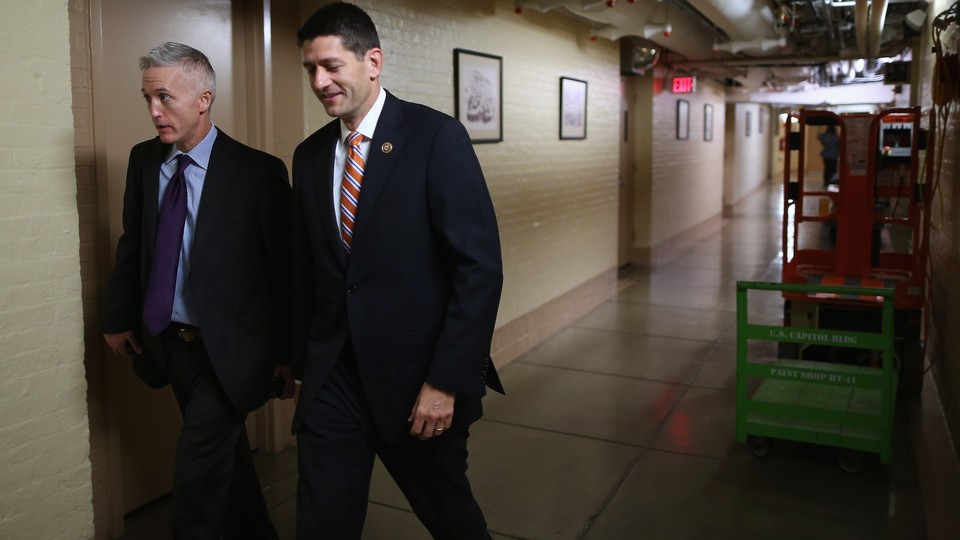 House Republicans left Washington for the weeklong Columbus Day recess Friday with no pathway for ending the political tumult and uncertainty in their leadership ranks.
But members are not abandoning hope that Rep. Paul Ryan, who many call the closest thing that fractious Republicans have to a consensus pick for speaker, may reverse his decision to avoid the contest to replace outgoing Speaker John Boehner.
"He's not saying no anymore," Rep. Lynn Westmoreland, who is weighing his own run but says he'd support Ryan if he gets in, told National Journal.
Still, a spokesman for Ryan, the influential Ways and Means Committee chairman, said Friday afternoon he remains on the sidelines despite the intense efforts to draft him. "Chairman Ryan appreciates the support he's getting from his colleagues but is still not running for speaker," spokesman Brendan Buck said.
Ryan himself said little publicly as he headed home to Wisconsin Friday afternoon. "Really I don't have anything more to add or say. Nothing has changed. Right now I am just going to catch my flight," he told reporters as he left the Capitol.
The intrigue around Ryan comes a day after House Majority Leader Kevin McCarthy suddenly dropped his bid to succeed Boehner, who had planned to leave Congress the end of the month, but says he'll stay on until a successor is in place.
The draft-Ryan movement remains intense even as restive House Republicans, led by many of the panel's most conservative members, are pushing for procedural changes that would give rank-and-file members more power. The House GOP conference met Friday morning for their latest soul-searching discussion.
"I want to see a change in the culture of Washington D.C., and I think the way you do that is not who you elect, but it's the process, it's the procedures. So there is a number that are saying, and I agree with this, [that] before we move ahead with a Speaker vote, let's address the process, let's address the rules, let's make sure that every member of Congress has a voice here," said Barry Loudermilk, a member of the House Freedom Caucus, a group of GOP hardliners who made clear they would not have backed McCarthy.
House Republican leaders formally announced a task force on Friday to examine rules and procedural changes, which conservatives have been asking for as a prerequisite to voting for any speaker.
Republican Policy Committee Chairman Luke Messer, who will helm the task force along with House Republican Conference Chair Cathy McMorris Rodgers and Judiciary Chairman Bob Goodlatte, said changing leadership is only part of the solution.
He said the conference will not be satisfied unless leaders make changes to the way legislation is passed and how factions in the conference coexist: "We've got to recognize as a conference that we're essentially a coalition government made up of centrist swing-state Republicans, a governing conservative middle, and the tea party, Freedom Caucus on the right. Unless we figure out a way to make those three groups operate more coherently, we're going to continue to have troubles," he said.
While Ryan has rebuffed calls to enter the race thus far, a number of other names have emerged as potential candidates, including GOP Reps. Mike Conaway, Marsha Blackburn and Jeff Miller.
But the biggest question looming over the GOP Friday was whether Ryan will succumb to growing calls from lawmakers who seem him as the member most likely to win the 218 votes needed to take the speaker's gavel from the departing Boehner.
The pressure is intense. Energy and Commerce Committee Chairman Fred Upton said although it is not an orchestrated effort, members have been calling on Ryan to run to the point where he has had to resort to drastic measures to avoid them: Sitting next to famously ill-tempered Rep. Jim Sensenbrenner of Wisconsin.
"I talked to him on the floor as well yesterday. I said, 'Paul you've got to run.' He said, 'Well I've got to go sit next to Sensenbrenner.' And part of that is Sensenbrenner is known to be such a grouch that he figured if he sat next to him no one would confront him on the floor," Upton said Friday afternoon.
Rep. Jason Chaffetz, who has already gotten into the Speaker's race, said he would yield to Ryan if he changed his mind. "If Paul Ryan got into the race, of course I would support him," he said Friday. "He would be the kind of person that I could get excited about, but part of the reason that I got into the race is because people like Paul Ryan weren't stepping up to do it." House Republican Conference Chair Cathy McMorris Rodgers said she would also like to see Ryan run.
"I believe Paul Ryan is going to go home, meet with his family over the weekend, because people continue to urge him, beg him, cajole him because he is the consensus candidate at this point," said Rep. Darrell Issa after the House GOP meeting. Issa is also weighing a run if the effort to draft Ryan fails.
But even if he does change his mind and run, Ryan's path wouldn't necessarily be easy.
Some conservatives—like Reps. Thomas Massie, Steve King, Justin Amash, and Louie Gohmert—are still backing Rep. Daniel Webster for the job, although some of that support could possibly change if Ryan really is to join the race.
Rep. Jim Jordan—who leads the House Freedom Caucus, which has endorsed Webster—said Friday, "We've endorsed Mr. Webster. Nothing's changed." Rep. David Schweikert said that while he thinks Paul Ryan has the propensity to lead, "It's not about the man; it is about the policies and procedures." Conservatives still want to see a speaker candidate who makes more promises to changing the way legislation is moved and voted on in the House of Representatives.
The GOP conference is in tumult just three weeks before Boehner is slated to go. Rep. John Fleming, of Louisiana, said Boehner spoke briefly to the group at the meeting Friday morning. "He just basically said he was going to remain speaker until we get a new speaker; he expected that by the end of the month," Fleming said.
Rep. John Kline, of Minnesota, and Rep. Candice Miller, of Michigan, both retiring at the end of this term, have each been floated as possible placeholder candidates for the speakership to give the conference more time to settle on a consensus leader in 2016. Rep. Tom Cole suggested Kline as an alternative to Ryan Friday. Miller has already said she is not interested.
As for Ryan, he had more to say to reporters about football than his political future in the House on Friday. "The Packers are home and they are going to beat the Rams," Ryan said. "And they are going to cover the spread."
---
Clare Foran contributed to this article