House GOP Looks to Regroup After McCarthy Benghazi Comments
Democrats are trying to capitalize on the likely next speaker's assertion that put a partisan gloss on the Benghazi panel. Republicans want to move on.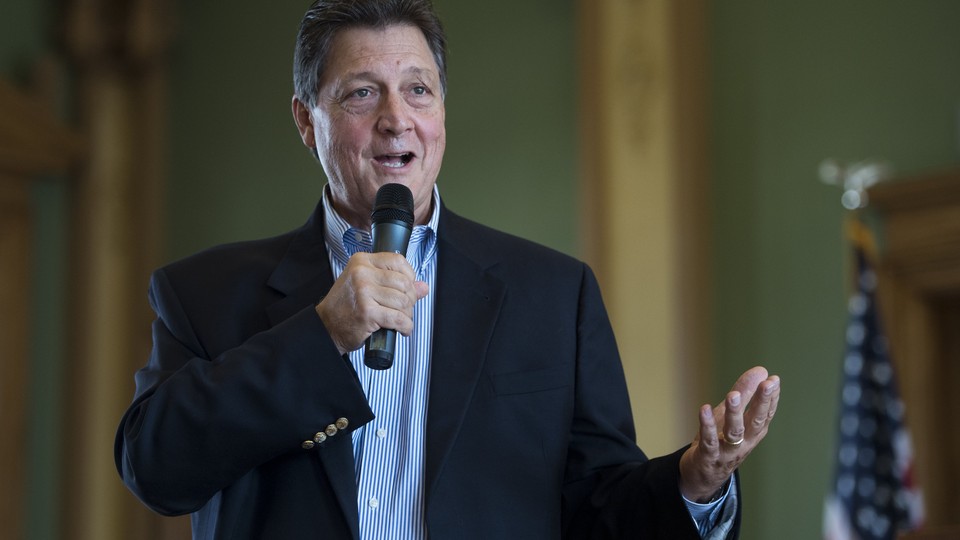 House Republicans are seeking to contain the damage from comments by Majority Leader Kevin McCarthy that credited the Select Committee on Benghazi with damaging Hillary Clinton's poll numbers.
The widely-circulated comments Tuesday night by McCarthy, who is running for House speaker, were out of step with Republicans' long-standing insistence that the panel investigating the fatal 2012 Benghazi attacks isn't a political weapon against Clinton's White House run.
Multiple Republicans sought to cast McCarthy's comments as inartful, but hardly proof that the panel's motivations are political.
The panel's demands for Clinton's State Department correspondence led to the revelation of her private email system, a controversy that's now dogging her presidential campaign.
Rep. Lynn Westmoreland, a member of the Benghazi panel, said he has spoken with McCarthy and that the majority leader "feels terrible that he made that unforced error.
"I think what Kevin was trying to do is give an example of what a select committee could do as far as uncovering new information," Westmoreland told National Journal.
"I am sure he was sickened at it, and realized that he had said something in error, but in reality what he meant was the truth: that the select committee uncovered the private server," he said.
Said GOP Rep. Marsha Blackburn: "Sometimes things roll off our tongues in a manner that we may not have expected or intended for them to.
"What [McCarthy] was trying to position was that when you do the right thing, and you are tending to the business at hand and handling your due diligence in the appropriate manner, then it is going to serve your investigation or your committee work ... well," Blackburn said, noting that "Hillary Clinton can blame no one but herself."
Speaking on Fox News late Tuesday night, McCarthy told Sean Hannity, "Every­body thought Hil­lary Clin­ton was un­beat­able, right? But we put to­geth­er a Benghazi spe­cial com­mit­tee.... What are her num­bers today?
"Her num­bers are drop­ping. Why? Be­cause she is un­trustable. But no one would have known any of that had happened had we not fought and made that hap­pen," McCarthy said.
Many Democrats in both chambers and Democratic political operatives have pounced on the comments over the last two days. Harry Reid, the Senate's top Democrat, and several other senior Democrats have called on House Republicans to disband the panel established last year.
"Republicans have taken a national tragedy and turned it into the cheapest political farce imaginable," Reid said Thursday. Steny Hoyer, the No. 2 House Democrat, called McCarthy's comments "both disturbing and revelatory" and said that it's "time to end this political charade and turn the lights out on the Benghazi Committee."
But Republicans want to steer the focus away from McCarthy and back where they think it belongs—on possible incompetence or wrongdoing by Clinton and the Obama administration.
Outgoing House Speaker John Boehner, in a statement Thursday, sought to tamp down on the criticism that's swirling ahead of the House GOP's leadership elections next week. "This investigation has never been about former Secretary of State Clinton and never will be," Boehner said in response to Democrats' calls to disband the panel.
"Indeed, the Select Committee's very existence is only the result of the Obama administration's obstruction of routine congressional investigations and its failure to properly comply with subpoenas and document requests," he said.
But McCarthy's comments have irked some Republicans, too.
House Oversight and Government Reform Committee Chairman Jason Chaffetz told CNN Wednesday that McCarthy should apologize, calling the remarks "absolutely inappropriate."
But Rep. Tom Cole, the deputy whip and a longtime inside player in House GOP politics, predicted that the controversy over McCarthy's comments will blow over quickly.
"It probably wasn't as artfully said as it meant to be, but when you are in those positions occasionally you are going to have a little bit of a verbal mishap," Cole said.
He said the Benghazi panel has "demonstrated its viability," and that now the email story is continuing because of factors beyond just the select committee, noting the FBI's ongoing probe of the security of Clinton's private email system.
"I don't think it makes too much difference," Cole said of McCarthy's comments.  "I think it is kind of a ripple in the water today; it will be gone tomorrow."