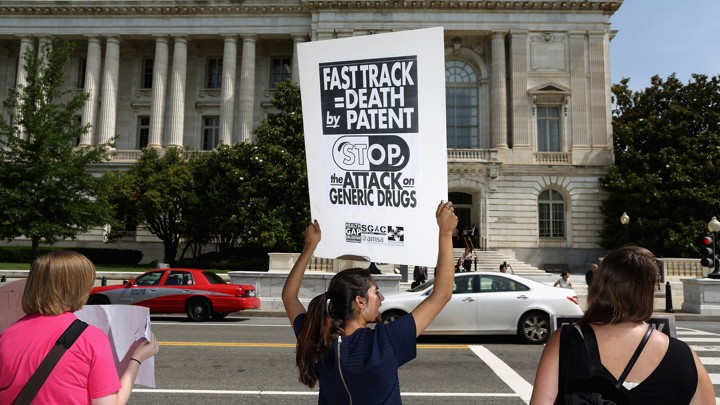 With a vote on controversial trade legislation looming early next year, House Democrats have an urgent message for their campaign allies: Quit attacking your own.
"We have to stop the fratricide," said Rep. Steve Israel, the former chair of the Democratic Congressional Campaign Committee. "It's hard enough to go up against Sheldon Adelson and the Koch brothers. Our members shouldn't have to go up against Sheldon Adelson, the Koch brothers—and [members'] friends."
The "friends" Israel referred to are the labor and progressive groups that have gone after the 28 Democrats in the House and 13 in the Senate who voted to pass Trade Promotion Authority in June. That measure limits Congress to an up-or-down vote on the Trans-Pacific Partnership, a 12-nation trade deal that will land on Capitol Hill early next year. TPP has been a key priority of the Obama administration, but is opposed by most Democrats.
The AFL-CIO has been among the most vocal opponents of the deal, running ads against Democratic supporters like Rep. Ami Bera and holding protests in the districts of others. The group also cut off campaign funding for Democrats during the TPA fight, a move ostensibly aimed at focusing resources on the trade battle but one that was perceived as an implicit threat to would-be supporters.
Meanwhile, progressive groups like Democracy for America have tried to line up primary challengers to pro-trade Democrats. "We will not lift a finger or raise a penny to protect you when you're attacked in 2016, we will encourage our progressive allies to join us in leaving you to rot, and we will actively search for opportunities to primary you with a real Democrat," the group's chair, Jim Dean, said in a statement following the vote.
But many Democrats in the House say that approach could cost their party any shot at retaking the majority. "We do sometimes have disagreements within the Democratic caucus on issues, but when it comes to winning back the House, … we need to be singularly focused," said Rep. Dan Kildee, who heads the DCCC's efforts to protect vulnerable incumbents—several of whom voted for TPA. "The best thing for working people in this country and the best thing for organized labor in this country would be getting Democrats back into the majority."
For its part, the AFL-CIO says its "attacks" have not been electoral challenges but issue campaigns designed to change members' minds. Whether or not those members face attacks during primary season is up to labor leaders in their districts. "There's an assumption that this is driven from Washington," said Bill Samuel, the union's government-affairs director. "The people who knock on doors and make the phone calls, … the decision's going to be theirs."
He added that people will always debate where labor should spend its resources. "You could make that argument that you should support any Democrat, regardless of how poor their voting record is, in order to make Nancy Pelosi speaker," he said. "I really want to make Nancy Pelosi speaker. It's a hard argument to make in a specific district with the constituents of a member with a poor voting record." Members who are facing pressure after their TPA vote, Samuel  said, could go a long way toward reassuring their allies by voting against TPP.
Other trade-deal opponents have been less measured in their responses. "It's absolutely absurd to ask anyone who cares about income inequality … to ignore a very clear betrayal like this vote for fast-track authority," said Democracy for America's Neil Sroka. "They're living in a fantasyland if they think organizations like ours are just going to ignore these votes."
Sroka added that electoral victories are hollow if they only empower Democrats who vote with the other party. "Democrats would be best served by voting like Democrats and actually standing up and fighting for working families," he said. His group will be urging allies not to give to the DCCC or any other organizations that may end up funding trade supporters.
DCCC Chairman Ben Ray Lujan was careful not to call out any Democratic allies, and he said outside groups are free to use their resources as they please. But he did remind labor that Democrats have been their strongest allies on a number of political issues. "I'd encourage our friends in labor that, as we look for partnerships down the road and we advocate to make sure that people get a fair wage for a hard day's work, … those are issues that as Democrats we share with labor," he said.
That sentiment isn't new. In June, Minority Whip Steny Hoyer said he had "urged our friends in labor to have respect for the decisions of members." He listed off issues like collective bargaining and the minimum wage where Democrats have worked to boost labor's goals.
Even some progressives have called for the infighting to stop. "We thought they took a wrong vote, and the con­sequences of that vote are in their dis­trict," said Rep. Raul Grijalva, who chairs the Congressional Progressive Caucus. "But in terms of us ral­ly­ing around to de­feat them, we're not in­to that. It's a strategy that in the short term might sat­is­fy the an­ger, but in the long term doesn't bring us any num­bers to this House."
Of course, the Democrats who voted for the trade deal also believe they shouldn't be under attack. "Frankly, I think it's misguided and Democrats should be helping other Democrats," said Rep. Mike Quigley. "It's a losing game anyway, because the president of the United States is solidly 100 percent with the Democrats who supported him on this deal. They've got to worry about winning back the Senate, trying to win the president's race, trying to win back the House. And instead focusing their misguided anger on fellow Democrats is a terrible mistake."
Bera, who has faced perhaps more pressure than anyone, said he is still making up his mind on TPP. But he said the attacks against him are a misuse of resources. "I always think it's better for Democrats to focus on getting the House back, holding on to the seats that we have and picking up the seats that are in play," he said.
Samuel said Bera's case is an example of the Democrats who have "burned bridges" by voting against the activists who got them elected. "It's a good example of where the relationship is really damaged," he said. "Most of our activists would like to see the Democrats take back control, … but they're also really disappointed in him. The relationship will either be rebuilt or it won't."
Added Sroka: "If Democrats fail to retake the House, they need to seriously look at [trade] as one of the reasons they failed to do it. ... If Ami Bera is defeated, it's not because progressives didn't stand up and defend Ami Bera. It's because Ami Bera took a vote that makes it impossible for anyone who cares for working families in this country to support him."
Notably, Rep. Debbie Wasserman Schultz, who heads the Democratic National Committee and voted for TPA, said she has heard nothing about such a backlash—an issue on which every other member of the House seems to have an opinion. She said she met recently with labor leaders, including the AFL-CIO, without it coming up. "I've honestly not heard any threat whatsoever to any Democrat related to the trade deal," she said. "I have a hard time commenting on something that I haven't heard."
Still, many of the other members in her caucus say the focus should be on winning the House—not a single trade vote. "I have committed to making sure we win back the majority, and that starts with returning incumbent Democrats in swing districts—including those that I sometimes disagree with," Kildee said. "Obviously, I think this is important to labor, and I think they should take a strong position. … But I think we should focus on the long-term battle as well as the short-term battle."
We want to hear what you think about this article. Submit a letter to the editor or write to letters@theatlantic.com.
Alex Brown
is a Congressional correspondent at
National Journal.