Hillary's Turning Point
A newly energized Clinton campaign hopes Tuesday's debate signals a new phase for the frontrunner.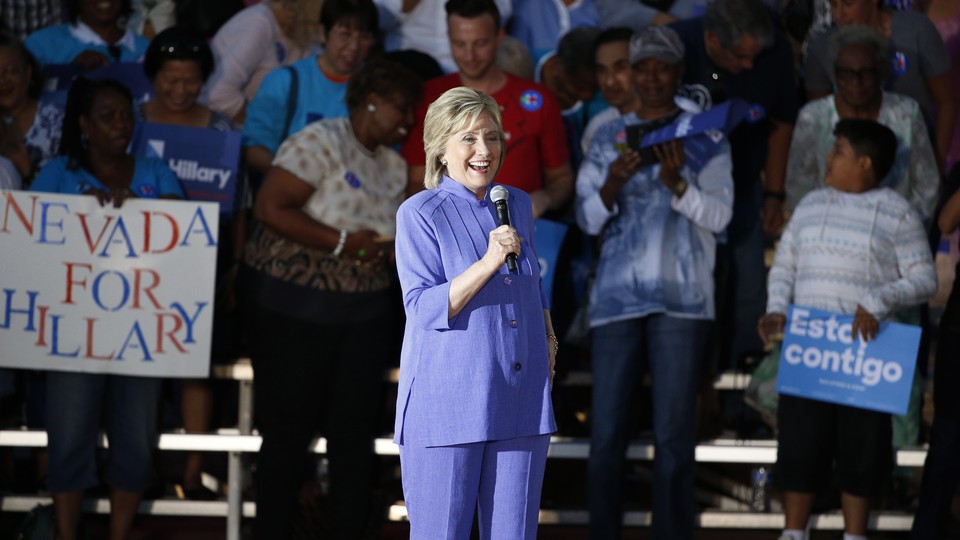 LAS VEGAS, Nev.—After her triumph in Tuesday night's debate, Hillary Clinton was due for a victory lap. "Did we have a good debate last night?" she asked several hundred locals who had gathered for a Wednesday evening rally in an amphitheater here. The response was an approving cheer.
Commentators across the spectrum, liberal and conservative alike, have praised Clinton's performance in the first Democratic primary debate, a marked contrast with the skepticism and hostility she previously faced from pundits and the media. And with good reason: The candidate who has been consistently on the defensive since launching her campaign in April was poised, prepared, personable, and energetic. Now, Clinton's campaign hopes Tuesday will prove to be more than just one good night. If all goes well, they say, it could be the turning point that sets her on a smooth path to the Democratic nomination.
Aides point to a set of milestones coming up on the calendar that could boost the Clinton-momentum narrative. First, there's Vice President Joe Biden's decision about whether to join the presidential race. Before Tuesday, Democratic insiders had been openly pining for a Biden candidacy to serve as a Plan B in case Clinton's troubles worsened; after the debate, an establishment-acceptable alternative to Clinton looks much less necessary. Should Biden decide to run, the coverage is likely to be much more skeptical now. And should he decide to forgo a campaign, Clinton will get another round of stories about her ever-more-assured frontrunner status.
Also coming up is Clinton's testimony before the House Benghazi committee, scheduled for October 22. The last time she testified before Congress on the topic, for nearly six hours in January 2013, she got generally positive reviews, though one line from that day—"What difference, at this point, does it make?"—has since become a right-wing meme symbolizing her supposed callousness. (There are even T-shirts.) Clinton has gotten a lot of mileage out of House Majority Leader Kevin McCarthy's recent blunder connecting the committee's investigation to her "numbers"; the hearing, to which she will surely come well prepared, will be another chance to paint her opposition as politically motivated and put the questions about her integrity to rest.
Clinton didn't dwell too long on rehashing the debate at two campaign events in Las Vegas on Wednesday, but the memory was fresh in the minds of those who'd come to see her. "Oh em gee, she was presidential!" the local congresswoman who introduced her, Dina Titus, exulted from the stage. In the audience, an elementary-school teacher named Ana Cervantes-Smith told me she had previously been turned off to Clinton because of "all the negative stuff." "I was really not sure I wanted to vote for her," she said. "She had to really do something for me at the debate for me to support her, and she did. I really saw another side of her."
Clinton plans to do more campaigning across the country in the coming days to capitalize on her post-debate momentum. On October 24, she'll appear at the Iowa Democratic Party's Jefferson-Jackson dinner, an annual political ritual in the first-to-vote caucus state. In 2007, Barack Obama's fiery speech at the dinner helped spark his campaign to victory; aides hope Clinton, if she acquits herself well, could do the same.
There are plenty of caveats to this vision of Clinton marching, unstoppable, from here to victory. Most importantly, her chief rival, Bernie Sanders, also had a good debate—multiple debate focus groups of Democratic voters declared him the winner, and his supporters appreciated his refusal to criticize Clinton personally. His big line of the debate, that "the American people are sick and tired of hearing about your damn emails," was nearly as good for his image as it was for hers, underscoring his distaste for the media-driven politics of personality. In addition, Clinton has performed unevenly as a candidate, and there will be plenty of opportunities for her to make more mistakes. Her emails continue to be released in batches by the State Department, raising the possibility of damaging revelations or at least a continued emphasis on her secrecy and possible lawbreaking.
Clinton was never in as much trouble as some of the negative coverage made her seem, and the potential turnaround effect of a single good debate may be equally exaggerated. But after a decidedly lousy summer of sliding poll numbers and increasingly nervous supporters, Clinton now has reason to hope that things are looking up. If this story ends with Clinton accepting the Democratic nomination in Philadelphia in nine months, Tuesday in Las Vegas could be the night her luck finally changed.