Hillary Clinton's Surprisingly Smooth Debate
In her two hours on stage in Las Vegas, the frontrunner was never pressed to defend her integrity.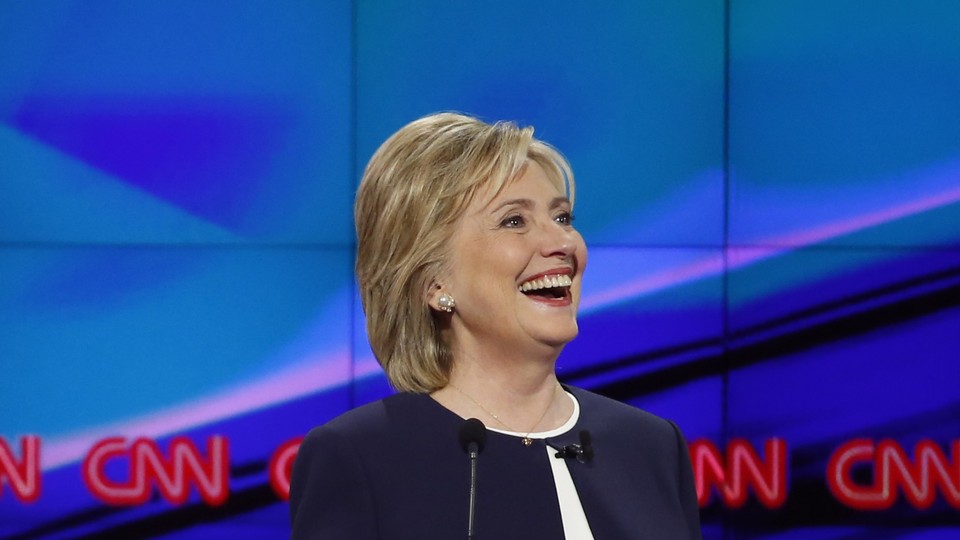 What a great evening for Hillary Clinton! The Democratic front-runner showed herself, as always, knowledgeable, competent, and intelligent. Meanwhile, her greatest points of vulnerability—truthfulness, financial integrity, her manipulation of rules to enable her favored aides to collect double and triple salaries, oftentimes from very dubious sources—went untouched by the other debaters. Bernie Sanders pronounced the single sentence Hillary Clinton will most want primary voters to remember: "I'm tired of hearing about your damn emails!" She herself found herself unable to convincingly fake contrition when asked by Anderson Cooper whether she regretted anything. Yes, she took full responsibility she said—and then added that she was more convinced than ever that she was the victim of a partisan witch hunt.
The question for Democrats through this primary season has been: Do they wish to sign up for more of the Clinton psychodrama? They've received a fuller view than ever before of the way the Clintons have enriched themselves post-presidency. They've seen how rules are bent and broken. Most recently, they learned that Hillary Clinton's close aide, Cheryl Mills, received substantial payments originating with the government of Abu Dhabi while serving as chief of staff to the secretary of state.
None of these fundamental questions got an airing in Debate 1. The question went unasked by Anderson Cooper—himself a sometime participant in Clinton Global Initiative events—and unanswered by the debaters. Instead, the toughest encounters for Hillary Clinton involved her shifts of position on issues … and those encounters weren't very tough at all. As she noted, everyone in politics has changed his or her mind "a time or two."
If Democrats agree that the worst thing about Hillary Clinton is inconsistency on issues in pursuit of power, then her path to the nomination will be smooth and open. She'll lose only if Democrats decide that she and her family are too corrupt and dishonest to be entrusted again with the presidency. Nothing occurred last night to prod Democrats toward that uncongenial outcome.