Hillary Clinton's Problem With Men
Clinton is performing as poorly with men as Republicans do with Hispanics. She won't win a general election unless she can close the gender gap.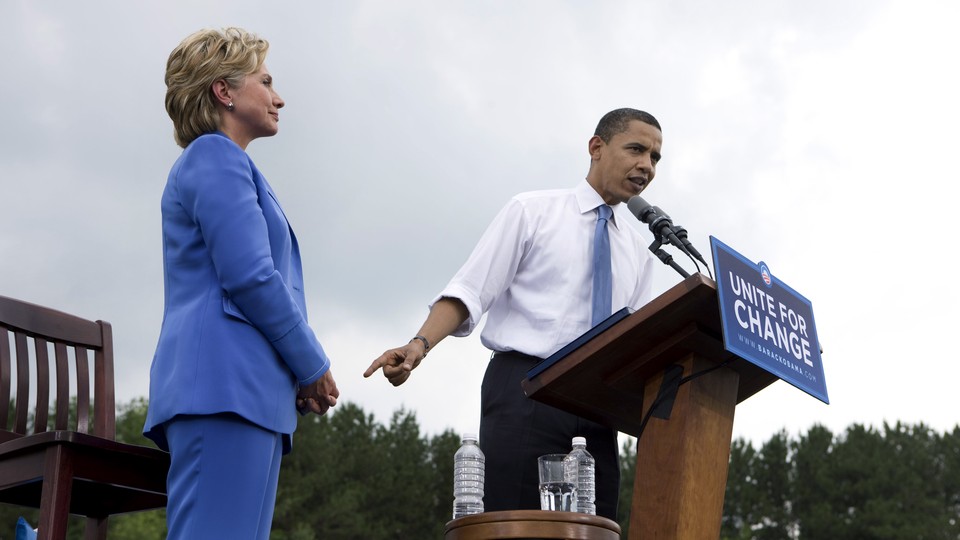 When Hillary Clinton entered the presidential race, she expected to win overwhelming support among women in her bid to become the first female president. Instead, she's finding out that an unprecedented level of resistance to her candidacy among men is undermining the conventional wisdom that she'd be the strongest Democratic nominee in the general election.
Put another way: Clinton is now nearly as unpopular with men as Donald Trump is with women. That's saying something.
The latest round of polling for Clinton is brutal. This week's NBC News/Wall Street Journal/Marist survey in Iowa shows her favorability rating with men at a mere 27 percent, while two-thirds view her unfavorably. Her minus-39 net favorability with men is 28 points worse than Vice President Joe Biden and 27 points behind Sen. Bernie Sanders. The story is the same in New Hampshire, where the NBC/WSJ/Marist poll found both Sanders and Biden with net-positive ratings, while Clinton's approval is deeply underwater, stuck at 30 percent.
The swing-state polling is a mirror image of her national numbers. Last week, Quinnipiac found Clinton's negative ratings with white men at a stunning 72 percent—significantly worse than the Democratic Party's already-serious struggles with that demographic group. Meanwhile, she's not performing at nearly a strong-enough level with women to counteract the problem. Only 49 percent of women viewed her favorably in the poll, with 47 percent holding negative views. For all the self-inflicted problems that Republicans have in reaching out to a diversifying country, Hillary Clinton's favorability with white men is worse than Jeb Bush's with Hispanics, Ben Carson's with African-Americans, and Carly Fiorina's with women in the same survey.
Indeed, in poll after poll, both Biden and Sanders run much more competitively against Republican challengers, almost entirely because they don't turn off half of the electorate.
If Clinton is looking to narrow the gaping gender gap, she isn't showing it. Instead, her campaign looks to be doing the opposite—rallying her liberal base and trying to lock down supporters that once seemed squarely in her camp. She sat down for an interview last week with Girls creator Lena Dunham, where she underscored her feminist bona fides. She's appeared on television shows with a sizable female audience, including Ellen, in hopes of making her look more relatable. Her call for robust gun control in the wake of the Oregon school shooting isn't going to make her any friends with Democratic gun owners, who are disproportionately male. The early diagnosis from the campaign is that she's underachieving with women—her natural base—and that's the most crucial short-term fix, not the dismal showing with men.
Part of her back-to-the-base strategy is to counter momentum from Sanders, who is shaping up as a serious threat against Clinton, at least in the New Hampshire primary and Iowa caucuses. Sanders' biggest weakness is on guns—he's opposed various gun-control measures during his congressional career—and Clinton is now advocating for stricter regulations to draw a sharp contrast. Even among Democrats, Clinton lags behind Sanders with men, but she holds significant advantages with women. As the only woman in a primary field of men, it's logical to play to your primary strength.
But at some point, her campaign will have to grapple with why her support has cratered so badly among men. Did the campaign's initial plan to play up Clinton's soft, grandmotherly persona backfire at a time of mounting global turmoil? Is it a consequence of the campaign's unabashedly liberal turn on social issues, particularly on abortion rights, immigration, and gun control? Or is it simply a product of her overall low approval numbers, dampened by the ongoing developments about her handling of classified email at the State Department?
Make no mistake: Biden is leaning into the presidential race directly because of these electability issues. He expressed little interest in the race until Clinton's numbers started to tank. Look at his recent campaign-style schedule; he's already demonstrating that he's able to unify disparate elements within the Democratic Party—backslapping union rank-and-file in Pittsburgh on Labor Day, holding an event about combating sexual assault weeks later, and giving a well-received keynote address to the Human Rights Campaign last weekend. Among the general electorate, Biden fares better than Clinton with both women and men. He'll subtly make the case that nominating Clinton is too much of a risk to take in such a consequential election—an argument that seems to be receiving a fair hearing at the White House.
It's awfully ironic that some of the Democratic Party's sharpest strategists, who once saw Clinton as uniquely capable of mobilizing the Democratic base because of her groundbreaking biography, are now hedging their bets—by looking at the 72-year-old Biden as a more-credible candidate capable of stopping the party's problems with men.