Hillary Clinton Is "Skeptical" of Health-Insurer Mergers
Clinton continues to tout consumer-oriented health policy proposals.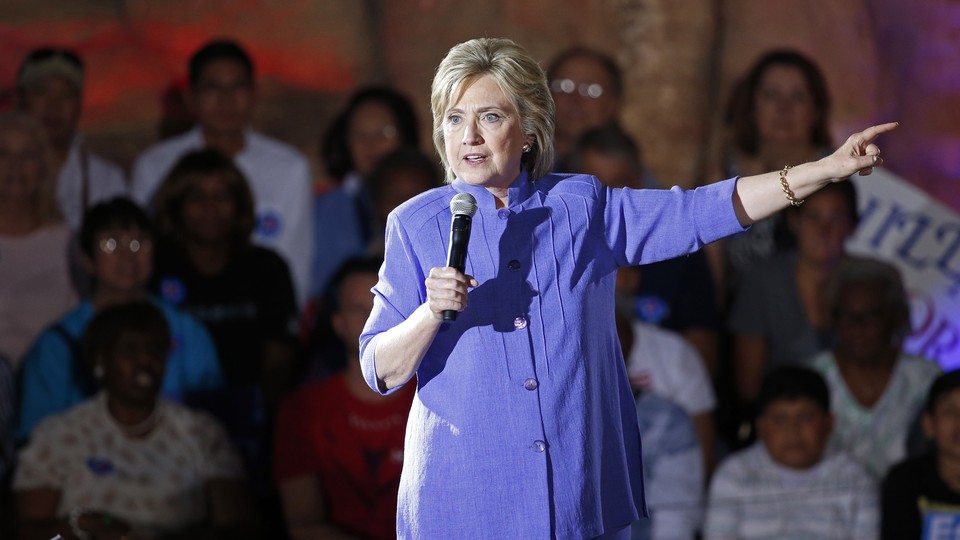 Hillary Clinton is joining the debate over recent proposed insurer mergers, expressing "serious concerns" and saying they could raise market concentration and drive down competition.
This builds on Clinton's consumer-focused health care reforms, which have thus far favored patients over key industry players like insurers and pharmaceutical companies.
"These mergers should be scrutinized very closely with an eye to preventing the undue concentration that they appear to create," Clinton said in a statement. "I am very skeptical of the claim that consumers will benefit from them because the evidence from careful studies shows that too often the companies end up pocketing profits rather than passing savings to consumers."
Clinton said Wednesday she would strengthen the antitrust-enforcement arms of the Justice Department and the Federal Trade Commission. She would also appoint regulators to "take on troubling concentration wherever it occurs in the health care industry, among other sectors."
In July, Aetna announced it had agreed to buy Humana for more than $34 billion, and Anthem agreed to buy Cigna for $48 billion a few weeks after. If approved by regulators, these mergers would whittle the number of major insurers down from five to three. The fifth major insurance company is UnitedHealth Group.
The Justice Department is reviewing the deals, with results unlikely to be forthcoming anytime soon. Meanwhile, both sides of the political aisle have been skeptical of how the mergers will impact the public. The difference is where they point their fingers.
While some Democrats say consolidation concerns highlight the need for health care regulation, Republicans point to them as evidence of the president's broken promises and the adverse effects of the Affordable Care Act. Subcommittees in the House and Senate Judiciary Committees have held hearings looking into the matter.
"Lurking behind the antitrust review of these deals is the question of how much influence the Affordable Care Act had on the proposed transactions," said House Judiciary Committee Chairman Bob Goodlatte in a statement on the hearing. "The Affordable Care Act put into place incentives for insurers to increase in size so that they can better manage costs and the heavy regulatory burden and operational constraints imposed by the law."
Clinton has adamantly expressed her support for the ACA, saying she will build on and strengthen it. But her policy proposals tackle issues the law left alone, namely the steep rise in prescription-drug costs, or areas that don't go far enough.
Last month, Clinton released a series of policy proposals aimed at health care costs, including: re­quir­ing in­surers and em­ploy­ers to provide up to three sick vis­its to a doc­tor an­nu­ally without hav­ing to first meet a plan's de­duct­ible; provid­ing a pro­gress­ive, re­fund­able tax cred­it of up to $5,000 per fam­ily for out-of-pock­et costs; en­for­cing and broad­en­ing the ACA's trans­par­ency pro­vi­sions; cre­at­ing a "fall­back pro­cess" for states that do not have the au­thor­ity to modi­fy or block health-in­sur­ance premi­um-rate in­creases; and build­ing on value-based de­liv­ery-sys­tem reforms.
Then, too, she mentioned mergers, saying she would enforce antitrust laws while monitoring health-industry consolidation and mergers. She also proposed ways to lower prescription-drug costs, including re­quir­ing drug com­pan­ies to re­dir­ect funds from mar­ket­ing to re­search, en­cour­aging the de­vel­op­ment of gen­er­ics to in­crease com­pet­i­tion for pre­scrip­tion drugs, al­low­ing Amer­ic­ans to im­port drugs from abroad, de­mand­ing high­er re­bates for pre­scrip­tion drugs through Medi­care, and al­low­ing Medi­care to ne­go­ti­ate drug and bio­lo­gic prices.
Clinton also drew attention to her strong feelings about the health care industry earlier this month at the Democratic primary debate in Las Vegas, where moderator Anderson Cooper asked the candidates which enemy they were most proud of.
"Well, in addition to the NRA, the health-insurance companies, the drug companies, the Iranians," Clinton answered, amid laughter, "probably the Republicans."