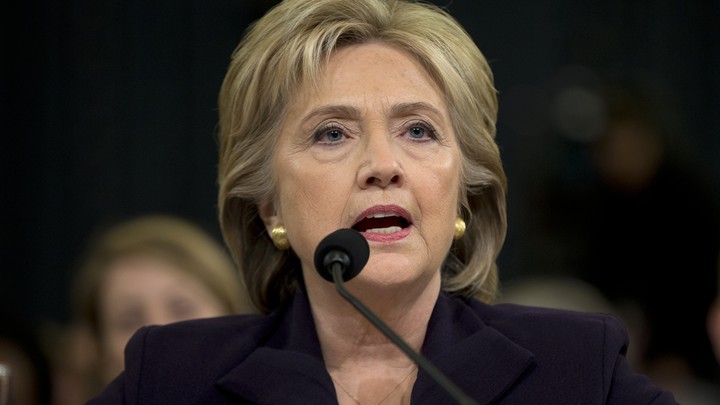 Hillary Clinton on Thursday took hours of questions from lawmakers on questions surrounding the 2012 Benghazi attacks—with select committee Republicans focusing much of their time on her email address and her relationship with adviser Sidney Blumenthal and Democrats trying to convey that the hearing was a politically-motivated stunt.
In her opening statement Thursday morning, Clinton said she was there to honor the memory of the four Americans killed in the 2012 attacks and calling for bipartisan respect and cooperation amid so much political squabbling.
"We should resist denigrating the patriotism or loyalty of those with whom we disagree. So I'm here," she said. "Despite all the previous investigations and all the talk about partisan agendas, I'm here to honor those we lost."
Clinton paid tribute to the Americans killed in the Benghazi attacks, focusing special attention on Amb. Chris Stevens. "It is a testament to the relationships that he built in Libya that on the day following the awareness of his death, tens of thousands of Libyans poured into the streets in Benghazi," she said, noting that many of them held signs honoring his memory and condemning his death.
Clinton also noted that it's impossible to prevent every terrorist attack and that America has "learned the hard way" what happens when the country stops sending diplomats to dangerous places.
"America must lead in a dangerous world, and our diplomats must continue representing us in dangerous places," she said. "Chris Stevens understood that diplomats must operate in many places where our soldiers do not, where there are no other boots on the ground, and safety is far from guaranteed."
She took the opportunity to take a shot at Bush-era Middle Eastern policy, or "foreign policy that puts boots on the ground as a first choice rather than a last resort."
Clinton also noted that Benghazi is far from the first situation in which American diplomats were killed abroad: She named the Beirut attacks under President Reagan, al-Qaida attacks in Kenya and Tanzania during her husband's presidency, and post 9/11 violence under President George W. Bush.
As the questioning got underway, GOP Reps. Peter Roskam and Susan Brooks focused primarily on the security situation in Benghazi leading up to the attacks, including how much Clinton knew about it and how much she was paying attention to Libya generally. Brooks pointed out that Clinton received daily and sometimes hourly updates on Libya in 2011, but that the updates were far less frequent in 2012.
"I did not conduct most of the business that I did … over email," Clinton replied, outlining her daily schedule at State and the various briefings and meetings at which she would have been informed of happenings in Libya. Clinton noted that she was usually not on her email during the day, "except on rare occasions when I was able to."
Toward the end of the first round of questioning, about two and a half hours into the hearing, Clinton clashed with GOP Rep. Jim Jordan about the State Department's explanation for the attacks in the hours and days that followed. Quoting from emails Clinton sent at the time, Jordan suggested that Clinton knew that an anti-Islam video wasn't the cause of the attacks but that she publicly said it was—and all in the hopes of helping President Obama win reelection in the fall of 2012.
"You can't be square with the American people. You tell your family it's a terrorist attack but not the American people. You tell the Libyan president it's a terrorist attack but not the American people. You tell the Egyptian prime minister it's a terrorist attack but not the American people."
Clinton replied by suggesting Jordan was trying to bend the facts to fit a politically-motivated version of the story. "If you look at what I said … I'm sorry that it doesn't fit your narrative, Congressman; I can only tell you what the facts were," she said.
A tense line of questioning came from GOP Rep. Mike Pompeo of Kansas, who repeatedly asked Clinton why no one was fired over the mistakes made in Benghazi. "How come not a single person lost a single paycheck connected to the fact that we had the first ambassador killed since 1979? … Folks in Kansas don't think that is accountability."
Clinton responded by saying that she "followed the law.
"The personnel rules and the laws that govern those decisions were followed very carefully. … It is my position that in the absence of finding dereliction or breach of duty, there could not be immediate action taken, but there was a process that was immediately instituted and which led to decisions being made," she said.
Pompeo also asked about Clinton's relationship with Sidney Blumenthal, a longtime confidant of the Clinton family who sent her dozens of missives about the security situation in Libya and whose emails she frequently forwarded to other State Department aides.
In response, Clinton said Blumenthal was merely a friend who occasionally sent along information. "He had no official position in the government, and he was not at all my adviser on Libya," she said. "He was a friend who sent me information that he thought might be interesting." ("That's a special friend," Pompeo quipped in reply.)
As the hearing got underway, the top Republican and Democrat on the panel helped frame the day's questioning and the approaches each party would take toward Clinton. In his opening statement, Gowdy defended the committee's actions, saying his committee's work is justified by the additional information it has been able to uncover.
"I understand some people—frankly in both parties—have suggested this investigation is about you. Let me assure you it is not," Gowdy said. "And let me assure you why it is not: This work is about something much more important than any single person. It is about four U.S. government workers, including our ambassador, murdered by terrorists on foreign soil."
About five minutes in, Gowdy made his first reference to Clinton's private email server, noting that this committee was the first to uncover her "unusual email arrangement.
"This committee is the first committee, the only committee, to uncover the fact that Secretary Clinton exclusively used personal email on her own personal server for official business and kept the public record—including emails about Benghazi and Libya—in her own custody and control for almost two years after she left office," Gowdy said. "And it was Secretary Clinton's lawyers who determined what would be returned and what would not be returned."
Still, he added: "Your emails are no more or less important than anyone else's. It just took longer to get them and garnered more attention in the process."
Democratic Rep. Elijah Cummings followed up by blasting Gowdy and the Republicans for politicizing the Benghazi attacks, calling the committee's work a "taxpayer-funded fishing expedition."
Republicans "set up this select committee with no rules, no deadline, and an unlimited budget, and they set them loose, Madam Secretary, because you're running for president," Cummings said to Clinton.
He name-checked GOP presidential candidates Carly Fiorina, Mike Huckabee, Rand Paul, and Lindsey Graham for critical comments they'd made about Clinton's handling of Benghazi.
"Why tell the Republicans to shut up when they are telling the truth but not when they are attacking Secretary Clinton with reckless accusations that are demonstrably false?" Cummings asked. "Why not tell them to shut up then?"
Cummings asked Clinton about the previous claims that she had personally denied requests for additional security in Libya, and Clinton repeated that she was unaware of those requests.
"These requests, and issues related to security, were rightly handled by the security professionals in the department. I did not see them, I did not approve them, I did not deny them," she said, noting that there was a stamp with her signature that was used as "just part of the tradition."
In another line of questioning, GOP Rep. Martha Roby suggested that Clinton was perhaps unaware of the State Department's full range of activities in Benghazi and that Clinton herself was the cause of "confusion" about the United States's efforts there.
"We had members of the administration and Congress visiting Benghazi, so of course I knew we had a presence in Benghazi," Clinton replied.
This article has been updated.
---
Ben Geman contributed to this article
We want to hear what you think about this article. Submit a letter to the editor or write to letters@theatlantic.com.
Emily Schultheis
is a writer based in Berlin with a fellowship from the Institute of Current World Affairs. Her writing has appeared in
Foreign Policy, The Guardian,
and
Politico
, among other publications.