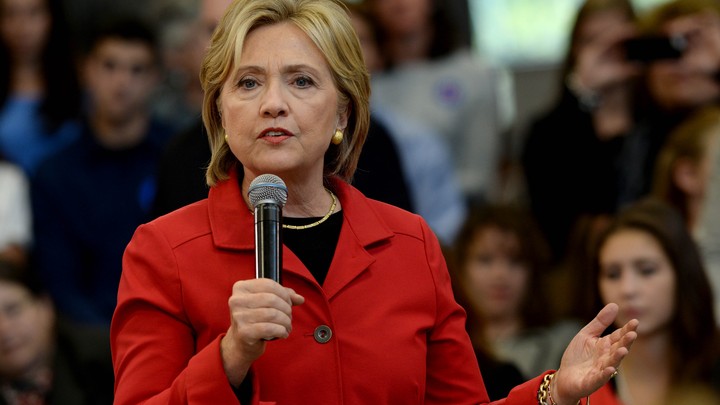 Hillary Clinton said Wednesday that she opposes the Trans-Pacific Partnership trade deal, the latest policy break the Democratic candidate has made with the Obama administration.
"As of today, I am not in favor of what I have learned about it," Clinton told PBS NewsHour's Judy Woodruff, in an interview that is set to air Wednesday evening. "I don't have the text, we don't yet have all the details—I don't believe it's going to meet the high bar I have set."
Clinton has previously avoided taking a position on the deal, saying that because she was actively involved in negotiations for it that she wouldn't interfere before a deal was finalized. Instead, she's said only that any trade deal would need to do three things to earn her support: protect American workers, create jobs and be consistent with U.S. national security interests.
In June, she hinted at her eventual opposition to the deal, when she said in an interview that she would "probably not" vote for fast-track authority on the TPP deal were she still in the Senate today.
Now that the deal has been finalized, however, Clinton hinted earlier this week that she would soon announce her position on it. "I'm going to be diving into that tonight. I'm going to be talking to people about it. They're giving me all the information they can gather so that I can make a timely decision," she told reporters in Iowa Tuesday evening.
"I think there are still a lot of unanswered questions but for me it really comes down to those three points I made and the fact that we've learned a lot about trade agreements in the past years," Clinton told Woodruff. "Sometimes they look great on paper."
For Clinton, there's added pressure on issues such as this one: in less than a week, she'll be on the debate stage with four other Democratic candidates. The trade deal, along with the Keystone XL pipeline—to which Clinton announced her opposition in late September—were two of the major policy differences between Clinton and several of her Democratic opponents, including Vermont Sen. Bernie Sanders and former Maryland Gov. Martin O'Malley.
As she deals with a competitive Democratic primary courtesy of Sanders' challenge, Clinton's latest round of policy announcements (on TPP, Keystone and a set of proposals on gun control) are a potential avenue for her to build support in her party's progressive wing.
We want to hear what you think about this article. Submit a letter to the editor or write to letters@theatlantic.com.
Emily Schultheis
is a writer based in Berlin with a fellowship from the Institute of Current World Affairs. Her writing has appeared in
Foreign Policy, The Guardian,
and
Politico
, among other publications.