A Tense Session on Benghazi
Former Secretary of State Hillary Clinton testified before a House committee, the climax of months of investigations and weeks of political sparring.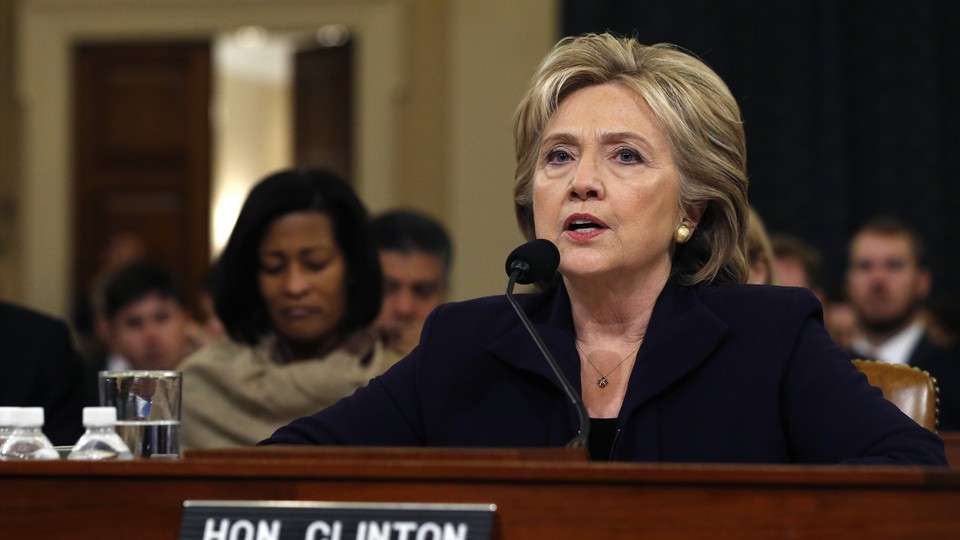 Updated on October 23 at 7:34 a.m. ET
It's a good bet that Thursday was the climax for the House select committee on Benghazi. After almost 18 months and dozens of hearings, the committee interviewed Hillary Clinton on Thursday, in a marathon public hearing that lasted 11 hours.
The session was tense, often testy, and saw some heated exchanges between Trey Gowdy, the committee's chairman, and Elijah Cummings, its ranking member. Through it, Clinton answered questions about what she knew about the September 11, 2012, attacks on the U.S. consulate in Benghazi that  killed four Americans, including Ambassador Chris Stevens, about security at the facility, about Sidney Blumenthal, her longtime Clinton confidant, and about her use of a personal email account while secretary of state. And then there was this exchange:
At the end of the 11 hours, reporters asked Gowdy what had been learned during the session. He replied: "I don't know that she testified much differently today than when she previously testified."
Whether you regard the hearings as an essential inquiry or a political farce, Clinton's testimony was always going to be the main event. Several separate investigations have already considered the attacks in Libya. Most of the big questions have largely been answered. Yes, the State Department that Clinton led should have done more to protect personnel in Libya; but, no, there's no evidence thus far of any criminal negligence.
Thursday's hearing took on a new political charge in the past few weeks, however. While Democrats had long derided the hearing as pure politics intended to hurt Clinton, they recently got assistance in making their case from an unexpected quarter: Republicans, from Majority Leader Kevin McCarthy to a fired staffer, who suggested the committee's purpose was essentially political, to harm the Democratic presidential frontrunner. Gowdy had come under intense scrutiny and referred to the recent pressure as "among the worst weeks of my life." (Clinton can surely sympathize.)
That means Thursday's hearings had high stakes for all involved. Clinton was coming off a good stretch on the presidential trail: She was named winner of the first Democratic debate, her poll numbers are bouncing up, and Vice President Joe Biden declined Wednesday to challenge her for the nomination. She avoided missteps during Thursday's hearing. An error would have reawakened jitters about her legitimacy. Clinton's appearance before the Senate Foreign Relations Committee about the attacks in 2013 was generally positively reviewed, but also produced one ill-advised line about the genesis of the attacks—"What difference does it make?"—that has been used effectively against her.
Republicans also have a great deal on the line: There was pressure for them to prove that the committee's purpose is legitimate. The problem is that while the committee has proved extremely leaky, the only really damaging stuff has been the political damage done to Clinton by revelations about her use of a private email account. If it's seen that Republicans didn't deliver the goods on Thursday, the pressure on the committee to wrap up its work will grow.
As much as is on the line, an all-day House hearing is still an all-day House hearing, and much of it is likely to be dull. We tracked the interesting moments and covered them in this space throughout the hearing.
* * *
10:56 a.m. Opening statements have just wrapped up on Capitol Hill. Gowdy's statement was a typically polished speech, but it suggested a certain amount of defensiveness—the South Carolina representative worked to defend the legitimacy of his committee.
"Madame Secretary, I understand some people—frankly in both parties—have suggested this investigation is about you. Let me assure you it is not," he said. "Our committee has interviewed half a hundred witnesses, not a single one of them has been named Clinton until today. You were the Secretary of State for this country when our facility was attacked. So, of course this Committee is going to talk to you. You are an important witness, but you are just one important witness, among half a hundred important witnesses."
Elijah Cummings, the Democratic ranking member, offered a mirror image of Gowdy's statement, blasting the committee as pure politics. "Republicans are squandering millions of taxpayer dollars on this abusive effort to derail Secretary Clinton's campaign," he said. "It is time, and it is time now, for Republicans to end this taxpayer-funded fishing expeditions."
Clinton focused more on the attacks themselves than either Gowdy or Cummings. While she took some sidelong shots at the committee, noting the several previous investigations, she largely focused on what happened in Benghazi. She spoke at length about Stevens, noting she'd appointed him as ambassador and taking responsibility for his death. Clinton said the lesson was that the U.S. must protect personnel while also recognizing that "America must lead in a dangerous world, and our diplomats must continue representing us in dangerous places."
Gowdy's statement is here. Cummings's is here. Clinton's is here. The Washington Post has a running transcript here.
1:50 p.m. So far the greatest fireworks from the hearing didn't involve Hillary Clinton at all—they came from a contretemps between Gowdy and Cummings, who ended up in a shouting match over Sidney Blumenthal, the longtime Clinton confidant. (More on whom here and here.) Blumenthal sent Clinton dozens of emails about Libya, which she says were unsolicited. Republicans have argued (dubitably) that he was her primary source of intelligence on the country. After Democrats attacked the focus on Blumenthal, Gowdy cut in and defended it. Cummings accused him of misleading, and demanded that the transcript of Blumenthal's prior testimony to the committee be entered into the record. Representative Adam Schiff, another Democrat, also jumped in on the action.
And then ... well, see for yourself:
Clinton for her part sat and watched the fight unfold with a mixture of what appeared to be amusement, annoyance, and boredom.
Then the hearing adjourned for lunch.
What else have we learned so far today? Not a great deal. Curiously, Clinton says she did not have a computer in her office at the State Department. Her facility with a BlackBerry has been much remarked-upon, but she said that notwithstanding the focus on her emails, it was not her main method of gathering information at the department.
It doesn't appear that Republicans have scored any direct hits on her, nor that she's committed any serious stumbles. Representative Mike Pompeo seemed to land a hit when he asked why so many of Blumenthal's emails had gotten to her while none of Stevens' security requests had.
Overall, however, the hearing has focused on the committee's own legitimacy and on Sidney Blumenthal—likely not the debate Republicans wanted, but one Clinton is content to have.
5:17 p.m. The hearing is just returning from a long break for votes in the House. So what's happened this afternoon? Once again: Not a great deal. Perhaps the most riveting moment came as Clinton spoke about the work of the security forces in Benghazi, and narrated how Stevens and Sean Smith died and the heroic efforts to save them. The former secretary seemed on the verge of choking up.
Blumenthal has remained a central focus of the hearing. Following up from the pre-lunch flare-up, the committee voted on whether to release the transcript of Blumenthal's closed testimony, but with Republicans outnumbering Democrats, the motion was defeated. Republicans focused for some time on whether Clinton followed the recommendations of a review following the bombings of the U.S. embassies in Kenya and Tanzania in 1998, which suggested the secretary of state personally approve security. The disagreement focuses on whether that concerned general guidance, such as when to close or open embassies (as Clinton holds), or whether she should have been delivering more detailed guidance on issues like security staffing.
For most of the afternoon, however, Republicans have generally tried to pin Clinton against a wall without great effect, while Democrats have used their time to lob softballs at her or, just as often, simply answer the Republicans' questions for her. While Clinton seems awkward in some settings, she has shown again that this is one in which she can thrive: She's controlled, calm, and prepared, and she seems to feed off adversarial questioning.
10:23 p.m. Matt here, wrapping up for the evening shift. The committee adjourned at precisely 9:00 p.m. this evening after eleven hours of questions and testimony.
The most noteworthy moment since David's last update came at around hour nine when Republican committee members began questioning Clinton about her use of a private email server during her tenure as secretary of state. "If your story about your emails keeps changing, how can we accept your statement that you've turned over all your work-related emails?" asked Representative Jim Jordan, a Republican from Ohio.
Clinton acknowledged that she had made a mistake and said "it was allowed but it was not a good choice." She insisted again that she neither sent nor received classified emails on the server, and that she had broken no laws. When Jordan asked if she would allow a neutral third party like a federal judge to review any deleted emails the FBI might recover, she demurred and offered no clear answer.
The hearing went steadily downhill from there. By about hour ten, Democratic committee members began inquiring how much longer the questions would go on, and the conversations grew increasingly tense. After Gowdy adjourned the hearing, reporters gathered outside asked him what they had learned during the all-day session. "I don't know that she testified much differently today than when she previously testified," he told them.