Hillary Clinton Abandons Obama on Trade
The Democratic frontrunner came out against the Trans Pacific Partnership, siding with the party base over her former boss.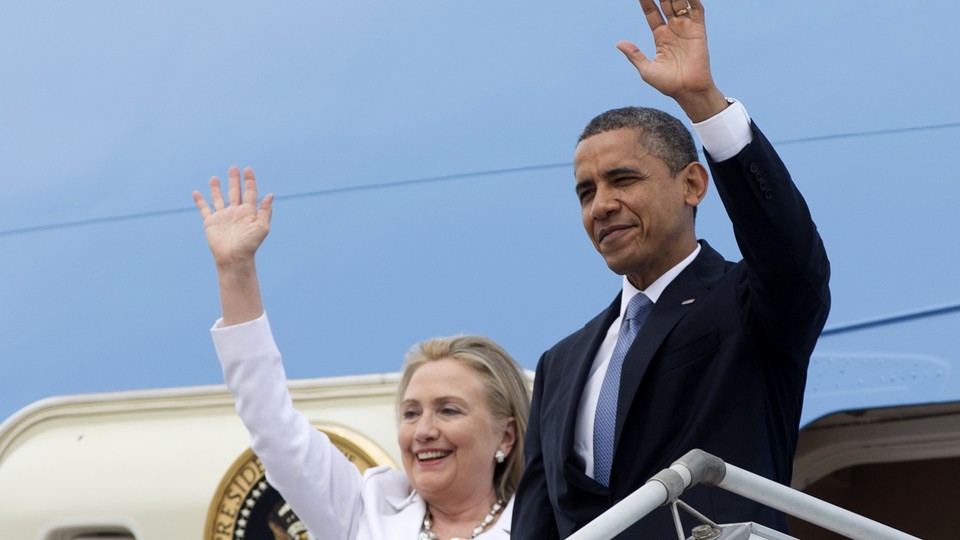 Hillary Clinton is now officially against President Obama's enormous trade agreement with 11 Pacific Rim nations, a policy break that could complicate the deal's chances for passage in Congress even as it helps the Democratic frontrunner solidify her standing with progressives in her party.
Clinton's opposition to the Trans Pacific Partnership, which she announced Wednesday in an interview on the PBS Newshour, is not a shock: Despite the fact that she worked on the accord as secretary of state, she has been distancing herself from TPP for months and notably declined to weigh in on the contentious congressional debate over whether to give Obama the authority he needed to finish it.
But her decision nonetheless remains an important marker in the 2016 race, as Clinton formally abandons the trade legacy of two Democratic presidents—her husband and her former boss. And it might be the clearest sign that Clinton is worried about the challenge she faces from Bernie Sanders, a vociferous opponent of TPP, and the potential for one from Vice President Joe Biden, who supports the agreement.
In the interview with Judy Woodruff, Clinton said she was worried that the deal would not create jobs and raise wages for American workers, which she had previously said would be her standard for judging it. In particular, she cited concerns that the agreement did not adequately address currency manipulation and that it was too favorable to big drug companies—she recently came out in favor of stronger regulations on the price of prescriptions. "As of today, I am not in favor of what I have learned about it," she said. "I don't believe it's going to meet the high bar that I have." (Notably, Clinton did leave herself a bit of wiggle room by cautioning that she had not read the lengthy text of the deal, which won't be public for another month.)
In a lengthier statement released after the interview, Clinton cast blame on Republicans for blocking Democratic proposals to strengthen the economy, leaving the U.S. in a weakened competitive position. As a result, she said, "we're going into this with one arm tied behind our backs."
I still believe in the goal of a strong and fair trade agreement in the Pacific as part of a broader strategy both at home and abroad, just as I did when I was Secretary of State.  I appreciate the hard work that President Obama and his team put into this process and recognize the strides they made.  But the bar here is very high and, based on what I have seen, I don't believe this agreement has met it.
Trade has been a vexing issue for Clinton in both of her presidential runs. She struggled to defend NAFTA—signed by her husband—in 2008, and she avoided taking a position on TPP for months earlier this year. Her opposition to the final deal also opens her up to charges of flip-flopping, since Republicans have dozens of video clips of Clinton praising earlier drafts of TPP when she was secretary of state—including one in which she said it was "the gold standard" of trade pacts.
In the hour after she announced her position, both the Republican National Committee and Martin O'Malley leveled that exact charge. "Wow! That's a reversal!" the former Maryland governor said in a statement blasted out by his campaign. "I was against the Trans Pacific Partnership months and months ago."
We were told in NAFTA all sorts of great promises and what we got in return were shuttered factories and empty pockets. I believe we need to stop stumbling backwards into bad deals. Secretary Clinton can justify her own reversal of opinion on this, but I didn't have one opinion eight months ago and switch that opinion on the eve of debates.
Democrats in Congress remain broadly opposed to TPP, but because some leading Republicans have also raised concerns about last-minute compromises by U.S. negotiators, the administration likely will need every Democratic vote it can muster when the House and Senate vote next spring, and Clinton's opposition won't help that effort. It also continues a pattern of positions Clinton has taken in recent months on questions like the Keystone pipeline, the Iran nuclear deal, immigration, and guns. She supported Obama on Iran and has gone farther than him on guns and immigration, but in each case, she has sided strongly with the Democratic base.
It's a much different strategy than the one she pursued, unsuccessfully, in 2008, when she always seemed to have one eye on the general election. This time around, Clinton is determined not to let Sanders get between her and a Democratic base that views her skeptically, even if it means undermining a key legacy item for Obama. The Republicans will just have to wait.